From Habit to Choice: Transformations in Family Dining Over Three Generations
Abstract
Changes in family dining are explored in  Chap. 3, focusing in particular on the meal that Australians have most consistently eaten together: the evening meal. The plain and predictable food that older Australians (the Lucky Generation) remember consuming has given way to meals that are full of variety and the influences of European and Asian culinary cultures. While family meals are still held in high regard, modern Australian families struggle to maintain them in the face of individualised food preferences and schedules that make it increasingly difficult to achieve commensality.
Keywords
Baby Boomer 
Evening Meal 
Family Meal 
Special Occasion 
Brussel Sprout 
These keywords were added by machine and not by the authors. This process is experimental and the keywords may be updated as the learning algorithm improves.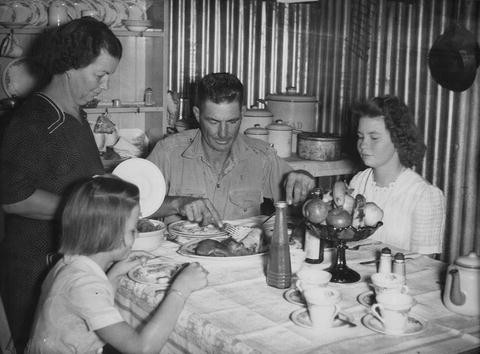 Over the lifetimes of the three generations of respondents widespread social and economic transformations have occurred which interact with, and ultimately reshape family dining patterns. For example, food sociologists have questioned whether the rules and structures around culinary systems in modern societies have diminished so far as to be replaced by a state of (gastro)anomie characterised by either a void or an over-abundance of conflicting rules (Fischler 1993). In similar vein, others have proposed that formal meals are being at least partially replaced by practices in which individuals eat what, where and when they choose (grazing) in the UK (Murcott 1997) or by vagabond eating in France (Poulain 2002). The trend is thought to be aided by the growth and accessibility of convenience and commercially prepared foods. The disappearance or significant modification of the family meal is proposed as one manifestation of post-modernity. This proposition has been contested, with some arguing that the family meal never really existed in its ideal form (Murcott 1997).
As well as practices, attitudes to food have also changed over this time. Elsewhere we have argued that the Lucky Generation of Australians growing up in economically restricted times was brought up to view food pragmatically, focusing on its cost and its ability to keep the family from feeling hungry. This practical attitude is also influenced by the dominant socio-cultural perspective on food, reflecting its Australian history as an English colony (Symons 1984; Walker and Roberts 1988) and the background of our respondents who were all of English-speaking descent. Later generations of Australians express enjoyment in food through their discussions of the taste, colour, smell and textures of dishes. There has been a corresponding growth in the promotion of pleasure in food via cook books, specialty food and wine magazines and television cooking shows.
Changes to family dining have been examined from socio-historical and gender perspectives (Charles and Kerr 1986; Luxton 1980; Murcott 1983), and recently attention has focused on the so-called 'obesity epidemic' particularly among younger generations. It appears that transformations in family dining have health (and weight) as well as social implications, although a plethora of theories are competing for attention. Some observers suggest that family dining may be protective if it excludes television viewing, (Veugelers and Fitzgerald 2005) as it may reduce the consumption of ready-made food (Gillman et al. 2000). In Australia, mothers' positive attitudes towards family dining were found to have greater impact on maintaining children's healthy weight than self-reports of the family eating together (Mamun et al. 2005). However, family dining has rarely been examined within and between specific generations or families. In this chapter we summarise the main trends in family dining over three generations and in the next chapter focuses on the growth of convenience food and the disappearance of home-made desserts as the final course in the everyday evening meal.
Copyright information
© Springer Science+Business Media Dordrecht. 2012