Abstract

Biological control uses living organisms like bacteria, fungi, nematodes, insects or mites (including viruses) for the control of weeds or pests and diseases of crop plants. Information on the use of these biocontrol agents and associated risks are summarized. An overview on the regulation of biological control agents and an introduction into the objectives and the organisation of the Policy Support Action REBECA is provided. The history of regulation of chemical compounds is compared with the development of regulation of biocontrol. Often the precautionary principle is consulted to justify anticipatory restrictions in regulation. A comment of the European Commission on the use of the principle is analysed and the consequences for regulation of biological control agents are discussed. The different stakeholders (academia, industry, farmers and producers, consumers and the retail sector, environmentalists organised in non-government organisations, regulatory authorities and policy makers) and their interests in regulation are described.
Keywords
Biological Control

Biological Control Agent

Precautionary Principle

Synthetic Compound

Work Package
These keywords were added by machine and not by the authors. This process is experimental and the keywords may be updated as the learning algorithm improves.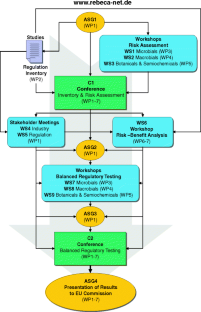 References
Alabouvette C, Cordier C (2011) Risks of microbial biocontrol agents and regulation: are they in balance?. In: Ehlers R-U (ed) Regulation of biological control agents. Springer, Dordrecht, pp 157–173

Bakker PAHM, Raaijmakers JM, Bloemberg G, Höfte M (2008) New perspectives and approaches in plant growth-promoting rhizobacteria research. Eur J Plant Pathol 119:1–126

Bale JS (2011) Regulation of invertebrate biological control agents in Europe: recommendations for a harmonised approach. In: Ehlers R-U (ed) Regulation of biological control agents. Springer, Dordrecht, pp 232–373

Berg G, Zachow C, Cardinale M, Müller H (2011) Bacterial ecology and human pathogenicity of plant-associated bacteria. In: Ehlers R-U (ed) Regulation of biological control agents. Springer, Dordrecht, pp 175–189

Bigler F, Babendreier D, Kuhlmann U (2006) Environmental impact of invertebrates for biological control of arthropods: methods and risk assessment. CAB International, Wallingford, CT

Boland GT, Kuykendall LD (1998) Plant-microbe interactions and biological control. Marcel Dekker, New York, NY

Butt TM, Jackson CW, Magan N (2001) Fungi as biocontrol agents: progress, problems and potential. CABI Publishing, Wallingford, CT

Charles JF, Delécluse A, Nielsen-le Roux C (2000) Entomopathogenic bacteria: from laboratory to field application. Kluwer, Dortrecht

De Clercq P, Bale JS (2011) Risks of invertebrate biological control agents – Harmonia axyridis as a case study. In: Ehlers R-U (ed) Regulation of biological control agents. Springer, Dordrecht, pp 243–255

Desbiez C, Lecoq H (2003) Zucchini yellow mosaic virus. Plant Pathol 46:809–829

EPPO (2010) List of biological control agents widely used in the EPPO region. EPPO Standards on Safe use of Biological Control – PM 6/3 http://archives.eppo.org/EPPOStandards/biocontrol_web/bio_list.htm. http://archives.eppo.org/EPPOStandards/biocontrol_web/bio_list.htm

EU (1991) 1991/414/EEC: Council Directive of 15 July 1991 concerning the placing of plant protection products on the market Official Journal of the European Communities L 230

EU (2001) 2001/36/EC: Commission Directive of 16 May 2001 amending Council Directive 91/414/EEC concerning the placing of plant protection products on the market. Off J Eur Commun L 164/1

EU (2005) 2005/25/EC: Commission Directive of 14 March 2005 amending Annex VI to Directive 91/414/EEC as regards plant protection products containing micro-organisms. Off J Eur Union L 90/1

EU (2008) Regulation (EC) No 889/2008 of 5 September 2008 laying down detailed rules for the implementation of Council Regulation (EC) No 834/2007 on organic production and labelling of organic products with regard to organic production, labelling and control. Off J Eur Union L 250/1

EU (2009a) Regulation (EC) No 1107/2009 of the European Parliament and of the Council of 21 October 2009 concerning the placing of plant protection products on the market and repealing Council Directives 79/117/EEC and 91/414/EEC. Off J Eur Union L 309/1

EU (2009b) Directive 2009/128/EC of the European Parliament and of the Council of 21 October 2009 establishing a framework for Community action to achieve the sustainable use of pesticides. Off J Eur Union L 309/71

European Commission (2000) Communication from the Commission on the precautionary principle. Commission of the European Communities COM 2000–1

Frost and Sullivan (2001) European biopesticides market http://www.frost.com/prod/servlet/report-toc.pag?ctxixpLink=FcmCtx3&searchQuery=European+biopesticide+market+2001&repid=3905-01-00-00-00&bdata=aHR0cDovL3d3dy5mcm9zdC5jb20vc3JjaC9jYXRhbG9nLXNlYXJjaC5kbz9xdWVyeVRleHQ9RXVyb3BlYW4rYmlvcGVzdGljaWRlK21hcmtldCsyMDAxJnBhZ2VTaXplPThAfkBTZWFyY2ggUmVzdWx0c0B%2BQDEyOTEwNDAxOTcxOTE%3D&ctxixpLabel=FcmCtx4. http://www.frost.com

Gerson U, Smiley RL, Ochoa R (2003) Mites (Acari) for pest control. Wiley-Blackwell, Hoboken, NJ

Glare TR, O'Callaghan M (2000) Bacillus thuringiensis – biology, ecology and safety. Wiley-Blackwell, Hoboken, NJ

Grant W (2011) Policy aspects of regulation. In: Ehlers R-U (ed) Regulation of biological control agents. Springer, Dordrecht

Grewal PS, Ehlers R-U, Shapiro-Ilan DI (2005) Nematodes as biological control agents. CAB International, Wallingford, CT

Harman GE, Kubicek CP (1998) Trichoderma and Gliocladium, Vol 2. Enzymes, biological control and commercial application. Taylor and Francis, London

Hauschild R (2011) Facilitations in the regulation of plant protection products containing baculoviruses. In: Ehlers R-U (ed) Regulation of biological control agents. Springer, Dordrecht, pp 259–266

Hauschild R, Speiser B, Tamm L (2011) Regulation according to EU Directive 91/414: data requirements and procedure compared to regulation practice in other OECD countries. In: Ehlers R-U (ed) Regulation of biological control agents. Springer, Dordrecht, pp 25–77

Helyer N, Brown K, Cattlin ND (2003) A color handbook of biological control in plant protection. Manson Publishing, Portland, OR

Howse P, Jones O, Stevens JM (1998) Insect pheromones and their use in pest management. Chapman and Hall, London

Hunt EJ, Loomans AJM, Kuhlmann U (2011) An international comparison of invertebrate biological control agent regulation: what can Europe learn?. In: Ehlers R-U (ed) Regulation of biological control agents. Springer, Dordrecht, pp 79–112

Hunter-Fujita FR, Entwistle PF, Evans HF, Crook NE (1998) Insect viruses and pest management. Wiley, Hoboken, NJ

International Labour Organisation and United Nations Environment Programme (1999) Bacillus thuringiensis: environmental health criteria. Series No. 217, World Health Organisation, Geneva

Kubicek CP, Harman GE (1998) Trichoderma and Gliocladium, vol 1. Basic biology, taxonomy and genetics. Taylor and Francis, London

Lemanceau P, Alabouvette C (1991) Biological control of Fusarium diseases by fluorescent Pseudomonas and non-pathogenic Fusarium. Crop Protec 10:279–286

Malais MH, Ravensberg WJ (2003) Knowing and recognizing: the biology of glasshouse pests and their natural enemies. Koppert, Berkel en Rodenrijs

Murhammer DW (2007) Baculovirus and insect cell expression protocols, 2nd edn. Humana Press, Totowa, NJ

OECD (2002) Consensus document on information used in the assessment of environmental applications involving baculoviruses. Series on Harmonization of Regulatory Oversight in Biotechnology, No.20. ENV/JM/MONO(2002)1

Pickett CH, Bugg RL (1998) Enhancing biological control: habitat management to promote natural enemies of agricultural pests. University of California Press, Berkley

Regnault-Roger C (2011) Risks of biocontrol agents containing compounds of botanical origin or semiochemicals. In: Ehlers R-U (ed) Regulation of biological control agents. Springer, Dordrecht, pp 215–242

Regnault-Roger C, Philogène BJR, Vincent C (2005) Biopesticides of plant origin. Lavoisier Publishing, Paris

Richardson DM (2009) Assessment of the impact of crop protection by the "cut-off criteria" in a new regulation for authorisation of plant protection products. Comm Agric Appl Biol Sci 74:3–8

Shuler ML, Wood HA, Grandos RR, Hammer DA (1994) Baculovirus expression systems and biopesticides. Wiley-Liss, New York, NY

Siddiqui Z (2006) PGPR: biocontrol and biofertilization. Springer, Dortrecht

Speiser B, Tamm L (2011) Regulation of plant protection in organic farming. In: Ehlers R-U (ed) Regulation of biological control agents. Springer, Dordrecht, pp 113–125

Speiser B, Tamm L, Mattock S (2011) Proposals for regulation of semiochemicals. In: Ehlers R-U (ed) Regulation of biological control agents. Springer, Dordrecht, pp 305–321

Strasser H, Hutwimmer S, Burgstaller W (2011) Metabolite toxicology of fungal biocontrol agents. In: Ehlers R-U (ed) Regulation of biological control agents. Springer, Dordrecht, pp 191–213

Strauch O, Strasser H, Hauschild R, Ehlers R-U (2011) Proposals for bacterial and fungal biocontrol agents. In: Ehlers R-U (ed) Regulation of biological control agents. Springer, Dordrecht, pp 267–288

Tamm L, Speiser B, Mercier T (2011) Proposals for regulation of botanicals. In: Ehlers R-U (ed) Regulation of biological control agents. Springer, Dordrecht, pp 289–304

Verma M, Brar SK, Tyagi RD, Surampalli RY, Valéro JR (2007) Antagonistic fungi, Trichoderma spp.: panoply of biological control. Biochem Engin J 37:1–20

Wajnberg E, Hassan SA (1994) Biological control with egg parasitoids. CABI, Wallingford, CT
Copyright information

© 2011 Springer Netherlands
About this chapter
Cite this chapter
Ehlers, RU. (2011). Regulation of Biological Control Agents and the EU Policy Support Action REBECA. In: Ehlers, RU. (eds) Regulation of Biological Control Agents. Springer, Dordrecht. https://doi.org/10.1007/978-90-481-3664-3_1