Abstract

Plants and plant extracts, here called 'botanicals', have been used for plant protection for a long time. Quantitatively, the most important botanical is pyrethrum, followed by azadirachtin, rotenone and essential oils. The current regulatory system for pesticides is often seen as a major hurdle for the market introduction of new botanicals. The EU-funded Specific Support Action project 'REBECA' has held a series of workshops with stakeholder representatives. The following proposals for improvement were elaborated: (1) development of a specific guidance document for botanicals; (2) adapted requirements concerning the characterisation of the active substance(s); (3) relaxations concerning identification and analytical methods for 'impurities'; (4) adapted requirements concerning the description of manufacturing methods; (5) adapted requirements for risk assessment, taking into account the history of safe use of the substance; (6) adapted requirements concerning efficacy evaluation. During the final conference of the REBECA project, it was evaluated which proposals can be implemented easily (and therefore in a short time-span). Also, the impact on the duration of the registration process and on the costs of registration (for the applicant) were assessed for each proposal. Fenugreek, neem extract/Quassia, lecithine and laminarine were selected as representative botanicals. For these substances, the REBECA proposals would decrease registration costs substantially.
Keywords
Botanicals

Plant extracts used for plant protection

Registration requirements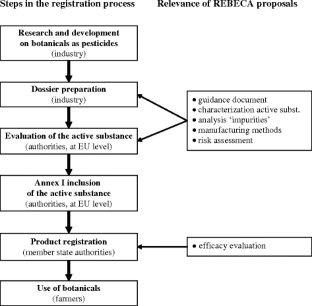 Notes
1.

REBECA aims to find proposals which are based on a broad consensus in the workshops, but does not claim that all participants agree with all proposals. In case of major disagreements, REBECA will describe the advantages and disadvantages of a proposal.
References
AFPP (2010) Document Technique N°18 de la CEB : Expérimentation des préparations naturelles à activité directe ou indirecte contre les champignons phytopathogénes ou les insectes ravageurs. Association Française de Protection des Plantes. http://www.afpp.net

Anonymous (2001) Draft working document concerning data requirements for plant strengtheners with low risk profile, European Commission, Health and Consumer Protection Directorate-General. Sanco/1003/2000 – rev. 3

Anonymous (2004a) Draft working document concerning the data requirements for active substances of plant protection products made from plants or plant extracts, European Commission, Health and Consumer Protection Directorate-General. Sanco/10472/2003 – rev. 5

Anonymous (2004b) Review report for the active substance laminarin, European Commission, Health and Consumer Protection Directorate-General. Sanco/10488/04 – rev. 3

EC (2009) Regulation (EC) No 1107/2009 of the European Parliament and of the Council of 21 October 2009 concerning the placing of plant protection products on the market and repealing Council Directives 79/117/EEC and 91/414/EEC. Off J Eur Union L 309: 1–50

El-Lakwah FA, Khaled OM, Darwish AA (1993) Toxic effect of fenugreek (Trigonella foenumgraecum L.) and fennel (Foeniculum vulgare L.) extracts alone and in mixtures with two organophosphorus insecticides against Rhizopertha dominica (F.). Ann Agric Sci 31:605–615

Hauschild R, Speiser B, Tamm L, Ehlers RU (2008). Réglementation et homologation des produits phytopharmaceutiques à base d'extraits végétaux dans la législation de l'Union Européenne (UE): présent et perspectives d'évolution. Biopesticides d'origine végétale, 2e édition. C. Regnault-Roger, B. J. R. Philogène and C. Vincent. Paris, Lavoisier, pp 477–496

Isman MB (2006) Botanical insecticides, deterrents and repellents in modern agriculture and an increasingly regulated world. Annu Rev Entomol 51:45–66

Philogène BJR, Regnault-Roger C, Vincent C (2005). Botanicals: yesterday's and today's promises. Biopesticides of plant origin. C. Regnault-Roger, B. J. R. Philogène and C. Vincent. Paris, Lavoisier, pp 1–15
Acknowledgements

We gratefully acknowledge the contribution from many colleagues who provided their expertise within the 'botanicals working group' of the REBECA project. The Specific Support to Policy Action REBECA ('Regulation of Biological Control Agents') was funded by the European Commission (SSPE-CT-2005-022709). For details see project website http://www.rebeca-net.de.
Copyright information

© 2011 Springer Netherlands
About this chapter
Cite this chapter
Tamm, L., Speiser, B., Mercier, T. (2011). Proposals for Regulation of Botanicals. In: Ehlers, RU. (eds) Regulation of Biological Control Agents. Springer, Dordrecht. https://doi.org/10.1007/978-90-481-3664-3_14