Abstract

Reporter genes have become an invaluable tool in studies of gene expression. Reporter gene technology is widely used to monitor the cellular events associated with signal transduction and gene expression. Based upon the splicing of transcriptional control elements to a variety of reporter genes (with easily measurable phenotypes), it "reports" the effects of a cascade of signaling events on gene expression inside cells. The principal advantage of these assays is their high sensitivity, reliability, convenience, and adaptability to large-scale measurements. They are widely used in biomedical and pharmaceutical research and also in molecular biology and biochemistry.
Keywords
Reporter

Gene

Signaling

Inducer

Therapeutics

Luc

X-gal

GFP

Lac

Ruc

HGH

CAT

GUS

LacZ

Promoter assay

Promoter

Molecular imaging

Reporter gene construct

Reporter gene assay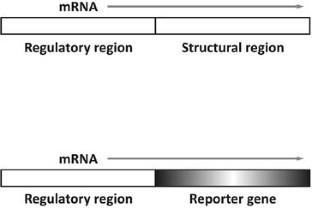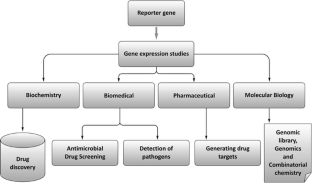 References
Alam, J., Cook, J.L., 1990, Reporter genes: application to the study of mammalian gene transcription. Anal Biochem 188:245–254.

Altschmied, J., Duschl, J., 1997, Set of optimized luciferase reporter gene plasmids compatible with widely used CAT vectors. Biotechniques 23:436–438.

Blasberg, R.G., 2003, Molecular imaging and cancer. Mol Cancer Ther 2:335–343.

Chalfie, M., 1995, Green fluorescent protein. Photochem Photobiol 62:651–656.

Chalfie, M., Tu, Y., Euskirchen, G., Ward, W.W., Prasher, D.C., 1994, Green fluorescent protein as a marker for gene expression. Science 263:802–805.

Changsen, C., Franzblau, S.G., Palittapongarnpim, P., 2003, Improved green fluorescent protein reporter gene-based microplate screening for antituberculosis compounds by utilizing an acetamidase promoter. Antimicrob Agents Chemother 47:3682.

Collins, L., Franzblau, S.G., 1997, Microplate alamar blue assay versus BACTEC 460 system for high-throughput screening of compounds against Mycobacterium tuberculosis and Mycobacterium avium. Antimicrob Agents Chemother 41:1004–1009.

Deo, S.K., Daunert, S., 2001, Luminescent proteins from Aequorea victoria: applications in drug discovery and in high throughput analysis. Fresen J Anal Chem 369:258–266.

Durocher, Y., Perret, S., Thibaudeau, E., Gaumond, M.H., Kamen, A., Stocco, R., Abramovitz, M., 2000, A reporter gene assay for high-throughput screening of G-protein-coupled receptors stably or transiently expressed in HEK293 EBNA cells grown in suspension culture. Anal Biochem 284:316–326.

Gilissen, L.J., Metz, P.L., Stiekema, W.J., Nap, J.P., 1998, Biosafety of E. coli beta-glucuronidase (GUS) in plants. Transgenic Res 7:157–163.

Inouye, S., Tsuji, F., 1994, Aequorea green fluorescent protein. Expression of the gene and fluorescence characteristics of the recombinant protein. FEBS Lett 341:277–280.

Jefferson, R.A., 1989, The GUS reporter gene system. Nature 342:837–838.

Kain, S.R., Ganguly, S., 2001, Overview of genetic reporter systems. Curr Protoc Mol Biol Chapter 9:Unit9.6.

Koken, S.E., Greijer, A.E., Verhoef, K., van Wamel, J., Bukrinskaya, A.G., Berkhout B., 1994, Intracellular analysis of in vitro modified HIV Tat protein. J Biol Chem 269:8366–8375.

Lutz, A., Dyall, J., Olivo, P.D., Pekosz, A., 2005, Virus-inducible reporter genes as a tool for detecting and quantifying influenza A virus replication. Virol Methods 126:13–20.

McCarter, J., Burgoyne, D., Miao, S., Zhang, S., Callahan, J., Withers, S., 1997, Identification of Glu-268 as the catalytic nucleophile of human lysosomal beta-galactosidase precursor by mass spectrometry. J Biol Chem 272:396–400, PMID 8995274.

Min, J.J., Gambhir, S.S., 2008, Molecular imaging of PET reporter gene expression. Handb Exp Pharmacol 185(Pt 2):277–303.

Naylor, L.H., 1999, Reporter gene technology: the future looks bright. Biochem Pharmacol 58(5):749–757.

Nordeen, S.K., 1988, Luciferase reporter gene vectors for analysis of promoters and enhancers. Biotechniques 6:454–458.

Olesen, C.E., Yan, Y.X., Liu, B., Martin, D., D'Eon, B., Judware, R., Martin, C., Voyta, J.C., Bronstein, I., 2000, Novel methods for chemiluminescent detection of reporter enzymes. Methods Enzymol 326:175–202.

Pardy, K., 1994, Reporter enzymes for the study of promoter activity. Mol Biotechnol 2:23–27.

Phillips, G., 2001, Green fluorescent protein–a bright idea for the study of bacterial protein localization. FEMS Microbiol Lett 204 (1):9–18. PMID 11682170.

Phippard, D., Manning, A.M., 2003, Screening for inhibitors of transcription factors using luciferase reporter gene expression in transfected cells. Methods Mol Biol 225:19–23.

Selden, R.F., Howie, K.B, Rowe, M.E., Goodman, H.M., Moore, D.D., 1986, Human growth hormone as a reporter gene in regulation studies employing transient gene expression. Mol Cell Biol 6:3173–3179.

Serganova, I., Blasberg, R., 2005, Reporter gene imaging: potential impact on therapy. Nuc Med Biol 32:763–780.

Serganova, I., Ponomarev, V., Blasberg, R., 2007, Human reporter genes: potential uses in clinical studies. Nuc Med Biol 34:791–807.

Shaner, N., Steinbach, P., Tsien, R., 2005, A guide to choosing fluorescent proteins. Nat Methods 2:905–909.

Thibodeau, S.A., Fang, R., Joung, J.K., 2004, High-throughput beta-galactosidase assay for bacterial cell-based reporter systems. Biotechniques 36:410–415.

Tsien, R., 1998, The green fluorescent protein. Annu Rev Biochem 67:509–44. PMID 9759496.

Tzeng, W.-P., Zhou, Y., Icenogle, J., Frey, T.K., 2005, Novel replicon-based reporter gene assay for detection of rubella virus in clinical specimens. J Clin Microbiol 43:879–885.

Wang, Y., Yu, Y.A., Shabahang, S., Wang, G., Szalay, A.A., 2002, Renilla luciferase-Aequorea GFP (Ruc-GFP) fusion protein, a novel dual reporter for real-time imaging of gene expression in cell cultures and in live animals. Mol Genet Genomics 268:160–168.

Yu, Y.A., Szalay, A.A., 2002, A Renilla luciferase-Aequorea GFP (ruc-gfp) fusion gene construct permits real-time detection of promoter activation by exogenously administered mifepristone in vivo. Mol Genet Genomics 268:169–178.

Zhang, K., Kurachi, S., Kurachi, K., 2003, Limitation in use of heterologous reporter genes for gene promoter analysis: silencer activity associated with the chloramphenicol acetyltransferase reporter gene. J Biol Chem, 278:4826–4830.
Copyright information

© 2010 Springer Science+Business Media B.V.
About this chapter
Cite this chapter
Debnath, M., Prasad, G.B., Bisen, P.S. (2010). Reporter Gene. In: Molecular Diagnostics: Promises and Possibilities. Springer, Dordrecht. https://doi.org/10.1007/978-90-481-3261-4_5