Abstract
The North Indian Ocean (NIO) is not considered as one of the more active tropical cyclone basins. On average each year, only five or six systems reach at least the tropical storm stage, 35 knots or more (Singh et al. 2001). In the current debate on global warming and the evolution of the intense cyclones number, studies have given different results for the NIO. Webster et al. (2005) found an extreme increase of the Cat 4 and 5 cyclones number (Saffir and Simpson 1974) from 1975 to 2004. Landsea et al. (2006) have shown that the databases were not reliable enough as reanalysed Cat 4 and 5 cyclones have been estimated at Cat 2 and/or 3 in the previous best track. And this could change the trend reported by Webster et al. (2005). Kossin et al. (2007) did not highlight any trend from 1983 to 2005 for the same intensities. In order to bring new features, this paper provides a climatology of intense tropical cyclones in the NIO from 1980 to 2008 based on the reanalyses of the satellite pictures. This study has been inspired from Landsea (1993) who published a paper on a climatology of intense Atlantic hurricanes. The intense cyclones are those with maximum sustained winds of 100 knots or more.
Keywords
Decadal distribution

interannual and intraseaonal activity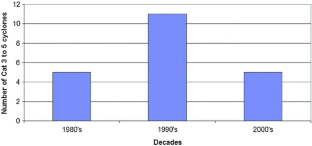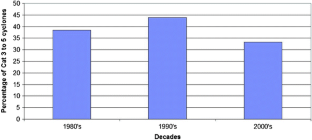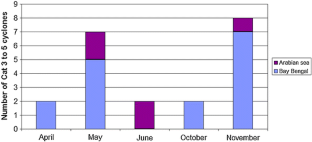 References
Dvorak VF (1984) Tropical cyclone intensity analysis using satellite data. NOAA Tech. Rep. NESDIS 11, National Oceanic and Atmospheric Administration, 47p

Holliday CR, Thompson AH (1979) Climatological characteristics of rapidly intensifying typhoons. Mon Wea Rev 107:1022-1034

Kaplan J, DeMaria M (1999) Climatological and synoptic characteristics of rapidly intensifying tropical cyclones in the North Atlantic Basin, 23rd Conference on Hurricanes and Tropical Meteorology, Miami, FL, Am Meteor Soc 592-595

Kossin JP, Knapp KR, Vimont DJ, Murname RJ, Harper BA (2007) A globally consistent reanalysis of hurricane variability and trends. Geophys Res Lett 34:L.04815

Landsea CW (1993) A climatology of intense (or major) Atlantic hurricanes. Am Meteor Soc 121:1703-1713

Landsea CW, Harper BC, Hoarau K, Knaff JA (2006) Can we detect trends in extreme tropical cyclones? Science 313:452-454

Saffir RH, Simpson B (1974) The hurricane disaster potential scale. Weatherwise 27:169-186

Singh OP, Ali Kahn TM, Rahman (2001) Has the frequency of intense tropical cyclones increased in the North Indian Ocean? Curr Sci 80:575-580

Webster PJ, Holland GJ, Curry JA, Chang HR (2005) Changes in tropical cyclone number, duration, and intensity in a warming environment. Science 309:1844-1846
Copyright information
© 2010 Springer Science+Business Media B.V.
About this chapter
Cite this chapter
Hoarau, K., Chalonge, L. (2010). A Climatology of Intense Tropical Cyclones in the North Indian Ocean Over the Past Three Decades (1980-2008). In: Charabi, Y. (eds) Indian Ocean Tropical Cyclones and Climate Change. Springer, Dordrecht. https://doi.org/10.1007/978-90-481-3109-9_1
DOI: https://doi.org/10.1007/978-90-481-3109-9_1

Published:

Publisher Name: Springer, Dordrecht

Print ISBN: 978-90-481-3108-2

Online ISBN: 978-90-481-3109-9