Abstract

Aesthetic features of landscape pictures play a role in many stages of research in geography and landscape ecology. The ability to discern patterns in pictures is dependent on the availability of two Gestalts: the holistic and the fragmented landscape. The former was historically formed around the landscape painting, the latter is evident in aerial photography and pictures of landscapes on the basis of remote sensing. Gestalts are at the beginning of a road towards increasing mathematisation. But at the end of the road, the qualities of the images (usually obtained after a modeling process) do not revolve around geometric abstraction, but rather, in an opposite way, they show the unforeseen. Inspecting images for unexpected outcomes can be seen as a form of 'de-mathematisation'.
Keywords
Aerial photography

Ecotope

Gestalt

Holism

Landscape painting

Mathematisation

Remote sensing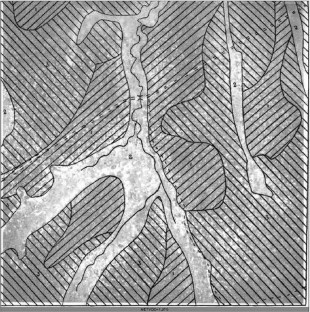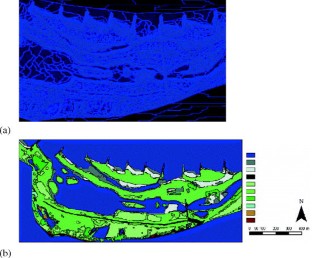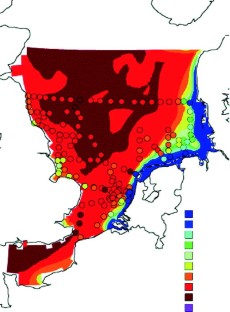 References
Bastide, F. (1990), The iconography of scientific texts, in: M. Lynch and S. Woolgar (eds.), Representation in Scientific Practice, Cambridge, MA: MIT Press, pp. 187–230.

Botkin, D. (1993), Forest Dynamics: An ecological model, New York: Oxford University Press.

Brügelmann, R. (2004), Status rapport digitale inwinning t.b.v. het product GIV B&O HWS, p. 8, at http://www.verkeerenwaterstaat.nl/kennisplein/uploaded/AGI/2005-02/265622/Status%20rapport_definitief.pdf

Clements, F. (1905), Research Methods in Ecology, Lincoln, NE: Sage.

Forman, R.T.T. (1982), Interaction among landscape elements: a core of landscape ecology, in: S.P. Tjallingii and A.A. De Veer (eds.), Perspectives in Landscape Ecology: Contributions to research, planning and management of our environment, Wageningen: Center for Agricultural Publishing and Documentation.

Forman, R.T.T., Michel Godron (1986), Landscape Ecology, New York: John Wiley & Sons.

Humboldt, A. von (1807), Ansichten der Natur.

Husserl, E. (1953), Die Krisis der europäischen Wissenschaften und die tranzendentale Phänomenologie, The Hague: Martinus Nijhoff.

Kwa, C. (1993), The modeling of the grasslands, Historical Studies in the Physical and Biological Sciences 24, 125–155.

Kwa, C. (2005), Alexander von Humboldt's Invention of the Natural Landscape, The European Legacy.

Los, F.J., Villars, M.T., Tol, M.W.M. van der, (2008), A 3-dimensional primary production model (BLOOM/GEM) and its applications to the (southern) North Sea (coupled physical-chemical-ecological model), Journal of Marine Systems, doi:10.1016/j.jmarsys.2008.01.002.

Lynch, M. (1990), The Externalized Retina: Selection and Mathematization in the Visual Documentation of Objects in the Life Sciences, in: M. Lynch and S. Woolgar (eds.), Representation in Scientific Practice, Cambridge MA: MIT Press.

NERC (1992), North Sea Project data set, British Oceanographic Data Center, Proudman Oceanographic Laboratory, UK (1992).

Schmithüsen, Josef (1973), Was ist eine Landschaft? in: P. Karlheinz (ed.), Das Wesen der Landschaft, Darmstadt: Wissenschaftlichte Buchgesellschaft, pp. 156–174.

Shugart, H.H. (1998), Terrestrial Ecosystems in Changing Environments, Cambridge: Cambridge University Press.

Stafford, B.M. (1991), Body Criticism: Imaging the Unseen in Enlightenment Art and Medicine, Cambride, MA: MIT Press.

Stafford, B.M. (1996), Good Looking: Essays on the Virtues of Images, Cambridge MA: MIT Press.

Troll, C. (1939), Luftbildplan und ökologischen Bodenforschung, Zeitschrift der Gesellschaft für Erdkunde zu Berlin, 1939, 241–298 (reprinted in Carl Troll, Luftbildforschung und Landeskundliche Forschung, Franz Steiner verlag, Wiesbaden, 1966).

Troll, C. (1966), Luftbildforschung und landeskundliche Forschung, Wiesbaden: Franz Steiner Verlag.

Zonneveld, I.S. (1989), The land unit – A fundamental concept in landscape ecology, and its applications, Landscape Ecology 3, 67–86.
Copyright information

© 2009 Springer Science+Business Media B.V
About this chapter
Cite this chapter
Kwa, C., van Hemert, M., van der Weij, L. (2009). Visualising Landscapes: Do Pictures Represent Theory or Data?. In: Scholten, H.J., van de Velde, R., van Manen, N. (eds) Geospatial Technology and the Role of Location in Science. GeoJournal Library, vol 96. Springer, Dordrecht. https://doi.org/10.1007/978-90-481-2620-0_4
DOI: https://doi.org/10.1007/978-90-481-2620-0_4

Publisher Name: Springer, Dordrecht

Print ISBN: 978-90-481-2619-4

Online ISBN: 978-90-481-2620-0