Abstract
DMT, also known as N,N-dimethyltryptamine, is a naturally-occurring tryptamine and potent psychedelic drug, found not only in many plants, but also in trace amounts in the human body where its natural function is undetermined. Structurally, it is analogous to the neurotransmitter serotonin and other psychedelic tryptamines such as 5-MeO-DMT and 4-HO-DMT (Fig. 16). DMT is created in small amounts by the human body during normal metabolism by the enzyme tryptamine-N-methyltransferase [134]. Many cultures, indigenous and modern, ingest DMT as a psychedelic in extracted or synthesized forms.
DMT occurs as the primary active alkaloid in several plants including such plants as Mimosa hostilis, Diplopterys cabrerana, and Psychotria viridis. DMT is found as a minor alkaloid in snuff made from Virola bark resin in which 5-MeO-DMT is the main active alkaloid [135]. DMT is also found as a minor alkaloid in the beans of Anadenanthera peregrina and Anadenanthera colubrina used to make Yopo and Vilca snuff in which bufotenin is the main active alkaloid [136].
Keywords
Human Body

Monoamine Oxidase

Natural Function

Oxidase Inhibitor

Monoamine Oxidase Inhibitor
These keywords were added by machine and not by the authors. This process is experimental and the keywords may be updated as the learning algorithm improves.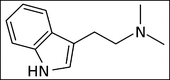 References
Barker SA, Monti JA, Christian ST. N,N-Dimethyltryptamine: an endogenous hallucinogen. Rev Neurobiol. 1981;22:83–110.

Biocca EF, Galeffi C, Montalvo EG, Marini-Bettòlo GB. Sulla sostanze allucinogene impiegata in Amazzonia. Nota 1. Osservazioni sul paricà dei Tukfino e TariSna del bacino del Rio Uaupds. Annali di Chimica. 1964;54:1175–8.

Ott J. Pharmahuasca: human pharmacology of oral DMT plus harmine. J Psychoact Drugs. 1999;31:171–7.

Callaway JC, Grob CS. Ayahuasca preparations and serotonin reuptake inhibitors: a potential combination for adverse interaction. J Psychoact Drugs. 1998;30:367–9.
Copyright information
© 2009 Springer Science + Business Media B.V.
About this chapter
Cite this chapter
Freye, E. (2009). Dimethyltryptamine (DMT) a Psychedelic. In: Pharmacology and Abuse of Cocaine, Amphetamines, Ecstasy and Related Designer Drugs. Springer, Dordrecht. https://doi.org/10.1007/978-90-481-2448-0_35