Abstract

An incompetent tricuspid valve in patients with congenital heart disease can be detrimental to the other cardiac structures and physiology, either in its native abnormal anatomic form or the functional effect on the tricuspid valve from physiologic strains owing to pulmonary valve pathology, large left-to-right shunts, abnormal ventricular interactions, ventricular dysfunction, or iatrogenic phenomena. The tricuspid valve is an important safeguard of the heart, whose functional competence or lack thereof has significant impact on all other cardiac structures and physiology. In this chapter, various lesion scenarios and surgical techniques to repair the tricuspid valve in congenital disease are presented.
Keywords
Right Ventricular

Tricuspid Valve

Hypoplastic Left Heart Syndrome

Right Ventricular Dysfunction

Biventricular Repair
These keywords were added by machine and not by the authors. This process is experimental and the keywords may be updated as the learning algorithm improves.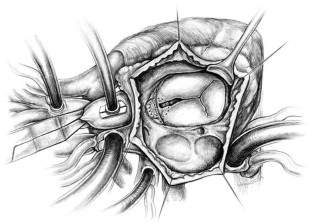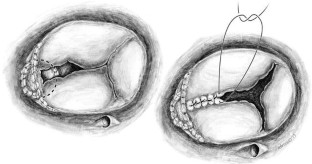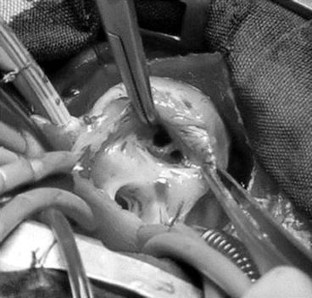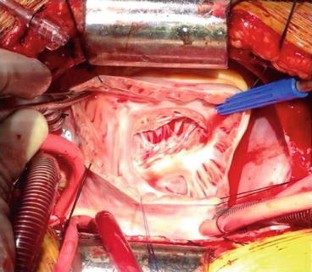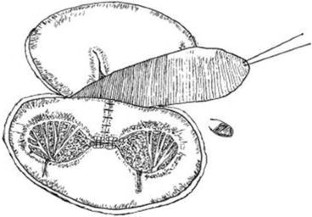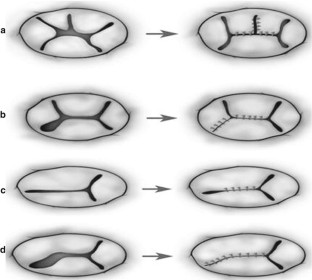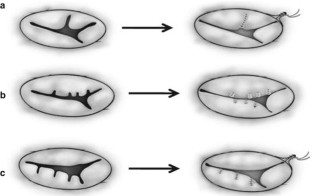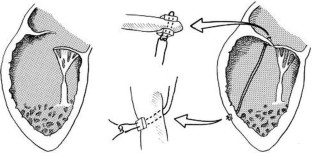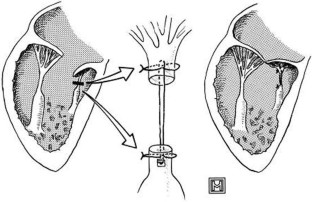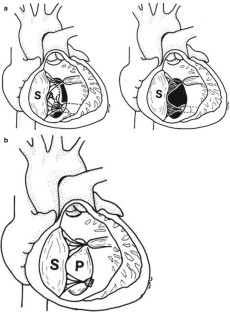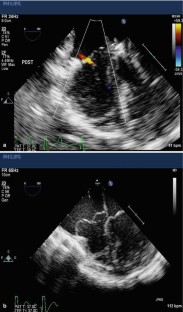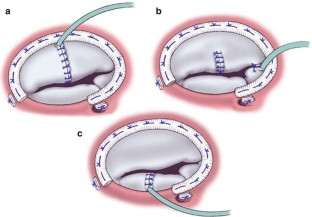 References
Mascherbauer J, Maurer G (2010) The forgotten valve: lessons to be learned in tricuspid regurgitation. Eur Heart J 31:2841–2843

Kobayashi J, Kawashima Y, Matsuda H et al (1991) Prevalence and risk factors of tricuspid regurgitation after correction of tetralogy of Fallot. J Thorac Cardiovasc Surg 102:611–616

Rocchini AP, Rosenthal A, Freed M, Castaneda AR, Nadas AS (1977) Chronic congestive heart failure after repair of tetralogy of Fallot. Circulation 56:305–310

Hachiro Y, Takagi N, Koyanagi T, Abe T (2002) Reoperation for tricuspid regurgitation after total correction of tetralogy of Fallot. Ann Thorac Cardiovasc Surg 8:199–203

Wang J, Liang YW, Hayashi J (2005) Selective annuloplasty for tricuspid regurgitation in children. Ann Thorac Surg 79:937–941

Kanter KR, Doelling NR, Fyfe DA, Sharma S, Tam VK (2001) De Vega tricuspid annuloplasty for tricuspid regurgitation in children. Ann Thorac Surg 72:1344–1348

Oechslin EN, Harrison DA, Harris L et al (1999) Reoperation in adults with repair of tetralogy of Fallot: indications and outcomes. J Thorac Cardiovasc Surg 118:245–251

Cheng JW, Russell HM, Stewart RD, Thomas J, Backer CL, Mavroudis C (2012) The role of tricuspid valve surgery in management of tetralogy of Fallot: collective review. World J Pediatr Congenit Heart Surg 3:492–498

Ghanta RK, Chen R, Narayanasamy N, McGurk S, Lipsitz S, Chen FY, Cohn LH (2007) Suture bicuspidization of the tricuspid valve versus ring annuloplasty for repair of functional tricuspid regurgitation: midterm results of 237 consecutive patients. J Thorac Cardiovasc Surg 133:117–126

Karalius R, Sipavicius R, Aidietis A, Zakarkaite D, Marinskis G, Nogiene G, Lankutiene L, Sirvydis V (2012) A double-orifice tricuspid valve associated with a divided right atrium. Ann Thorac Surg 93:e63–e65

Tutarel O, Westhoff-Bleck M (2007) The double-orifice tricuspid valve: a review. J Heart Valve Dis 16:508–510

Oppido G, Pace Napoleone C, Ragni L, Turci S, Loforte A, Angeli E, Gargiulo G (2006) Double orifice tricuspid valve in an infant with tetralogy of Fallot. Ann Thorac Surg 81:1121–1123

Greenfild W (1876) Double mitral valve. Trans Pathol Soc (London) 27:128–129

Sanchez Cascos A, Rabago P, Sokolowski M (1967) Duplication of the tricuspid valve. Br Heart J 29:943–949

Zhang J, Ma WG, Pan SW (2011) Surgical management of double-orifice tricuspid valve. J Card Surg 26:425–428

Hoschtitzky A, Rowlands H, Ilina M, Khambadkone S, Elliott MJ (2010) Single ventricle strategy for Uhl's anomaly of the right ventricle. Ann Thorac Surg 90:2076–2078

Deal BJ, Mavroudis C, Backer CL (2003) Beyond Fontan conversion: surgical therapy of arrhythmias including patients with associated complex congenital heart disease. Ann Thorac Surg 76:542–553

Azhari N, Assaqqat M, Bulbul Z (2002) Successful surgical repair of Uhl's anomaly. Cardiol Young 12:192–195

Yoshii S, Suzuki S, Hosaka S et al (2001) A case of Uhl anomaly treated with one and a half ventricle repair combined with partial right ventriculectomy in infancy. J Thorac Cardiovasc Surg 122:1026–1028

Tanoue Y, Kado H, Shiokawa Y (2003) Uhl's anomaly complicated with critical ventricular arrhythmia in a 2-month-old infant. Eur J Cardiothorac Surg 24:1040–1042

Lai YQ, Luo Y, Zhang C, Zhang ZG (2006) Utilization of double-orifice valve plasty in correction of atrioventricular septal defect. Ann Thorac Surg 81:1450–1454

Fukuda T, Kashima I, Yoshiba S (2003) Surgically created double orifice repair of tricuspid regurgitation in infants with congenital heart disease. J Thorac Cardiovasc Surg 126:1220–1221

Hetzer R, Komoda T, Delmo Walter EM (2013) How to do the double orifice valve technique to treat tricuspid valve incompetence. Eur J Cardiothorac Surg 43:641–642

Said SM, Burkhart HM, Dearani JA (2012) Surgical management of congenital (non-Ebstein) tricuspid valve regurgitation. Semin Thorac Cardiovasc Surg Pediatr Card Surg Annu 15:46–60

Foker JE, Berry JM, Harvey BA, Pyles LA (2012) Mitral and tricuspid valve repair and growth in unbalanced atrial ventricular canal defects. J Thorac Cardiovasc Surg 143(4 Suppl):S29–S32

Falk V, van Son JA, Mohr FW (1996) Pericardial patch augmentation of right atrioventricular valve in atrioventricular canal. Ann Thorac Surg 62:288–290

Higashidate M, Tamiya K, Kurosawa H, Imai Y (1992) Role of the septal leaflet in tricuspid valve closure. Consideration for treatment of complete atrioventricular canal. J Thorac Cardiovasc Surg 104:1212–1217

Stellin G, Vida VL, Milanesi O, Rubino M, Padalino MA, Secchieri S, Pittarello G, Casarotto D (2002) Surgical treatment of complex cardiac anomalies: the 'one and one half ventricle repair'. Eur J Cardiothorac Surg 22:431–437

Mavroudis C, Stewart RD, Backer CL, Deal BJ, Young L, Franklin WH (2005) Atrioventricular valve procedures with repeat Fontan operations: influence of valve pathology, ventricular function, and arrhythmias on outcome. Ann Thorac Surg 80:29–36

Alfieri O, De Bonis M, Lapenna E, Agricola E, Quarti A, Maisano F (2003) The "clover technique" as a novel approach for correction of post-traumatic tricuspid regurgitation. J Thorac Cardiovasc Surg 126:75–79

Ando M, Takahashi Y (2007) Edge-to-edge repair of common atrioventricular or tricuspid valve in patients with functionally single ventricle. Ann Thorac Surg 84:1571–1577

Mitchell M, Litwin SB, Tweddell J (2007) Complex atrioventricular canal. Semin Thorac Cardiovasc Surg Pediatr Card Surg Annu 10:32–41

Honjo O, Mertens L, Van Arsdell G (2011) Atrioventricular valve repair in patients with single-ventricle physiology: mechanisms, techniques of repair, and clinical outcomes. Semin Thorac Cardiovasc Surg Pediatr Card Surg Annu 14:75–84

Reddy VM, McElhinney DB, Brook MM, Silverman NH, Stanger P, Hanley FL (1998) Repair of congenital tricuspid valve abnormalities with artificial chordae tendineae. Ann Thorac Surg 66:172–176

Wong DJ, Iyengar AJ, Wheaton GR, Ramsay JM, Grigg LE, Horton S, Konstantinov IE, Brizard CP, d'Udekem Y (2012) Long-term outcomes after atrioventricular valve operations in patients undergoing single-ventricle palliation. Ann Thorac Surg 94:606–613

Pessotto R, Padalino M, Rubino M, Kadoba K, Büchler JR, Van Praagh R (1999) Straddling tricuspid valve as a sign of ventriculoatrial malalignment: a morphometric study of 19 postmortem cases. Am Heart J 138:1184–1195

van Son JA, Hambsch J, Mohr FW (1998) Suspension of straddling tricuspid valve chordae into the appropriate ventricle. Ann Thorac Surg 65:850–852

Serraf A, Nakamura T, Lacour-Gayet F, Piot D, Bruniaux J, Touchot A, Sousa-Uva M, Houyel L, Planche C (1996) Surgical approaches for double-outlet right ventricle or transposition of the great arteries associated with straddling atrioventricular valves. J Thorac Cardiovasc Surg 111:527–535

Delius RE, Rademecker MA, de Leval MR, Elliott MJ, Stark J (1996) Is a high-risk biventricular repair always preferable to conversion to a single ventricle repair? J Thorac Cardiovasc Surg 112:1561–1569

Akashi H, Aoyagi S, Kosuga K, Yamana K, Ohryoji A, Ohishi K (1995) Simultaneous operation for annulo-aortic ectasia, mitral regurgitation, and tricuspid regurgitation in a patient with Marfan syndrome–report of a case. Nihon Kyobu Geka Gakkai Zasshi 43:1223–1227

Forteza A, De Diego J, Centeno J, López MJ, Pérez E, Martín C, Sánchez V, Rufilanchas JJ, Cortina J (2010) Aortic valve-sparing in 37 patients with Marfan syndrome: midterm results with David operation. Ann Thorac Surg 89:93–96

Mavroudis C, Backer CL, Kohr LM, Deal BJ, Stinios J, Muster AJ, Wax DF (1999) Bidirectional Glenn shunt in association with congenital heart repairs: the 11/2 ventricle repair. Ann Thorac Surg 68:976–982

Van Arsdell GS (2000) One and half ventricle repair. Semin Thorac Cardiovasc Surg 3:173–178
Copyright information

© 2014 Springer-Verlag Italia
About this chapter
Cite this chapter
Dodge-Khatami, A., Frost, J., Mavroudis, C. (2014). Surgical Techniques of Tricuspid Valve Repair in Patients Without Ebstein Malformation. In: Giamberti, A., Chessa, M. (eds) The Tricuspid Valve in Congenital Heart Disease. Springer, Milano. https://doi.org/10.1007/978-88-470-5400-4_14
DOI: https://doi.org/10.1007/978-88-470-5400-4_14

Published:

Publisher Name: Springer, Milano

Print ISBN: 978-88-470-5399-1

Online ISBN: 978-88-470-5400-4

eBook Packages: MedicineMedicine (R0)