Counter-clockwise Isthmus-Dependent Peritricuspid Reentry with an Atypical Electrocardiographic Pattern: what Should Be Complex is not Always Actually Complex
Abstract
This is a 79-year-old-female patient with hypertensive heart disease without previous cardiac or thoracic surgery. Two years before the procedure described here, she presented with recurrent episodes of atrial fibrillation, which was treated with oral amiodarone at a dose of 1.4 g per week. An echocardiogram in sinus rhythm showed a hypertrophic left ventricle with impaired systolic function (ejection fraction of 44%), enlargement of both atria and moderate mitral and tricuspid regurgitation. On antiarrhytmic therapy, she had no recurrence of atrial fibrillation, but six months before the procedure she exhibited recurrent episodes of persistent atypical atrial flutter. These were poorly tolerated and required electrical cardioversion for their termination. As shown in Fig. 1, surface P wave morphology during the clinical arrhythmia was positive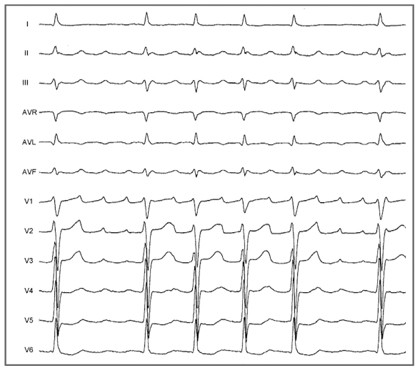 in the inferior leads and in all precordial leads, flat in I and negative in aVL, suggesting a left atrial arrhythmia. The procedure described below was performed during hospitalisation for arrhythmia recurrence.
Keywords
Hypertensive Heart Disease 
Tricuspid Annulus 
Left Anterior Oblique 
Inferior Lead 
Coronary Sinus Ostium 
These keywords were added by machine and not by the authors. This process is experimental and the keywords may be updated as the learning algorithm improves.
References
1.

Rodriguez LM, Timmermans C, Nabar A et al. Biatrial activation in isthmus-dependent atrial flutter. Circulation 2001; 104: 2545–2550.

PubMed

CrossRef

Google Scholar

2.

Chugh A, Latchamsetty R, Oral H et al. Characteristics of cavotricuspid isthmus-dependent atrial flutter after left atrial ablation of atrial fibrillation. Circulation 2006; 113: 609–615.

PubMed

CrossRef

Google Scholar
Copyright information
© Springer-Verlag Italia 2008