Keywords
Vitiligo

Differential diagnosis vitiligo

Mimickers vitiligo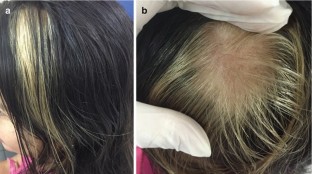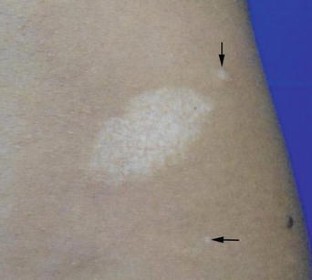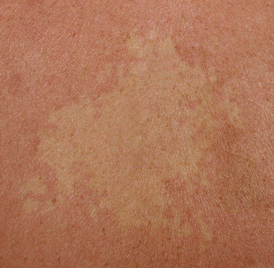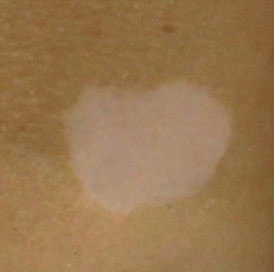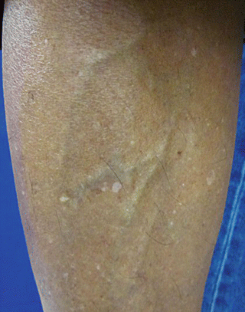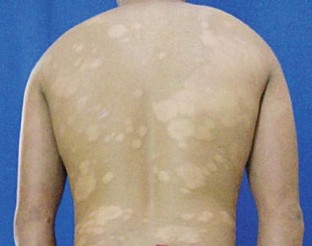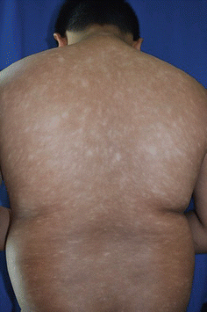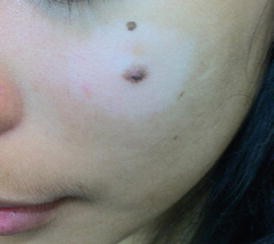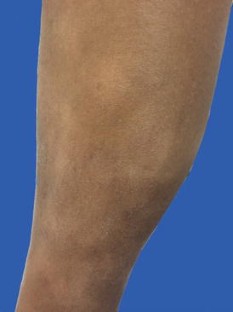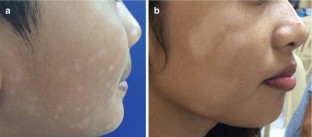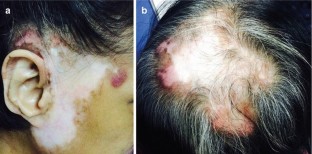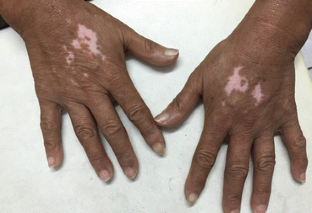 References
Alikhan A, Felsten LM, Daly M, Petronic-Rosic V. Vitiligo: a comprehensive overview. J Am Acad Dermatol. 2011;65:473–91.

Oiso N, Fukai K, Kawada A, Suzuki T. Piebaldism. J Dermatol. 2013;40:330–5.

Van Geel N, Wallaeys E, Goh BK, De Mil M, Lambert J. Long term results of non-cultured epidermal cellular grafting in vitiligo, halo nevi, piebaldism and nevus depigmentosus. Br J Dermatol. 2010;163:1186–93.

Schwartz RA, Fernandez G, Kotulska K, Jozwiak S. Tuberous sclerosis complex: advances in diagnosis, genetics, and management. J Am Acad Dermatol. 2007;57:189–202.

Marque M, Roubertie A, Jaussent A, Carneiro A, Meunier L, Guillot B, et al. Nevus anemicus in neurofibromatosis type 1: a potential new diagnostic criterion. J Am Acad Dermatol. 2013;69:768–75.

Mizutani H, Ohyanagi S, Umeda Y, Shimizu M, Kupper TS. Loss of cutaneous delayed hypersensitivity reactions in nevus anemicus: evidence for close concordance of cutaneous delayed hypersensitivity and endothelial E-selectin expression. Arch Dermatol. 1997;133:617–20.

Kim SK, Kang HY, Lee ES, Kim YC. Clinical and histopathologic characteristics of nevus depigmentosus. J Am Acad Dermatol. 2006;55:423–8.

Shin MK, Jeong KH, Oh IH, Choe BK, Lee MH. Clinical features of idiopathic guttate hypomelanosis in 646 subjects and association with other aspects of photoaging. Int J Dermatol. 2011;50:798–805.

Passeron T, Ortonne JP. Atlas of pigmentary disorder. Switzerland: Springer International Publishing; 2014. p. 175, 153.

Rerknimitr P, Disphanurat W, Achariyakul M. Topical tacrolimus significantly promotes repigmentation in idiopathic guttate hypomelanosis: a double-blind, randomized, placebo-controlled study. J Eur Acad Dermatol Venereol. 2013;27:460–4.

Shin J, Kim M, Park SH, Oh SH. The effect of fraction carbon dioxide lasers on idiopathic guttate hypomelanosis: a preliminary study. J Eur Acad Dermatol Venereol. 2013;27:e243–6.

World Health Organization. Global leprosy: update on the 2012 situation. Wkly Epidemiol Rec. 2013;88:365–79.

Kundu RV, Garg A. Yeast infections: Candidiasis, Tinea (Pityriasis) Versicolor, and Malassezia (Pityrosporum) Folliculitis. In: Goldsmith LA, Katz SI, Gilchrest BA, Paller AS, Leffel DJ, Wolff K, editors. Fitzpatrick's dermatology in general medicine. 8th ed. New York: McGraw-Hill Companies, Inc; 2012. p. 2308–10.

Akaraphanth R, Douglass MC, Lim HW. Hypopigmented mycosis fungoides: treatment and 61/2 year follow-up of 9 patients. J Am Acad Dermatol. 2000;42:33–9.

Kanokrungsee S, Vachiramon V. Hypopigmented mycosis fungoides treated with narrowband UVB: A10-year retrospective study. J Am Acad Dermatol. 2011;64(2 Suppl 1):AB114.

Aouthmany M, Weinstein M, Zirwas MJ, Brodell RT. The natural history of halo nevi: a retrospective case series. J Am Acad Dermatol. 2012;67:582–6.

James WD, Berger TG, Elston DM. Melanocytic nevi and neoplasms. In: James WD, Berger TG, Elston DM, editors. Andrews' diseases of the skin: clinical dermatology. London: Saunders Elsevier; 2011. p. 680.

Wolff K, Johnson RA. Fitzpatrick's color atlas & synopsis of clinical dermatology. 6th ed. New York: McGraw-Hill; 2009. p. 183–4.

Lin RL, Janniger CK. Pityriasis alba. Cutis. 2005;76:21–4.

Jones TE, Drenkard C, Bao GB, Lim S, Parker S. Incidence of discoid lupus erythematosus without systemic lupus: data from the Georgia lupus registry. J Am Acad Dermatol. 2013;68(4):AB71. p. 5935.

Sung JJ, Chen TS, Gilliam AC, McCalmont TH, Gilliam AE. Clinicohistopathological correlations in juvenile localized scleroderma: studies on a subset of children with hypopigmented juvenile localized scleroderma due to loss of epidermal melanocytes. J Am Acad Dermatol. 2011;65:364–73.

Rai VM, Balachandran C. Pseudovitiligo in systemic sclerosis. Dermatol Online J. 2005;11:41.

Zwischenberger BA, Jacobe HT. A systematic review of morphea treatments and therapeutic algorithm. J Am Acad Dermatol. 2011;65:925–41.
About this chapter
Cite this chapter
Gabriel, M.T.G., Teodosio, G.B., Tasmin, N.K.D. (2017). Differential Diagnosis of Vitiligo in Brown Skin. In: Handog, E., Enriquez-Macarayo, M. (eds) Melasma and Vitiligo in Brown Skin. Springer, New Delhi. https://doi.org/10.1007/978-81-322-3664-1_24
DOI: https://doi.org/10.1007/978-81-322-3664-1_24

Published:

Publisher Name: Springer, New Delhi

Print ISBN: 978-81-322-3662-7

Online ISBN: 978-81-322-3664-1

eBook Packages: MedicineMedicine (R0)