Abstract

Augmented Reality (AR) technology is considered to be an important emerging technology used in education today. One potentially key use of AR in education is to teach socio-scientific issues (SSI), topics that inure students towards social conscience and critical thinking. This work uses multiple markers and virtual buttons that interact with each other, creating a life-like visual spectacle. Learning about issues such as global warming by using AR technology, students will have an increased sense of experiencing immersion, immediacy, and presence, thereby enhancing their learning as well as likely improving their ability to make better informed decisions about considerations of such issues. Another advantage of AR is that it is a low cost technology, making it advantageous for educators to adapt to their classrooms. Also in this work we compare the effectiveness of AR versus ordinary video by polling a group of students to assess the content understandability, effectiveness and interaction of both the delivery methods.
Keywords
Augmented reality

Global warming

Multiple markers

Virtual buttons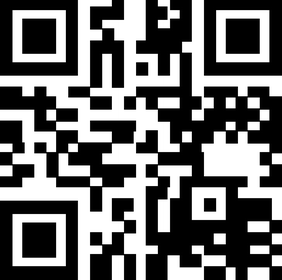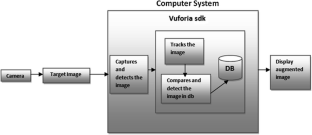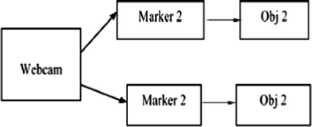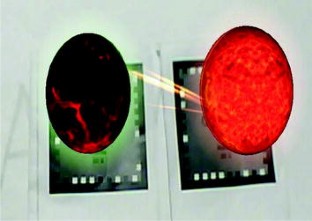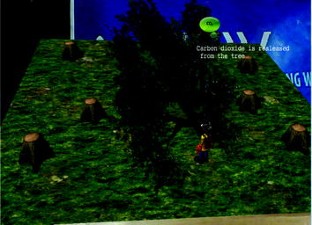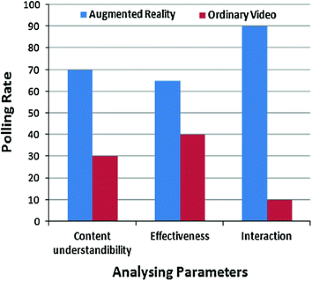 References
Johnson, L.F., Levine, A., Smith, R.S., Haywood, K.: Key emerging technologies for elementary and secondary education. Educ. Digest 76(1), 36–40 (2010)

Zeidlera, D.L., Nichols, B.H.: Socio scientific issues: theory and practice. J. Elementary Sci. Educ. 21(2) (2009)

Bronack, S.C.: The role of immersive media in online education. J. Continuing High. Educ. 59(2), 113–117 (2011)

Klopfer, E.: Augmented Learning: research and design of mobile educational games. MIT Press, MA (2008)

Hirzer, M.: Marker Detection for Augmented Reality Applications, ICG-TR-08/05Graz, October 27 (2008)

Zhu, E., Hadadgar, A., Zary, N.: Augmented Reality in Healthcare Education: an integrative review, PeerJ on 8 July (2014)

Chang, R.-C., Chen, S.-N., Lin, H.-J., Yu, H.-M.: DUIRA: an interactive learning platform for mixed reality. International Conference on Multimedia and Expo (ICME) (2010)

Kaufmann, H.: Collaborative augmented reality in education, Inst. Softw. Technol. Interact. Syst. (2014)

Chang, R.-C., Chung, L.-Y.: A study on augmented reality applications in situational simulation learning. International Conference on Ubi-Media Computing and workshops (2014)

Perez Lopez, D., Contero, M.: Delivering educational multimedia contents through an augmented reality: a case study on its impact on knowledge acquisition and retention. J. Educ. Technol. October (2013)

Ivanova, M., Ivanov, G.: Enhancement of learning and teaching in computer graphics through marker augmented reality technology. Int. J. New Comput. Architectures Appl. (2011)

Cai, S., Wang, X., Chiang, F.-K.: A case study of augmented reality simulation system application in a chemistry course. Comput. Human Behav.(2014)

Chang, H.-Y., Wu, H.-K., Hsu, Y.-S.: Integrating a mobile augmented reality activity to contextualize student learning of a socio scientific issue. British J. Educ. Technol. (2013)

Creighton, R.H.: Unity 3D Game Development by Example, pack publication, ISBN 13:978-93-5023-278-1 (2010)

Hawkinson, E.: Informal learning environments in tourism: augmented reality, International Academic Conference (2014)

Augmented Reality (Vuforia), https://developer.qualcomm.com/mobile-development/add-advanced-features/augmented-reality-vuforia

Xiao, C., Lifeng, Z.: Implementation of mobile augmented reality based on Vuforia and Rawajali. International Conference on Software engineering and service science (2014)
Acknowledgments

We are grateful for the support and facilities provided by the Amrita E-Learning Research Lab and Amrita Vishwa Vidyapeetham University.
About this paper
Cite this paper
Parvathy, K.R., McLain, M.L., Bijlani, K., Jayakrishnan, R., Bhavani, R.R. (2016). Augmented Reality Simulation to Visualize Global Warming and Its Consequences. In: Shetty, N., Prasad, N., Nalini, N. (eds) Emerging Research in Computing, Information, Communication and Applications. Springer, New Delhi. https://doi.org/10.1007/978-81-322-2553-9_7
DOI: https://doi.org/10.1007/978-81-322-2553-9_7

Published:

Publisher Name: Springer, New Delhi

Print ISBN: 978-81-322-2552-2

Online ISBN: 978-81-322-2553-9

eBook Packages: EngineeringEngineering (R0)