Abstract

Early woman managed menstruation in many ways. These included isolating herself when bleeding, using leaves or cloth and other techniques. These used to be environmentally friendly systems, causing no harm. As societies evolved, newer ways of managing emerged, giving rise to menstrual products that are no longer sustainable. Waste now includes menstrual debris, which is an environmental concern. We examined menstrual products used by women in South Rajasthan through a sustainable perspective. We developed a new product, the Uger fabric sanitary napkin to address some of the gaps we found. For assessing sustainability, we developed a diagrammatic representation for sustainable menstrual management, the PASS diagram. We assessed all these products through PASS using qualitative data from studies. We found Uger to be a sustainable option. The PASS diagram has limitations, but when improved in future, it can potentially be a local powerful tool for communities to assess menstruation management sustainability.
Keywords
Menstruation

Sustainable

Reusable

Diagram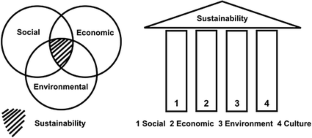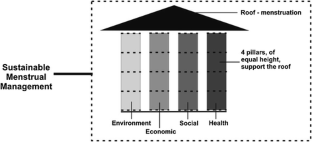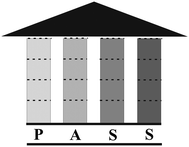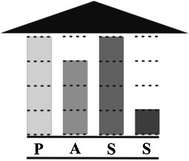 Notes
1.

Cloth is recycled from old garments petticoats, turbans, veils, towels, bed sheets, saris, loin cloth.

2.

Time Piece, is a rectangular piece of fleece or poly acrylic fibre. The non woven material, is available in dark shades, the fabric was tested using standards for identification of fiber—ASTM D276 and identification of dyes as per AATCC 161-2012.

3.

DSN—Disposable Sanitary Napkins—branded or locally produced.

4.

Studies were done through 5 home visits, visiting spaces used by women for toilet needs, conducting 3 group discussions with 68 young women and girls. All girls and women are from schedule caste families, age group 16–50 years. Additionally we interviewed 3 doctors.

5.

LCA Life Cycle Assessment assess a product at all stages production, consumption, till disposal.

6.

WF Water Footprint assesses total amount of fresh water, direct, indirect water use by producer and consumer.

7.

MD Menstrual Debris means residue, remains of menstrual product after use and disposal.

8.

Interviews with gynecologists—cotton cloth will not potentially cause a health problem. Problems occur due to poor personal hygiene and improper care of menstrual cloth.

9.

Uger means "New Beginning" in Mewadi, the language of Sothern Rajasthan.

10.

It takes 2,720 litres of water to produce one cotton T-shirt.

11.

Materials in Time Piece photodegrade, they break down and enter waterways causing pollution.

12.

It takes a machine only 40 s to make one sanitary napkin.

13.

Uger products are currently made from BT cotton.
References
Bono, D.E.: Simplicity. Penguin Books, p. 42, (1998)

Chapman, J.: Emotionally durable design, Earthscan, p. 17, (2007)

Cotton and Water, (n.d).: http://ejfoundation.org/cotton/cotton-and-water. (April 23, 2014)

Ecofemme Washable Cloth Pads, (n.d).: http://ecofemme.org (May 14, 2014)

Finley, H. (n.d).: Museum of menstruation (mum.org) (Oct 6, 2013)

Four pillars of Sustainability, (n.d).: http://sustainablekingston.ca/community-plan/four-pillars-of-sustainability (May 2, 2014)

Green Communities.: http://www.epa.gov/greenkit/sustain.htm (2012). Accesses 4 Jan 2014

Hawkes, J.: The fourth pillar of sustainability cultural essential role in public planning. Common Ground Publishing Pvt Ltd (2001)

Human Rights, (n.d).: http://www.unfpa.org/rights/rh.htm (March 4, 2014)

Juyal. R, Kandpal, S.D., Semwal, J., Negi, K.S.: Practices of Menstrual hygiene among adolescent girls in a district of Uttrakhand. Indian J. Community Health. 24(2), (2012). http://www.iapsmupuk.org/journal/index.php/IJCH/article/view/173. Feb 8, 2013

Landes, L.: Resist planned obsolescence or accept the financial consequences. http://www.forbes.com/sites/moneybuilder/2012/11/06/resist-planned-obsolescence-or-accept-the-financial-consequences/ (2012). Accessed 26 May 2014

Lozano, R.: Envisioning sustainability three-dimensionally. J. Cleaner Prod. 16(2008), 1838–1846 (2008)

Mann, S.: Visualising Sustainability. http://computingforsustainability.com/2009/03/15/visualising-sustainability/ (2009). Accessed 23 May 2014

Moore, J.: Target using scoring system to look at product sustainability. http://www.startribune.com/business/231211911.html (2013). Accessed 29 August 2014

Murthy, L.: It's time to take the bull by the horns—menstrual product debris can be reduced by using Uger fabric washable pads. To be published—Conference Design for Sustainable Wellbeing and Environment (June 2014)

Periods, (n.d).: http://www.nhs.uk/conditions/periods/pages/introduction.aspx (March 6, 2014)

Potts, T., Hastings, E.: Marine litter, issues, impact and actions. http://computingforsustainability.com/2009/03/15/visualising-sustainability/ (2011). Accessed 24 May 2014

Sabnis, V.: Used sanitary napkins, condoms choking city, Mid day, Jan 15, 2013. http://archive.mid-day.com/news/2013/jan/150113-pune-used-sanitary-napkins-condoms-choking-city.htm (2013). Accessed 8 Aug 2013

Sanitary Napkin Properties, (n.d).: http://textilelearner.blogspot.in/2012/05/sanitary-napkins-properties-of-sanitary.html (May 13, 2014)

Sustainable, (n.d).: (http://www.thefreedictionary.com/sustainable (Feb 4, 2014)

Sustainable Development. http://rosia-montana-cultural-foundation.com/sustainable-development (2013). Accessed 1 May 2014

UNEP Guidelines.: Guidelines for social life cycle assessment of products (2009)

YouTube.: How sanitary pads are made. https://www.youtube.com/watch?v=IfLOpvWGj80 (Jan 6, 2013). Accessed 22 April 2014
Acknowledgments

The researcher gratefully acknowledges the support from (1) Aniruddha Joshi, Industrial Design Centre, Indian Institute of Technology, Bombay; (2) Deepti Panchratna and H.B.N. Murthy, for going over drafts of the paper; (3) NGO, Jatan Sansthan, Rajsamand District, Rajasthan—for sponsoring ongoing research; (4) People who willingly gave the researcher their valuable time; (5) Gynecologists, V. Ramakrishnan and V. Pendse; (6) NGO, Ecofemme, Auroville, Tamil Nadu—for sharing their work with us; (7) Design Department, Bansathali University, Tonk, Rajasthan, for laboratory testing of fabrics.
About this paper
Cite this paper
Murthy, L. (2015). Green Is the New Colour for Menstruation. Uger Fabric Pads Show the Way Through a Sustainable Perspective. In: Chakrabarti, A. (eds) ICoRD'15 – Research into Design Across Boundaries Volume 2. Smart Innovation, Systems and Technologies, vol 35. Springer, New Delhi. https://doi.org/10.1007/978-81-322-2229-3_19
DOI: https://doi.org/10.1007/978-81-322-2229-3_19

Published:

Publisher Name: Springer, New Delhi

Print ISBN: 978-81-322-2228-6

Online ISBN: 978-81-322-2229-3

eBook Packages: EngineeringEngineering (R0)