Abstract

Rhodanine and thiazolidinone (TZD) heterocycles are attractive targets in organic and medicinal chemistry owing to their potency in a wide spectrum of biological activities and can also serve as synthetic intermediates for many kinds of pharmaceuticals or drug precursors. Consequently, looking for efficient and concise green methods for the synthesis of these types of compounds is a major challenge in chemistry. As a result, many green methods have been used to synthesize structurally complex and diverse rhodanine and TZDs in recent years. The purpose of this chapter is to discuss the recent green synthesis of the rhodanine and TZD heterocyclic scaffolds including aqueous medium synthesis, ionic liquid, microwave, ultrasonic irradiation, solvent-free methods, solid catalysts, such as mesoporous, magnetic nanoparticles, etc.
Keywords
Rhodanine

Thiazolidinone (TZD)

5-Oxo-2-thioxo-3-thiophene carboxylate

Heterocycles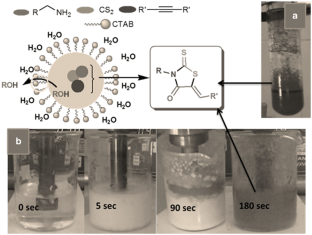 References
Momosw Y, Maekawa T, Yamano T, Kawada M, Odaka H, Ikeda H, Sohda T (2002) Novel 5-substituted-2,4-thiazolidinedione and oxazolidinedione derivatives as insulin sensitizers with antidiabetic activity. J Med Chem 45:1518–1534

Unangst PC, Connor DT, Cetenko WA, Sorenson RJ, Sircar JC, Wright CD, Schrier DJ, Dyer RD (1993) Oxazole, thiazole, and imidazole derivatives of 2,6-di-tert-butylphenol as dual 5-lipoxygenase and cyclooxygenase inhibitors. Bioorg Med Chem Lett 3:1729–1734

Jiang C, Ting AT, Seed B (1998) PPAR-gamma agonists inhibit production of monocyte inflammatory cytokines. Nature 391:82–86

Ricote M, Li AC, Willson TM, Kelly CJ, Glass CK (1998) The peroxisome proliferator-activated receptor-gamma is a negative regulator of macrophage activation. Nature 391:79–82

Kubota T, Koshizuka K, Williamson EA, Asou H, Said JW, Holden S, Miyoshi I, Koeffler HP (1998) Ligand for peroxisome proliferator-activated receptor γ (troglitazone) has potent antitumor effects against human prostate cancer both in vitro and in vivo. Cancer Res 58:3344–3352

Moretti RM, Marelli MM, Motta M, Limonta P (2001) Oncostatic activity of a thiazolidinedione derivative on human androgen-dependent prostate cancer cells. Int J Cancer 92:733–737

Verma A, Saraf SK (2008) 4-Thiazolidinone—a biologically active scaffold. Eur J Med Chem 43:897–905

McGuire WC, O'Neil RC, Brody G (1966) Anthelmintic activity of 3-methyl-5-[(p-nitrophenyl)azo]rhodanine. J Parasitol 52:528–537

Sing WT, Lee CL, Yeo SL, Lim SP, Sim MM (2001) Arylalkylidene rhodanine with bulky and hydrophobic functional group as selective HCV NS3 protease inhibitor. Bioorg Med Chem Lett 11:91–94

Grant EB, Guiadeen D, Baum EZ, Foleno BD, Jin H, Montenegro DA, Nelson EA, Bush K, Hlasta DJ (2000) The synthesis and SAR of rhodanines as novel class β-lactamase inhibitors. Bioorg Med Chem Lett 10:2179–2182

Orchard MG, Neuss JC, Galley CMS, Carr A, Porter DW, Smith P, Scopes DIC, Haydon D, Vousden K, Stubberfield CR, Young K, Page M (2004) Rhodanine-3-acetic acid derivatives as inhibitors of fungal protein manosyl transferase 1 (PMT1). Bioorg Med Chem Lett 14:3975–3978

Cutshall NS, O'Day C, Prezhdo M (2005) Rhodanine derivatives as inhibitors of JSP-1. Bioorg Med Chem Lett 15:3374–3379

Allan V (1956) 2-Carboxymethylmercaptobenzimidazole and related compounds. J Org Chem 21:24–27

Gaber AM, El-Dean AM, Kamal AM, Atalla A (1993) Molecular Rearrangement of Sulfur Compounds (IV) Pyrolysis of 2-arylimino-3aryl5-benzylidenethiazolidin-4one. Phosphorus, Sulfur, Silicon, Relat Elem 80:101–108

Hanefeld W, Schlitzer M (1994) Oxidation of thiourethanes, XII: oxidative desulfuration of cyclic dithiocarbamates and carbazates using hydrogenperoxide or hydrogenperoxide/sodium tungstate in a two-phase-system. Arch Pharm 7:413–415

Fresneau P, Cussac M, Morand JM, Szymonski B, Tranqui D, Leclerc G (1998) Synthesis, activity, and molecular modeling of new 2,4-dioxo-5-(naphthylmethylene)-3-thiazolidineacetic acids and 2-thioxo analogues as potent aldose reductase inhibitors. J Med Chem 41:4706–4715

Holmberg B (1910) Estersäuren von Schwefelsubstituierter Kohlensäure mit aliphatischen Alkoholsäuren. Journal für Praktische Chemie 81(1):451–465

Sharma M, Chaturvedi V, Manju YK, Bhatnagar S, Srivastava K, Puri SK, Chauhan PMS (2009) Substituted quinolinylchalcones and quinolinylpyrimidines as a new class of anti-infective agents. Eur J Med Chem 44:2081–2091

Strube E (1959) N-(p-acetylaminophenyl)rhodanine. Organic Syntheses Coll 39:1

Gabillet S, Lecercle D, Loreau O, Carboni M, Dezard S, Gomis JM, Taran F (2007) Phosphine-catalyzed construction of sulfur heterocycles. Org Lett 9:3925–3927

Orazio AA, Lucia De Crescentini, Gianfranco F, Paolino F, Gianluca G, Fabio M, Giada M, Mohamed SB (2009) An efficient one-pot, three-component synthesis of 5-Hydrazinoalkylidene rhodanines from 1,2-diaza-1,3-dienes. Org Lett 11:2265–2268

Singh SJ, Chauhan SMS (2013) Potassium carbonate catalyzed one pot four-component synthesis of rhodanine derivatives. Tetrahedron Lett 54:2484–2488

Attanasi OA, Crescentini LD, Favi G, Filippone P, Giorgi G, Mantellini F, Moscatelli G, Barrett KE, Keely S (2000) Chloride secretion by the intestinal epithelium: molecular basis and regulatory aspects. J Annu Rev Physiol 62:535

Field M (2003) Intestinal ion transport and the pathophysiology of diarrhea. J Clin Invest 111:931–943

Gabriel SE, Brigman KN, Koller BH, Boucher RC, Stutts MJ (1994) Cystic fibrosis heterozygote resistance to cholera toxin in the cystic fibrosis mouse model. Science 266:107–109

Ma T, Thiagarajah JR, Yang H, Sonawane ND, Folli C, Galietta LJ, Verkman AS (2002) Thiazolidinone CFTR inhibitor identified by high-throughput screening blocks cholera toxin-induced intestinal fluid secretion. J Clin Invest 110:1651–1658

Sonawane ND, Muanprasat C, Nagatani R Jr, Song Y, Verkman AS (2005) In vivo pharmacology and antidiarrheal efficacy of a thiazolidinone CFTR inhibitor in rodents. J Pharm Sci 94:134–143

Factor P, Mutlu GM, Chen L, Mohameed J, Akhmedov AT, Meng FJ, Jilling T, Lewis ER, Johnson MD, Xu A, Kass D, Martino JM, Bellmeyer A, Albazi JS, Emala C, Lee HT, Dobbs LG, Matalon S (2007) Adenosine regulation of alveolar fluid clearance. Proc Natl Acad Sci U S A 104:4083–4088

Sonawane ND, Verkman AS (2008) Thiazolidinone CFTR inhibitors with improved water solubility identified by structure-activity analysis. Bioorg Med Chem 16:8187–8195

Chiyanzu I, Clarkson C, Smith PJ, Gut J, Rosenthal PJ, Chibale K (2005) Design, synthesis and anti-plasmodial evaluation in vitro of new 4-aminoquinoline isatin derivatives. Bioorg Med Chem 13:3249–3261

Gemma S, Camodeca C, Coccone SS, Joshi BP, Bernetti M, Moretti V, Brogi S, Marcos MCBD, Savini L, Taramelli D, Basilico N, Parapini S, Rottmann M, Brun R, Lamponi S, Caccia S, Guiso G, Summers RL, Martin RE, Saponara S, Gorelli B, Novellllino E, Campiani G, Butini S (2012) Optimization of 4-aminoquinoline/clotrimazole-based hybrid antimalarials: further structure-activity relationships, in vivo studies, and preliminary toxicity profiling. J Med Chem 55:6948–6967

Manohar S, Rajesh UC, Khan SI, Tekwani BL, Rawat DS (2012) Novel 4-aminoquinoline-pyrimidine based hybrids with improved in vitro and in vivo antimalarial activity. ACS Med Chem Lett 3:555–559

Solomon VR, Haq W, Srivastava K, Puri SK, Katti SB (2007) Synthesis and antimalarial activity of side chain modified 4-aminoquinoline derivatives. J Med Chem 50:394–398

Mahajan A, Kremer L, Louw S, Gueradel Y, Chibale K, Biot C (2011) Synthesis and in vitro antitubercular activity of ferrocene-based hydrazones. Bioorg Med Chem Lett 21:2866–2868

Guantai EM, Ncokazi K, Egan TJ, Gut J, Rosenthal PJ, Bhampidipati R, Kopinathan A, Smith PJ, Chibale K (2011) Enone- and chalcone-chloroquinoline hybrid analogues: in silico guided design, synthesis, antiplasmodial activity, in vitro metabolism, and mechanistic studies. J Med Chem 54:3637–3649

Starcevic K, Pesic D, Toplak A, Landek G, Alihodzic S, Herreros E, Ferrer S, Spaventi R, Peric M (2012) Novel hybrid molecules based on 15-membered azalide as potential antimalarial agents. Eur J Med Chem 49:365–378

Nitsche C, Klein CD (2012) Aqueous microwave-assisted one pot synthesis of N-substituted rhodanines. Tetrahedron Lett 53:5197–5201

Radi M, Botta L, Casaluce G, Bernardini M, Botta M (2010) Practical one-pot two-step protocol for the microwave-assisted synthesis of highly functionalized rhodanine derivatives. J Comb Chem 12:200–205

Yavari I, Hosseini N, Moradi L (2008) Efficient synthesis of highly functionalized thiazolidine- 4-ones under solvent-free conditions. Monatsh Chem 139:133–136; Yavari I, Hajinasiri R, Sayyed-Alangi Z, Iravani N (2008) Efficient synthesis of ethyl 3-alkyl-4-oxo- 2-thioxo-1,3-thiazolane-5-carboxylates from the reaction of carbon disulfide and primary amines in the presence of diethyl 2-chloromalonate. Monatsh Chem 139:1029–1031

Yavari I, Seyfi S, Hossaini Z, Sabbaghan M, Shirgahi-Talari F (2008) Efficient synthesis of 2-thioxo-1,3-thiazolanes from primary amines, CS2, and ethyl bromopyruvate. Monatsh Chem 139:1479–1482

Jacobine AM, Posner GH (2011) Three-component, one-flask synthesis of rhodanines (thiazolidinones). J Org Chem 2011 76:8121–8125

Gong K, He Z, Xu Y, Fang D, Liu Z (2008) Green synthesis of 5-benzylidene rhodanine derivatives catalyzed by 1-butyl-3-methyl imidazolium hydroxide in water. Monatsh Chem 139:913–915

Yavari I, Sanaeishoar T, Azad L, Ghazvini M (2011) Ketenimine N-functionalization of thiazolidine-2,4-diones with acetylenes and isocyanides. Mendeleev Commun 21:108–109

Alizadeh A, Rostamnia S, Zohreh N, Hosseinpour R (2009) A simple and effective approach to the synthesis of rhodanine derivatives via three-component reactions in water. Tetrahedron Lett 50:1533–1535

Mamaghani M, Loghmanifar A, Taati MR (2011) An efficient one-pot synthesis of new 2-imino-1,3-thiazolidin-4-ones under ultrasonic conditions. Ultrason Sonochem 18:45–48

Dundar OB, Evranos B, D-Evcimen N, Sarıkaya M, Ertan R (2008) Synthesis and aldose reductase inhibitory activity of some new chromonyl-2,4-thiazolidinediones. Eur J Med Chem 43:2412–2417

Karali N, Gursoy A, Kandemirli F, Shvets N, Kaynak F, Ozbey S, Kovalishyne V, Dimoglo A (2007) Synthesis and structure—antituberculosis activity relationship of 1H-indole-2,3-dione derivatives. Bioorg Med Chem 15:5888–5904

Attanasi OA, Crescentini LD, Favi G, Filippone P, Giorgi G, Mantellini F, Perrulli F, Spinelli D (2008) Simple construction of fused and spiro nitrogen/sulfur containing heterocycles by addition of thioamides or thioureas on cycloalkenyl-diazenes: examples of click chemistry. Tetrahedron 64:3837–3858

Madhavan GR, Chakrabarti R, Vikramadithyan RK, Mamidi RN, Balraju V, Rajesh BM, Misra P, Kumar SK, Lohray BB, Lohray VB, Rajagopalan R (2002) Synthesis and biological activity of novel pyrimidinone containing thiazolidinedione derivatives. Bioorg Med Chem 10:2671–2680

Gupta D, Ghosh NN, Chandra R (2005) Synthesis and pharmacological evaluation of substituted 5-[4-[2-(6,7-dimethyl-1,2,3,4-tetrahydro-2-oxo-4-quinoxalinyl)ethoxy]phenyl]methylene]thiazolidine-2,4-dione derivatives as potent euglycemic and hypolipidemic agents. Bioorg Med Chem Lett 15:1019–1022

Rostamnia S, Lamei K (2011) A rapid, catalyst-free, three-component synthesis of rhodanines in water using ultrasound. Synthesis 19:3080–3082

Rostamnia S, Karim Z, Ghavidel M (2012) Cetyltrimethylammonium bromide-surfactant aqueous micelles as a green and ultra-rapid reactor for synthesis of 5-oxo-2-thioxo-2,5-dihydro-3-thiophenecarboxylate derivatives. J Sulfur Chem 33:313–318

Rostamnia S, Doustkhah E, Nuri A (2013) Hexafluoroisopropanol dispersed into the nanoporous SBA-15 (HFIP/SBA-15) as a rapid, metal-free, highly reusable and suitable combined catalyst for domino cyclization process in chemoselective preparation of alkyl rhodanines. J Fluor Chem 153:1–6

Rostamnia S (2013) EtOAc-dispersed magnetic nanoparticles (DMNPs) of γ-Fe2O3 in the single-pot domino preparation of 5-oxo-2-thioxo-3-thiophenecarboxylate derivatives. C R Chimie 16:1042–1046.
About this chapter
Cite this chapter
Rostamnia, S., Doustkhah, E. (2014). Synthesis and Synthetic Applications of Biologically Interesting Rhodanine and Rhodanine-Based Scaffolds. In: Ameta, K., Dandia, A. (eds) Green Chemistry: Synthesis of Bioactive Heterocycles. Springer, New Delhi. https://doi.org/10.1007/978-81-322-1850-0_9
DOI: https://doi.org/10.1007/978-81-322-1850-0_9

Published:

Publisher Name: Springer, New Delhi

Print ISBN: 978-81-322-1849-4

Online ISBN: 978-81-322-1850-0