Abstract
This paper reports the development LiPb–SiC blanket concept aimed at the high performance liquid blanket to be feasible in the near future.
It is based on the current LiPb liquid tritium breeder concept with reduced activation ferritic/martensitic steel (RAFM), but with cooling panels made of SiC/SiC material that thermally and electrically insulate RAFM from LiPb. Extraction of thermal energy over 900ºC is expected to be possible, that can be used for high efficiency electricity generation or thermochemical hydrogen production.
In the activities for the research of this concept, development of the SiC composite cooling panel, permeation behavior of hydrogen isotopes through SiC materials, LiPb–hydrogen chemistry, magneto-hydro-dynamic (MHD) pressure drop in the insulating SiC flow channels, neutronics analysis, etc., are studied. In addition, the experiments are carried out with LiPb at the temperature over 900ºC.
Keywords
LiPb–SiC blanket

Tritium breeding rate (TBR)

Magneto-hydro-dynamic (MHD) pressure drop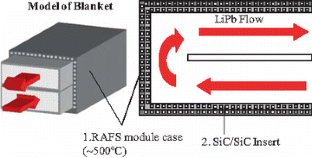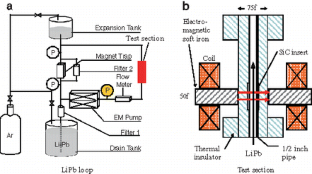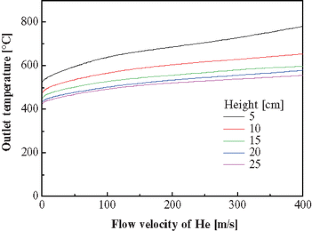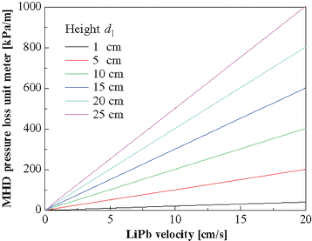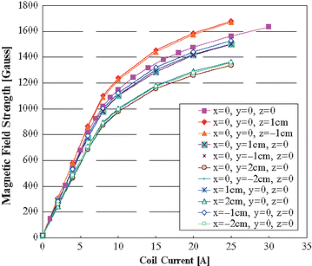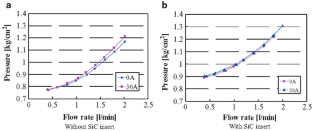 References
Maisonnier D, Cook I, Pierre S, Lorenzo B, Luigi DP, Luciano G et al. (2006) DEMO and fusion power plant conceptual studies in Europe. Fusion Eng Design 81:1123–1130

Norajitra P, Buhler L, Fischer U, Malang S, Reimann G, Schnauder H (2002) The EU advanced dual coolant blanket concept. Fusion Eng Design 61–62:449–453

Sze DK, Tillack M, El-Guebaly L (2000) Blanket system selection for ARIES ST. Fusion Eng Design 48:371–378

Tillack MS, Malang S (1997) High performance PbLi blanket. In: Proceedings of the 17th IEEE/NPSS Symposium on Fusion Energy, San Diego, CA, pp 1000–1004

Malang S, Bojarski E, Buffier L, Deckers H, Fischer U, Norajitra P et al (1992) Dual-coolant liquid metal breeding blanket. Fusion Technol 17:1424–1428

Engle WW Jr (1967) A user's manual for ANISN, "One dimensional discrete ordinates transport code with anisotropic scattering". Oak Ridge Report K-1693

Hasegawa T, Yamamoto Y, Konishi S (2007) Conceptual design of advanced blanket using liquid LiPb. In: Proceedings of 22nd IEEE/NPSS Symposium on Fusion Engineering (SOFE07), 17–21 June 2007, Albuquerque, NM

Li Puma A, Berton JL, Branas B, Buhler L, Doncel J, Fischer U, Farabolini W, Giancarli L, Maisonnier D, Pereslavtsev P, Raboin S, Salavy J-F, Sardain P, Szczepanski J, Ward D (2006) Breeding blanket design and systems integration for a helium-cooled lithium–lead fusion power plant. Fusion Eng Design 81:469–476
About this paper
Cite this paper
Kim, D., Noborio, K., Hasegawa, T., Yamamoto, Y., Konishi, S. (2010). Development of LiPb–SiC High Temperature Blanket. In: Yao, T. (eds) Zero-Carbon Energy Kyoto 2009. Green Energy and Technology. Springer, Tokyo. https://doi.org/10.1007/978-4-431-99779-5_17
DOI: https://doi.org/10.1007/978-4-431-99779-5_17

Publisher Name: Springer, Tokyo

Print ISBN: 978-4-431-99778-8

Online ISBN: 978-4-431-99779-5

eBook Packages: EngineeringEngineering (R0)