Abstract

Several geographical factors influence the extent to which people appear to feel happy. This study examines city size in particular. In large cities, agglomeration economies occur, bringing benefits that can be characterized as one of three types, according to Glaeser and Gottlieb (2009). The first type emphasizes the gains from the reduced cost of moving goods across space, the second emphasizes labor-market pooling and the benefits of moving people across firms, and the third argues that cities speed up the flow of ideas, creating human capital at the individual level and facilitating innovation. However, there are also costs in large cities, such as commuting expenses and increasing land prices. Wirth (1938) has mentioned aspects of cost, such as size, density, and heterogeneity in big cities, or the consequences for social life, such as impersonality, isolation, and the decline of primary group membership.
Keywords
Social Capital

Structural Equation Modeling

Risk Aversion

Standardize Root Mean Square Residual

Religious Involvement
These keywords were added by machine and not by the authors. This process is experimental and the keywords may be updated as the learning algorithm improves.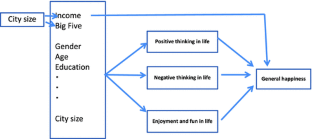 References
Albouy, D. (2008). Are big cities really bad places to live? Improving quality-of-life estimates across cities (NBER Working Paper 14472).

Ballas, D., & Tranmer, M. (2012). Happy people or happy places? A multilevel modelling approach to the analysis of happiness and well-being. International Regional Science Review, 35, 70–102.

Benet-Martinez, V., & John, O. P. (1998). Los Cinco Grandes across cultures and ethnic groups: Multitrait multimethod analyses of the Big Five in Spanish and English. Journal of Personality and Social Psychology, 75(3), 729–750.

Berry, B. J. L., & Okulicz-Kozaryn, A. (2009). Dissatisfaction with city life: A new look at some old questions. Cities, 26, 117–124.

Berry, B. J. L. & Okulicz-Kozaryn, A. (2011). An urban-rural happiness gradient. Urban Geography, 32(6), 871–883.

DeNeve, K. M., & Cooper, H. (1998). The happy personality: A meta-analysis of 137 personality traits and subjective well-being. Psychological Bulletin, 124, 197–229.

Diener, E., Suh, E. M., Lucas, R. E., & Smith, H. L. (1999). Subjective well-being, three decades of progress. Psychological Bulletin, 125, 276–302.

Easterlin, R. A., Angelescu, L., & Zweig, J. S. (2011). The impact of modern economic growth on urban–rural differences in subjective well-being. World Development, 39(12), 2187–2198.

Florida, R. (2008). Who's your city? New York: Basic Books.

Frey, B. S., Benesch, C., & Stutzer, A. (2007). Does watching TV make us happy? Journal of Economic Psychology, 28(3), 283–313.

Glaeser, E. L., & Gottlieb, J. D. (2009). The wealth of cities: Agglomeration economies and spatial equilibrium in the United States. Journal of Economic Literature, 47(4), 983–1028.

Gutierrez, J. L. G., Jimenez, B. M., Hernandez, E. G., & Puente, C. P. (2005). Personality and subjective well-being: Big Five correlates and demographic variables. Personality and Individual Differences, 38, 1561–1569.

Hills, P., & Argyle, M. (2002). The Oxford happiness questionnaire: A compact scale for the measurement of psychological well-being. Personality and Individual Differences, 33, 1073–1082.

Lelkes, O. (2006). Tasting freedom: Happiness, religion and economic transition. Journal of Economic Behavior and Organization, 59(2), 173–194.

Luttmer, E. F. P. (2005). Neighbors as negatives: Relative earnings and well-being. The Quarterly Journal of Economics, 120(3), 963–1002.

McCrae, R. R., & Costa, P. T., Jr. (1991). Adding Liebe und Arbeit: The full five-factor model and well-being. Personality and Social Psychology Bulletin, 17, 227–232.

Morrison, P. (2007). Subjective well-being and the city. Social Policy Journal of New Zealand, 31, 74–103.

Putnam, R. D. (1993). Making democracy work: Civic traditions in modern Italy. Princeton: Princeton University Press.

Schmacker, R. E., & Lomax, R. G. (2010). A beginner's guide to structural equation modeling. New York: Routledge.

Tiefenbach, T., & Kohlbache F. (2013). Happiness from the viewpoint of economics. (German Institute for Japanese Studies Working Papers 13/1).

Weiss, A., Bates, T. C., & Luciano, M. L. (2008). Happiness is a personal(ity) thing: The genetics of personality and well-being in a representative sample. Psychological Science, 19, 205–210.

Wirth, L. (1938). Urbanism as a way of life. American Journal of Sociology, 44, 1–24.
About this chapter
Cite this chapter
Itaba, Y. (2016). Does City Size Affect Happiness?. In: Tachibanaki, T. (eds) Advances in Happiness Research. Creative Economy. Springer, Tokyo. https://doi.org/10.1007/978-4-431-55753-1_14