Abstract

The agglomeration structure of the animation industry in Tokyo is described in terms of the characteristics of the transactional relationships among studios and in the labor market. Animation studios are concentrated in the western suburbs of Tokyo. Some studios receive orders from major clients such as related content firms located in the central business district of Tokyo and continue to distribute their work to others in the industry. Transactions among studios are conducted with short delivery times. Some parts of lower processes such as animation picture and coloring process are outsourced to foreign studios. Studios conduct transactions with each other for complementary labor and techniques. Workers acquire skills and obtain work through personal connections within and outside their studios to avoid income instability. Although the technical schools where they learn basic animation techniques are located across the country, skilled workers later gravitate to the animation industry in Tokyo because the city offers many opportunities to find work.
Keywords
Domestic market

Personal connections

Technical schools

Tokyo

Transactional relationships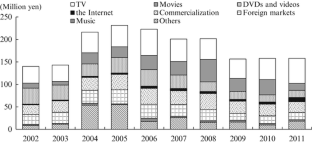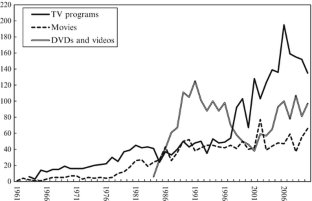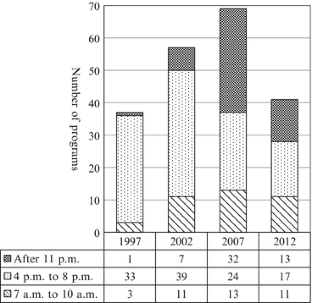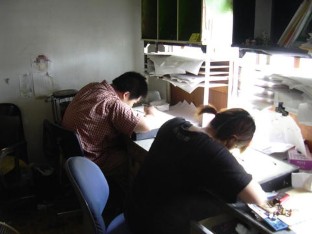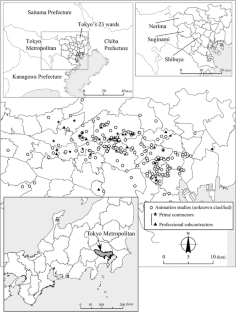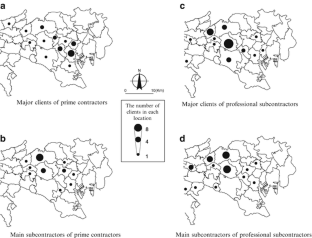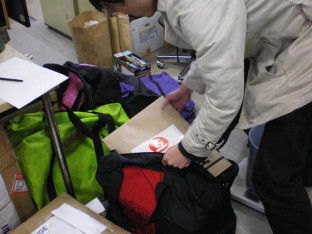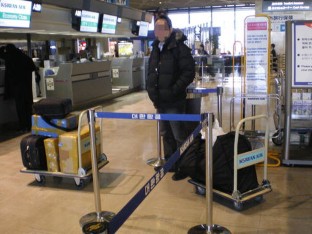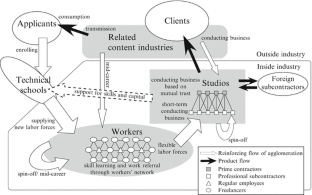 Notes
1.

Layout and special effects are sometimes classified as production and postproduction, respectively.

2.

Before the advent of digitization, it took workers several years to learn the techniques required for the coloring process. Thanks to the popularization of computer-assisted drawing, this learning period has been shortened to 2 or 3 months because digital coloring does not require animators to possess the precision and discernment levels required for key picture work, animation picture work, and celluloid coloring. For example, workers in the coloring process cannot accidentally color off the edge of a painting or color unevenly when using digital coloring on the computer, and the operation of coloring software is the first important technique learned by workers in the coloring process. On the other hand, supervisors in key picture and animation picture departments demand that animators depict their visions accurately, which is a process that is hard to learn.

3.

A gross order is an order of work for multiple episodes of an animation series from the primary contractors. Subcontracted studios handle all of the production processes for the ordered episodes by themselves.

4.

100 yen = 0.75 US dollars as of May 1, 2005.

5.

A few of the studios did not answer some of our questions. As a result, the numbers of answers are different.

6.

The major focus of our 25 subcontractors is animation production (100 %). Their secondary activities include animation projecting (44.0 %), the production of video software (32.0 %), movie production (28.0 %), and commercial message production (24.0 %).

7.

As a textbook for learners, Milgrom and Roberts (1992) would be appropriate.

8.

The overseas clients in these relationships were in South Korea (one business transaction), the United States (four business transactions), France (one business transaction), the United Kingdom (one business transaction), and unspecified countries (two business transactions). The industries of these clients included animation production (four), publishing (two), music production (one), toy manufacturing (one), and financing (one).

9.

As of 2007, one professional delivery system and three association delivery systems were in place between Japan and South Korea, and one association delivery system was in place between Japan and China. Eleven Japanese studios and 12 South Korean studios participated in an association delivery system. The author accompanied an animation producer on the association delivery that transported approximately 100 kg of products consisting mainly of work on paper, such as storyboards, layouts, key pictures, and animation pictures (Fig. 2.8).

10.

According to our interviews, the time and effort required for transportation is not significantly greater in transactions with South Korean or Chinese studios than in those with studios in smaller Japanese cities. Because the cost of labor is cheaper in South Korea and China than in Japan, a division of labor between Japan and South Korea or China is a practical choice.

11.

Japanese animation studios use Narita International Airport for their association deliveries because of its departure times. The interviews showed that production activity all through the night is common and that instantaneous production is emphasized in the industry (see Chap. 5 for more detailed information). For this reason, early morning transportation by car is suitable because of the reduced frequency of traffic jams and the ease by which schedules can be managed, thereby saving time. Pickup times are set between 5:00 a.m. to 6:30 a.m., and Narita International Airport offers morning flights, reducing transportation time to a minimum.

12.

During an association delivery round trip, the person in charge from Japan stays and supervises operations at the South Korean or Chinese partner studios.

13.

Adjustments in the schedule may increase the number of freelancers in production departments. The interviews show that time delays in upper processes are routinely absorbed by shortening the production time allotted to lower processes. In the case of a TV animated series production, the production time allotted for the drawing processes, such as the key picture, animation picture, and coloring stages, is approximately 2 weeks; however, the process can be compressed into 1 week or even 3 days. To meet these shortened deadlines, studios must increase the number of workers in these lower processes.

14.

One interviewee referred to a senior worker (hereafter "X") who had taught him skills as his "master." Likewise, he referred to himself as an "X-monka" (descendent of X) and as from the "X-juku" (the school of X). Even though the interviewee is not currently taught by X, he still has a personal relationship with X.

15.

This is one of portal sites of education institutes targeted students preparing for entrance examinations. Students collect information about institutions they want to enter through this site. The site name was changed to Shingakunet. See http://shingakunet.com/ (accessed February 1, 2014).

16.

According to one technical school's literature and as confirmed in an interview, the school tries to enhance its value by inviting active creators from famous animation studios. For technical school students, this is not only an opportunity to meet successful animators in person, but also a chance to be scouted and join the industry earlier than others. This relationship between studios and technical schools is beneficial for both sides. Moreover, technical schools function as the entry point to the animation industry.

17.

According to the result of statistical survey by National Tax Agency in 2006, the average annual income in 2005 of wage earners in their early 20s was 2.67 million yen, while that of those in their late 20s was 3.77 million yen. Average annual income categorized according to duration of employment shows that employees who have worked for 4 years or less earn 3.88 million yen annually. The two industries with the lowest average annual income are agriculture, forestry and fisheries, and the mining industry, tied at 3.04 million yen. Compared with these data, the income of freelancers reported in this chapter is not extraordinarily high.

18.

An interviewee stated that his studio's directors have a list called a "telephone directory," which contains the telephone numbers of other studios and workers. Directors telephone freelancers to ask them if they want work. Another interviewee working as a director emphasized the "thickness of the 'telephone directory' and the courage that it takes to call" freelancers to get help with the studio's work while not running out of orders. This director recognizes the importance of maintaining the studio's cultivated connections and the necessity of making new connections.

19.

The others include one worker from Tokyo and one not specified (one respondent).
References
Arai Y, Nakamura H, Sato H, Nakazawa T, Sugizaki K (2004) Multimedia and Internet business clusters in central Tokyo. Urban Geogr 25:483–500. doi:10.2747/0272-3638.25.5.483

Association of Japanese Animations (2012) Anime Sangyo Repoto 2012 [Report of animation industry 2012]. Association of Japanese Animations, Tokyo (Japanese)

Hara S (2005) Gurobaru Kyoso Jidai ni okeru Nihon no Dejitaru Kontentsu Sangyo Shuseki no Kyoso Yuisei to Inobeshon no Hokosei - SD Gandamu Fosu Purojekuto o Jirei ni [Competitive advantage and innovation of digital content industrial clusters in Japan in global competition era: a case of "SD GUNDAMFORCE" project]. Ann Jpn Assoc Econ Geogr 51:368–386 (Japanese)

Konagaya K, Tomizawa K (eds) (1999) Maruchimedia Toshi no Senryaku: Shirikon Are to Maruchimedia Garuchi [The strategy adopted by multimedia cities: the cases of silicon alley and Multimedia Gulch]. Toyo keizai shinposha, Tokyo (Japanese)

Milgrom P, Roberts J (1992) Economics, organization & management. Prentice Hall, New Jersey

Sudo T (2008) Dai4sho Dejitaru Kontentsu no Bunyabetsu Doko 2 Animeshon [Chapter 4 The trend of major content industries, Section 2 Animation]. In: Digital Content Association of Japan (ed) Dejitaru Kontentsu Hakusho 2008 [Digital contents white paper 2008], pp 94–95 (Japanese)

The National Tax Agency (2006) Minkan Kyuyo Zittai Tokei Chosa [the statistical survey of actual status for salary in the private sector 2005]. The National Tax Agency, Tokyo (Japanese)

Washiya T (2004) Animeshon Seisaku [Animation production]. In: Ministry of Economy, Trade and Industry (ed) Kontentsu Porudusu Kino no Kyoka ni kansuru Chosa Kenkyu: Animeshon Seisaku [The research about the base reinforcement of the contents produce function: animation production]. Ministry of Economy, Trade and Industry, Tokyo, pp 17–18

Williamson OE (1983) Markets and hierarchies. Free Press, New York

Yamaguchi Y (ed) (2004) Dai3sho Sengo no Fukko kara Terebi Anime e [Chapter 3 From postwar reconstruction to TV animation]. In Nihon no Anime Zenshi: Sekai o Seishita Nihon Anime no Kiseki [Complete history of Japanese animation – the Miraculous and Global Domination by Japanese animation], Ten-Books, Tokyo, pp 63–88 (Japanese)

Yamamoto K (2012a) International production allocation strategies of Japanese animation studios. In: Schlunze RD, Agola NO, Baber WW (eds) Spaces of international economy and management: launching a new perspective on management and geography. Palgrave-MacMillan, Hampshire, pp 239–253

Yamamoto K (2012b) Animeshon Sangyo no Bungyo Kankei to Chiiki Seisaku [Division of labor relationships and local policies]. In: Tsunatoshi I, Masaya Y (eds) Sangyo Shuseki no Henbo to Chiiki Seisaku: Gurokaru Jidai no Chiiki Sangyo Kenkyu [The changes of industrial agglomeration and local polices – studies for local industries in the glocal era]. Minerva Shobo, Kyoto, pp 195–215 (Japanese)
About this chapter
Cite this chapter
Yamamoto, K. (2014). Agglomeration of the Animation Industry in Tokyo, Japan. In: The Agglomeration of the Animation Industry in East Asia. International Perspectives in Geography, vol 4. Springer, Tokyo. https://doi.org/10.1007/978-4-431-55093-8_2
DOI: https://doi.org/10.1007/978-4-431-55093-8_2

Published:

Publisher Name: Springer, Tokyo

Print ISBN: 978-4-431-55092-1

Online ISBN: 978-4-431-55093-8