Abstract
Slow waves in intracranial pressure (ICP) are believed to originate from changes in cerebral blood volume secondary to adjustments in arteriolar diameter. Blood flow velocity (FV) signals recorded with transcranial Doppler ultrasound show similar oscillations. We investigated a continuous measure of FV/ICP association and its relationship to cerebral perfusion pressure (CPP), ICP, cerebral autoregulation (CA) and outcome after severe traumatic brain injury (TBI). We analysed recordings of arterial blood pressure (ABP), FV and ICP from 187 TBI patients treated at Addenbrooke's Hospital, Cambridge, UK, from 1993 to 1998. Monitored data were recorded and the flow–ICP index (Flx) was derived as a moving correlation between the two signals over 4-min periods using ICM+. FIx was compared with the autoregulatory index (Mx), pressure reactivity index (PRx), ICP, CPP and outcome. FIx correlated with ICP (Spearman's R = −0.40, p < 0.01), Mx (R = −0.54, p < 0.00005) and CPP (R = 0.34, p < 0.01), but not with PRx (p = 0.84). FIx was significantly associated with outcome after grouping into Glasgow Outcome Score (GOS) 1–3 or GOS 4–5 (Mann–Whitney p = 0.009). FIx may provide unique insights into the behaviour of the cerebral circulation during intracranial hypertension.
Keywords
Traumatic brain injury

Transcranial Doppler

Intracranial pressure

Compliance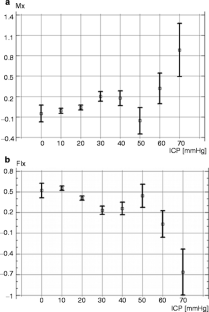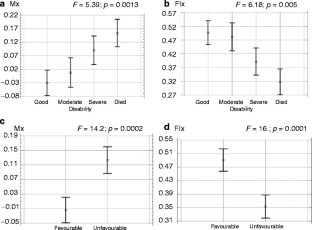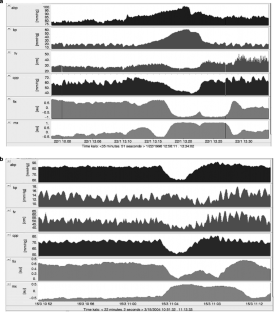 References
Auer LM, Sayama I (1983) Intracranial pressure oscillations (B-waves) caused by oscillations in cerebrovascular volume. Acta Neurochir (Wien) 68:93–100

Czosnyka M, Smielewski P, Kirkpatrick P, Menon DK, Pickard JD (1996) Monitoring of cerebral autoregulation in head-injured patients. Stroke 27:1829–1834

Czosnyka M, Smielewski P, Kirkpatrick P, Piechnik S, Laing R, Pickard JD (1998) Continuous monitoring of cerebrovascular pressure-reactivity in head injury. Acta Neurochir Suppl 71:74–77

Czosnyka M, Smielewski P, Piechnik S, Schmidt EA, Al-Rawi PG, Kirkpatrick PJ, Pickard JD (1999) Hemodynamic characterization of intracranial pressure plateau waves in head-injury patients. J Neurosurg 91:11–19

Czosnyka M, Smielewski P, Piechnik S, Steiner LA, Pickard JD (2001) Cerebral autoregulation following head injury. J Neurosurg 95:756–763

Droste DW, Krauss JK, Berger W, Schuler E, Brown MM (1994) Rhythmic oscillations with a wavelength of 0.5-2 min in transcranial Doppler recordings. Acta Neurol Scand 90:99–104

Haubrich C, Czosnyka Z, Lavinio A, Smielewski P, Diehl RR, Pickard JD, Czosnyka M (2007) Is there a direct link between cerebrovascular activity and cerebrospinal fluid pressure-volume compensation? Stroke 38:2677–2680

Krauss JK, Droste DW (1994) Predictability of intracranial pressure oscillations in patients with suspected normal pressure hydrocephalus by transcranial Doppler ultrasound. Neurol Res 16:398–402

Newell DW, Aaslid R, Stooss R, Reulen HJ (1992) The relationship of blood flow velocity fluctuations to intracranial pressure B waves. J Neurosurg 76:415–421

Panerai RB, Hudson V, Fan L, Mahony P, Yeoman PM, Hope T, Evans DH (2002) Assessment of dynamic cerebral autoregulation based on spontaneous fluctuations in arterial blood pressure and intracranial pressure. Physiol Meas 23:59–72

Steinmeier R, Bauhuf C, Hubner U, Bauer RD, Fahlbusch R, Laumer R, Bondar I (1996) Slow rhythmic oscillations of blood pressure, intracranial pressure, microcirculation, and cerebral oxygenation. Dynamic interrelation and time course in humans. Stroke 27:2236–2243

Zweifel C, Czosnyka M, Lavinio A, Castellani G, Kim DJ, Carrera E, Pickard JD, Kirkpatrick PJ, Smielewski P (2010) A comparison study of cerebral autoregulation assessed with transcranial Doppler and cortical laser Doppler flowmetry. Neurol Res 32:425–428
Conflict of interest statement
Peter Smielewski and Marek Czosnyka have a financial interest in a part of the licensing fee for ICM+. All other authors have no conficts of interest to disclose.
Copyright information
© 2012 Springer-Verlag/Wien
About this chapter
Cite this chapter
Lewis, P.M., Smielewski, P., Rosenfeld, J.V., Pickard, J.D., Czosnyka, M. (2012). Monitoring of the Association Between Cerebral Blood Flow Velocity and Intracranial Pressure. In: Schuhmann, M., Czosnyka, M. (eds) Intracranial Pressure and Brain Monitoring XIV. Acta Neurochirurgica Supplementum, vol 114. Springer, Vienna. https://doi.org/10.1007/978-3-7091-0956-4_27
DOI: https://doi.org/10.1007/978-3-7091-0956-4_27

Published:

Publisher Name: Springer, Vienna

Print ISBN: 978-3-7091-0955-7

Online ISBN: 978-3-7091-0956-4

eBook Packages: MedicineMedicine (R0)