Abstract
ICM+ software was introduced into the Cerebrospinal Fluid (CSF) Dynamics Laboratory, Addenbrooke's Hospital, Cambridge, UK, in 2003. Since then 1,447 constant rate infusion tests and 123 overnight ICP monitoring sessions (using intraparenchymal bolt) were performed. Various configurations were used: ICP only (identification of CSF dynamics model and overnight ICP monitoring with analysis of compensatory reserve and B waves); ICP and arterial pressure (ABP; analysis of the pressure reactivity index); ICP, ABP and transcranial Doppler blood flow velocity (for assessment of cerebral autoregulation); ICP, ABP and near-infrared spectroscopy (for analysis of the fluctuation of cerebral blood volume); ICP, sagittal sinus pressure and jugular vein pressure (in patients with idiopathic intracranial hypertension to assess the hydrodynamic consequences of cerebral venous sinus stenosis). To assess vascular factors of hydrocephalus a combination of CSF infusion study with PET-CBF studies was performed. The software contains a database of the shunts tested in the Cambridge Shunt Evaluation Laboratory, aiding shunt assessment in vivo in the case of possible underdrainage or overdrainage. The software also enables the digital recording of data, ready for post-hoc manual or batch analysis, the creation of virtual signals (such as critical closing pressure, cerebral compliance etc.) and analysis of their dependency on primary modalities. A collected database of cases and signals forms a powerful reference tool in the investigation and understanding of the complex pathophysiology of hydrocephalus.
Keywords
Hydrocephalus

Infusion test

Intracranial ­pressure

Software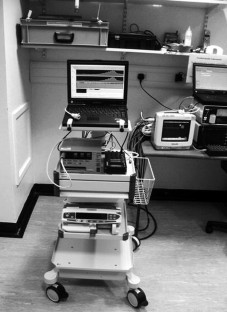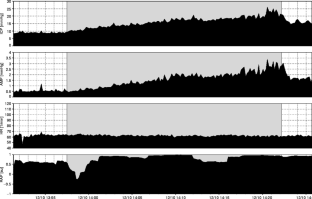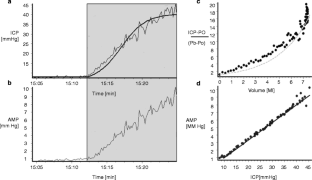 References
Borgesen SE, Albeck MJ, Gjerris F, Czosnyka M, Laniewski P (1992) Computerized infusion test compared to steady pressure constant infusion test in measurement of resistance to CSF outflow. Acta Neurochir (Wien) 119:12–16

Czosnyka M, Batorski L, Laniewski P, Maksymowicz W, Koszewski W, Zaworski W (1990) A computer system for the identification of the cerebrospinal compensatory model. Acta Neurochir (Wien) 105:112–116

Czosnyka M, Whitehouse H, Smielewski P, Simac S, Pickard JD (1996) Testing of cerebrospinal compensatory reserve in shunted and non-shunted patients: a guide to interpretation based on an observational study. J Neurol Neurosurg Psychiatry 60:549–558

Czosnyka ZH, Czosnyka M, Pickard JD (2002) Shunt testing in-vivo: a method based on the data from the UK shunt evaluation laboratory. Acta Neurochir Suppl 81:27–30

Czosnyka ZH, Czosnyka M, Whitfield PC, Donovan T, Pickard JD (2002) Cerebral autoregulation among patients with symptoms of hydrocephalus. Neurosurgery 50:526–532; discussion 532–523

Katzman R, Hussey F (1970) A simple constant-infusion manometric test for measurement of CSF absorption. I. Rationale and method. Neurology 20:534–544

Kim DJ, Czosnyka Z, Keong N, Radolovich DK, Smielewski P, Sutcliffe MP, Pickard JD, Czosnyka M (2009) Index of cerebrospinal compensatory reserve in hydrocephalus. Neurosurgery 64:494–501; discussion 501–502

Momjian S, Owler BK, Czosnyka Z, Czosnyka M, Pena A, Pickard JD (2004) Pattern of white matter regional cerebral blood flow and autoregulation in normal pressure hydrocephalus. Brain 127:965–972

Petrella G, Czosnyka M, Smielewski P, Allin D, Guazzo EP, Pickard JD, Czosnyka ZH (2009) In vivo assessment of hydrocephalus shunt. Acta Neurol Scand 120:317–323

Pickard JD, Czosnyka Z, Czosnyka M, Owler B, Higgins JN (2008) Coupling of sagittal sinus pressure and cerebrospinal fluid pressure in idiopathic intracranial hypertension – a preliminary report. Acta Neurochir Suppl 102:283–285

Weerakkody RA, Czosnyka M, Zweifel C, Castellani G, Smielewski P, Keong N, Haubrich C, Pickard J, Czosnyka Z (2010) Slow vasogenic fluctuations of intracranial pressure and cerebral near infrared spectroscopy-an observational study. Acta Neurochir (Wien) 152:1763–1769
Acknowledgement
The project was supported by the National Institute of Health Research, Biomedical Research Centre, Cambridge University Hospital Foundation Trust – Neurosciences Theme plus Senior Investigator Award (JDP) and the Foundation for Polish Science (MK).
Conflict of interest statement
ICM+ is a software (http://www.­neurosurg.cam.ac.uk/icmplus) licensed by the University of Cambridge, Cambridge Enterprise Ltd. PS and MC have a financial interest in a part of the licensing fee.
Copyright information
© 2012 Springer-Verlag/Wien
About this chapter
Cite this chapter
Smielewski, P., Czosnyka, Z., Kasprowicz, M., Pickard, J.D., Czosnyka, M. (2012). ICM+: A Versatile Software for Assessment of CSF Dynamics. In: Schuhmann, M., Czosnyka, M. (eds) Intracranial Pressure and Brain Monitoring XIV. Acta Neurochirurgica Supplementum, vol 114. Springer, Vienna. https://doi.org/10.1007/978-3-7091-0956-4_13
DOI: https://doi.org/10.1007/978-3-7091-0956-4_13

Published:

Publisher Name: Springer, Vienna

Print ISBN: 978-3-7091-0955-7

Online ISBN: 978-3-7091-0956-4

eBook Packages: MedicineMedicine (R0)