Zusammenfassung

Qualitativ hochwertige Produkte können durch die Entwicklung von Produktmerkmalen in Übereinstimmung mit den Kundenwünschen erreicht werden. Um die Konformität von Produkten mit den Anforderungen während des Produktentwicklungsprozesses zu validieren, werden zunehmend objektive biometrische Verfahren wie Eye-Tracking eingesetzt. Das vorliegende Papier gibt daher einen Überblick über den Einsatz von Eye-Tracking in der experimentellen Validierung von Produktdesigns. Darauf aufbauend wird ein Konzept zur Eye-Tracking-unterstützten Kundenanforderungsvalidierung vorgestellt und anhand einer ersten Machbarkeitsstudie überprüft. Anhand der Erkenntnisse wird dargelegt, wie die Präzision, Belastbarkeit und Reichhaltigkeit von Kundenanforderungsanalysen durch den Einsatz von Eye-Tracking erhöht werden können. Die Forschungsarbeiten legen damit einen Grundstein für objektivere und aufwandsärmere Kundenanforderungsanalysen. Sie ebnen so den Weg hin zu einer verstärkten Customer-Co-Creation und einer qualitätsorientierten Produktentwicklung auch für Konsumprodukte.
Schlüsselwörter
Kundenanforderungen

Eye-Tracking

Produktqualität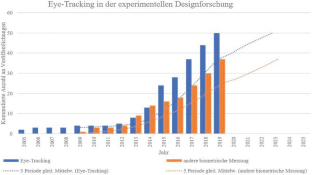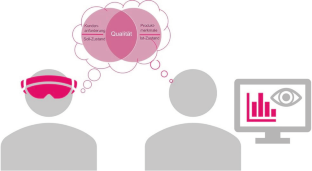 Literatur
Abdipour, M., Lorentzen, L., Olin, H.: A design research lab—An insstegrated model to identify conscious and unconscious behavior in the design process. In: Di Bucchianico, G., Kercher, P. (Hrsg.) Advances in Design for Inclusion, Bd. 500, S. 553–563. Springer International Publishing, Cham (2016)

Balters, S., Steinert, M.: Capturing emotion reactivity through physiology measurement as a foundation for affective engineering in engineering design science and engineering practices. J. Intell. Manuf. 28, 1585–1607 (2017). https://doi.org/10.1007/s10845-015-1145-2

Blackert, L., Esser, C., Refflinghaus, R.: Development of an experimental design for QFD-guided requirement validations of virtual prototypes. In: Proceeding of the 25th International Symposium on QFD (ISQFD), S. 52–70 (2019)

Blake, C.: Eye Tracking: Grundlagen und Anwendungsfelder. In: Möhring W, Schlütz D (Hrsg.) Handbuch standardisierte Erhebungsverfahren in der Kommunikationswissenschaft. Springer Fachmedien, Wiesbaden (2013)

Blascheck, T., Kurzhals, K., Raschke, M., et al.: Visualization of eye tracking data: A taxonomy and survey. Comput. Graph. Forum 36, 260–284 (2017). https://doi.org/10.1111/cgf.13079

Borgianni, Y., Maccioni, L.: Review of the use of neurophysiological and biometric measures in experimental design research. Artif. Intell. Eng. Des. Anal. Manuf. 1–38 (2020) https://doi.org/10.1017/S0890060420000062

Bucher, H.-J., Schumacher, P.: The relevance of attention for selecting news content. An eye-tracking study on attention patterns in the reception of print and online media. Communications 31, 347–368 (2006)

Campbell, F.W., Wurtz, R.H.: Saccadic omission: Why we do not see a grey-out during a saccadic eye movement. Vision. Res. 18, 1297–1303 (1978). https://doi.org/10.1016/0042-6989(78)90219-5

Carbon, C.-C., Hutzler, F., Minge, M.: Innovativness in design investigated by eye movments and pupillometry. Psychol. Sci. 48, 173–186 (2006)

Cooper, R.M.: The control of eye fixation by the meaning of spoken language. Cogn. Psychol. 6, 84–107 (1974). https://doi.org/10.1016/0010-0285(74)90005-X

Deutsches Institut für Normung e. V. DIN EN ISO 9000:2015-11, Qualitätsmanagementsysteme – Grundlagen und Begriffe (ISO_9000:2015); Deutsche und Englische Fassung EN_ISO_9000:2015

Dogan, K.M., Suzuki, H., Gunpinar, E.: Eye tracking for screening design parameters in adjective-based design of yacht hull. Ocean Eng. 166, 262–277 (2018). https://doi.org/10.1016/j.oceaneng.2018.08.026

Duchowski, A.: Eye Tracking Methodology. Theory and Practice. Springer, London (2007)

Esser, C., Refflinghaus, R.: Requirements validation using virtual prototypes to optimize product quality. In: Proceedings of the 19th International QMOD Conference on Quality and Service Science, S. 332–341 (2016)

Fels, A., Falk, B., Schmitt, R.: Eye-Tracking – Jagd nach dem Augenblick. Qualität und Zuverlässigkeit: QZ 60, 22–25 (2015)

Georgiev, G.V., Yamada, K., Taura, T.: Dynamics of shifting viewpoints: An investigation into users' attitudes towards products. JDR 15, 62 (2017). https://doi.org/10.1504/JDR.2017.084505

Guo, F., Ding, Y., Liu, W., et al.: Can eye-tracking data be measured to assess product design? Visual attention mechanism should be considered. Int. J. Ind. Ergon. 53, 229–235 (2016). https://doi.org/10.1016/j.ergon.2015.12.001

Hill, A.P., Bohil, C.J.: Applications of optical neuroimaging in usability research. Ergon Des 24, 4–9 (2016). https://doi.org/10.1177/1064804616629309

Ho, C.-H., Lu, Y.-N.: Can pupil size be measured to assess design products? Int. J. Ind. Ergon. 44, 436–441 (2014). https://doi.org/10.1016/j.ergon.2014.01.009

Holmqvist, K., Nyström, M., Andersson, R., et al.: Eye tracking. A Comprehensive Guide to Methods and Measures, 1. Aufl. Oxford Uni-versity Press, Oxford (2011)

Hsu, C.-C., Fann, S.-C., Chuang, M.-C.: Relationship between eye fixation patterns and Kansei evaluation of 3D chair forms. Displays 50, 21–34 (2017). https://doi.org/10.1016/j.displa.2017.09.002

Huettig, F., Rommers, J., Meyer, A.S.: Using the visual world paradigm to study language processing: A review and critical evaluation. Acta Physiol. (Oxf) 137, 151–171 (2011). https://doi.org/10.1016/j.actpsy.2010.11.003

Jiao, R.J., Zhou, F., Chu, C.-H.: Decision theoretic modeling of affective and cognitive needs for product experience engineering: Key issues and a conceptual framework. J. Intell. Manuf. 28, 1755–1767 (2017). https://doi.org/10.1007/s10845-016-1240-z

Khalighy, S., Green, G., Scheepers, C., et al.: Quantifying the qualities of aesthetics in product design using eye-tracking technology. Int. J. Ind. Ergon. 49, 31–43 (2015). https://doi.org/10.1016/j.ergon.2015.05.011

Köhler, M.: Kansei Engineering zur Strukturierung objektiv erfasster Informationen über die visuelle Wahrnehmung für die kundenorientierte Produktgestaltung. Dissertation, RWTH Aachen (2017)

Köhler, M., Falk, B., Schmitt, R.: Applying eye-tracking in Kansei engineering method for design evaluations in product development. Int. J. Affect. Eng. 14, 241–251 (2015). https://doi.org/10.5057/ijae.IJAE-D-15-00016

Kukkonen, S.: Exploring eye tracking in design evaluation. In: Proceedings of Joining Forces – International Conference on Design Research, Helsinki, 119–126 (2005)

Laohakangvalvit, T., Ohkura, M.: Relationship between physical attributes of spoon designs and eye movements caused by Kawaii feelings. In: Chung, W., Shin, C.S. (Hrsg.) Advances in Affective and Pleasurable Design, Bd. 585, S. 245–257. Springer International Publishing, Cham (2018)

Li, B., Fu, H., Wen, D., et al.: Etracker: A mobile Gaze-Tracking system with near-eye display based on a combined Gaze-Tracking algorithm. Sensors (Basel) 18 (2018). https://doi.org/10.3390/s18051626

Lieb, H., Quattelbaum, B., Schmitt, R.: (2008) Perceived quality as a key factor for strategic change in product development. In: IEEE International Engineering Management Conference. IEMC-Europe 2008; 28–30 June 2008, Estoril, Portugal. IEEE, Piscataway, NJ, S. 1–5 (2008)

Mitev, N., Renner, P., Pfeiffer, T., et al.: Towards efficient human-machine collaboration: Effects of gaze-driven feedback and engagement on performance. Cogn Res Princ Implic 3, 51 (2018). https://doi.org/10.1186/s41235-018-0148-x

Mougenot, C., Wtanabe, K., Bouchard, C., et al.: Visual materials and designers' cognitive activity: Towards in-depth investigations of design cognition. In: International Association of Societies of Design Research, South Korea (2009)

Mussgnug, M., Lohmeyer, Q., Meboldt, M.: Raising designers' awareness of user experience by mobile eye tracking records. In: Bohemia, E., Eger, A., Eggink, W., et al. (Hrsg.) Proceedings of the 16th International Conference on Engineering and Product Design Education (E&PDE14) (2014)

Mussgnug, M., Singer, D., Lohmeyer, Q., et al.: Automated interpretation of eye–hand coordination in mobile eye tracking recordings. KI – Künstliche Intelligenz 31, 331–337 (2017) https://doi.org/10.1007/s13218-017-0503-y

Nagai, Y., Fukami, T., Kadomatsu, S., et al.: A study on product display using eye-tracking systems. In: Chakrabarti, A., Chakrabarti, D. (Hrsg.) Research Into Design for Communities. Bd. 65, 1. Aufl, S. 547–555. Springer Singapore, Singapore (2017)

Nagamachi, M.: Kansei engineering: A new ergonomic consumer-oriented technology for product development. Int. J. Ind. Ergon. 15, 3–11 (1995). https://doi.org/10.1016/0169-8141(94)00052-5

Pelka, A.: Die Ermittlung von Kundenanforderungen und ihre Transformation in technologische Produktinnovationen in der frühen Phase der automobilen Produktentstehung. Dissertation (2018)

Pfeiffer, T., Renner, P.: EyeSee3D: A low-cost approach for analyzing mobile 3D eye tracking data using computer vision and augmented reality technology. In: Proceedings of the Symposium on Eye Tracking Research and Applications. ACM, S. 195–202 (2014)

Preim, B., Dachselt, R.: Interaktive Systeme. User Interface Engineering, 3D-Interaktion, Natural User Interaces, 2. Aufl., Bd. 2. Springer, Berlin (2015)

Refflinghaus, R., Esser, C.: Structured eyetracking-based requirements validation with the help of virtual prototypes. In: Gomes, J.F.S., Meguid, S.A. (Hrsg.) Proceedings of the 7th International Conference on Mechanics and Materials in Design, S. 1695–1708. INEGI-Instituto de Ciência e Inovação em Engenharia Mecânica e Gestão Industrial Rua Dr Roberto Frias (2017) ISBN: 978-989-98832-7-7

Richter, M., Flückiger, M.D.: Usability Engineering Kompakt. Benutzbare Produkte gezielt entwickeln, 3. Aufl. Springer, Berlin (2013)

Rojas, J.-C., Contero, M., Camba, J.D., et al.: Design perception: Combining semantic priming with eye tracking and event-related potential (ERP) techniques to identify salient product visual attributes. Bd. 11, Systems, Design, and Complexity. American Society of Mechanical Engineers (2015)

Schieber, A., Hilbert, A.: Entwicklung eines generischen Vorgehensmodells für Text Mining. Dresdner Beiträge zur Wirtschaftsinformatik, 69/14. TU Dresden, Dresden (2014)

Schmitt, R., Köhler, M., Durá, J.V., et al.: Objectifying user attention and emotion evoked by relevant perceived product components. J. Sens Sens Syst. 3, 315–324 (2014). https://doi.org/10.5194/jsss-3-315-2014

Triberti, S., Chirico, A., La Rocca, G., et al.: Developing emotional design: Emotions as cognitive processes and their role in the design of interactive Technologies. Front Psychol 8, 1773 (2017). https://doi.org/10.3389/fpsyg.2017.01773

Wang, G.G.: Definition and review of virtual prototyping. J. Comput. Inf. Sci. Eng. 2, 232 (2002). https://doi.org/10.1115/1.1526508

Wang, Z.Y., Liu, H.S., Shi, H.H., et al.: The research of automobile design evaluation method based on the eye tracking system Technology. AMR 230–232, 654–658 (2011). https://doi.org/10.4028/www.scientific.net/AMR.230-232.654

Yang, X., He, H., Wu, Y., et al.: User intent perception by gesture and eye tracking. Cogent Eng. 3 (2016). https://doi.org/10.1080/23311916.2016.1221570

Zhang, J.N., Du, L., Xie, Y., et al.: A literature review of using eye tracking technology in fashion and product design. AMM 536–537, 1662–1665 (2014). https://doi.org/10.4028/www.scientific.net/AMM.536-537.1662

Zhao, M., Yang, D., Liu, S., et al.: Mental stress-performance model in emotional engineering. In: Fukuda, S. (Hrsg.) Emotional Engineering, Bd. 6, S. 119–139. Springer International Publishing, Cham (2018)
Danksagung

Danke an unseren Kollegen Christian Esser für die Erlaubnis zur Nutzung der zugrundeliegenden experimentellen Daten der hier vorgestellten Versuche.
Copyright information

© 2021 Der/die Autor(en), exklusiv lizenziert durch Springer-Verlag GmbH, DE, ein Teil von Springer Nature
About this paper
Cite this paper
Stubbemann, L., Refflinghaus, R., Pfeiffer, T. (2021). Eye-Tracking zur Kundenanforderungsvalidierung im Produktentwicklungsprozess. In: Leyendecker, B. (eds) Qualitätsmanagement in den 20er Jahren - Trends und Perspektiven. Springer Vieweg, Berlin, Heidelberg. https://doi.org/10.1007/978-3-662-63243-7_8