Zusammenfassung

Bisher haben wir Lernen stets unter der Perspektive betrachtet, dass ein Organismus in einer Lernphase etwas erfährt und dann in einer Abrufphase geprüft wird, ob die Erfahrungen aus der ersten Phase das Verhalten verändern. Vieles was wir im Leben lernen, lernen wir aber gar nicht, weil wir selbst die Erfahrungen machen, sondern weil wir beobachten, was anderen geschieht. Der jüngere Bruder lernt beispielsweise, den Vater lieber nicht beim Mittagsschlaf zu stören, weil er erlebt hat, was seiner älteren Schwester passierte, als sie dies tat. Ganz im Sinne des Vermeidungslernens lässt er seinen Vater lieber in Ruhe. Vieles, was wir lernen, lernen wir in einem sozialen Kontext, in der Interaktion mit anderen Menschen. Sie stehen uns quasi als Modelle zur Verfügung, wir ahmen sie nach oder imitieren sie, häufig ganz automatisch.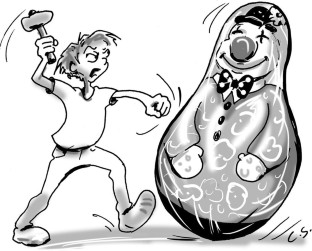 Literatur
Bak, P. M. (2016). Zu Gast in Deiner Wirklichkeit. Empathie als Voraussetzung gelungener Kommunikation. Heidelberg: Springer Spektrum.

Bandura, A. (1979). Sozial-kognitive Lerntheorie. Stuttgart: Klett.

Bandura, A. (1997). Self-efficacy: The exercise of control. New York: Freeman.

Bandura, A., Ross, D., & Ross, S. A. (1963). Imitation of film-mediated aggressive models. The Journal of Abnormal and Social Psychology, 66(1), 3–11.

Carpenter, W. B. (1874). Principles of mental physiology with their applications to the training and discipline of the mind and the study of its morbid conditions. New York: Dr. Appleton & Company.

Chartrand, T. L., & Bargh, J. A. (1999). The chameleon effect: The perception-behavior link and social interaction. Journal of Personality and Social Psychology, 76(6), 893–910.

Chong, T. T.-J., Cunnington, R., Williams, M. A., Kanwisher, N., & Mattingley, J. B. (2008). fMRI adaptation reveals mirror neurons in human inferior parietal cortex. Current Biology, 18(20), 1576–1580.

Gueguen, N., Jacob, C., & Martin, A. (2009). Mimicry in social interaction: Its effect on human judgment and behavior. European Journal of Social Sciences, 8(2), 253–259.

Huesmann, L. R. (1988). An information processing-model for the development of aggression. Aggressive Behavior, 14, 13–24.

Kilner, J. M., Neal, A., Weiskopf, N., Friston, K. J., & Frith, C. D. (2009). Evidence of mirror neurons in human inferior frontal gyrus. Journal of Neuroscience, 29(32), 10153–10159.

Kuhl, P. K., & Meltzoff, A. N. (1996). Infant vocalizations in response to speech: Vocal imitation and developmental change. Journal of the Acoustical Society of America, 100(4), 2425–2438.

Lingnau, A., Gesierich, B., & Caramazza, A. (2009). Asymmetric fMRI adaptation reveals no evidence for mirror neurons in humans. Proceedings of the National Academy of Sciences, 106(24), 9925–9930.

Meltzoff, A. N. (1988). Imitation of televised models by infants. Child Development, 59, 1221–1229.

Meltzoff, A. N. (2005). Imitation and other minds: The like me hypothesis. In S. Hurley & N. Chater (Hrsg.), Perspectives on imitation: From neuroscience to social science (Imitation, human development, and culture, Bd. 2, S. 55–77). Cambridge, MA: MIT Press.

Rizzolatti, G., & Craighero, L. (2004). The mirror-neuron system. Annual Review of Neuroscience, 27(1), 169–192.

Rizzolatti, G., & Fogassi, L. (2014). The mirror mechanism: Recent findings and perspectives. Philosophical Transactions of the Royal Society, B: Biological Sciences, 369(1644), 20130420.

Rizzolatti, G., Fadiga, L., Gallese, V., & Fogassi, L. (1996). Premotor cortex and the recognition of motor actions. Cognitive Brain Research, 3, 131–141.

Schwarzer, R., & Jerusalem, M. (2002). Das Konzept der Selbstwirksamkeit. In M. Jerusalem & D. Hopf (Hrsg.), Selbstwirksamkeit und Motivationsprozesse in Bildungsinstitutionen (S. 28–53). Weinheim: Beltz. (Zeitschrift für Pädagogik, Beiheft; 44).

Umiltà, M. A., Kohler, E., Gallese, V., Fogassi, L., Fadiga, L., Keysers, C., & Rizzolatti, G. (2001). I know what you are doing. A neurophysiological study. Neuron, 31(1), 155–165.
Copyright information

© 2019 Springer-Verlag GmbH Deutschland, ein Teil von Springer Nature
About this chapter
Cite this chapter
Bak, P.M. (2019). Modelllernen. In: Lernen, Motivation und Emotion . Angewandte Psychologie Kompakt. Springer, Berlin, Heidelberg. https://doi.org/10.1007/978-3-662-59691-3_3
DOI: https://doi.org/10.1007/978-3-662-59691-3_3

Published:

Publisher Name: Springer, Berlin, Heidelberg

Print ISBN: 978-3-662-59690-6

Online ISBN: 978-3-662-59691-3

eBook Packages: Psychology (German Language)