Abstract

Two cases are discussed: the first is a simple health care contract, done in the context of selective contracting; and the second case explores the same contract as a social contract. It highlights the Contractual Management (CM) fields of planning, implementation, monitoring and evaluation for re-negotiation stages in the contract. The starting point is a selective purchasing model of care for complex medical cases in which a single payer no longer traditionally reimburses on fixed fee input-based items, but prospectively announces a package price, and providers express their interest in participating (designated as Z cases). When viewed in a principal-agent context, in which the funder is the principal and the contracted provider the agent, the issue of interest is finding the right incentives for the agent to pursue the principal's goal. An analysis of the cases presented herein, a contractual non-payment or delayed payment, highlights risks that could have been anticipated and addressed with a smarter contract management. The CM framework permits exploration of contract risks and an examination how improvements in the planning and process stages, including management of information and knowledge from the contract, can improve contract outcomes. The model presupposes flexibility of action open to private or business firms operating under strong institutions. However, the entities or contractual parties in the given case are both government agencies. With its management-based lens, the CM contract assessment highlights not only the legal aspects but also the social contract of state institutions assuring basic health care to the people. Contracting in this context subsumes authority and compliance (the default modes of state institutions) with more 'learning by doing' or knowledge management, within the purview of Contract management. CM provides a pragmatic view of what it takes to bring out contracting's potential to transform the way health care is financed and delivered in the country.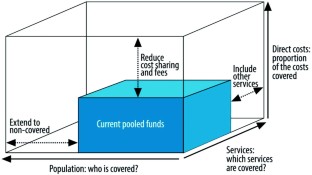 References
World Health Organization. (2003). Social health insurance: Report of a Regional Expert Group Meeting. New Delhi: WHO.

Philippine Health Insurance Corporation. (2012). 029: Governing policies on PhilHealth benefit package for case type Z. Manila: Republic of the Philippines Department of Health.

Selmer, J., & De Leon, C. (2014). Management and culture in the Philippines. Hong Kong: Hong Kong Baptist School of Business, Business Research Centre Papers on Cross Cultural Management, 1–29.

Hu, T., Hung, Y. (2002). Health care reforms in Taiwan and the US: What we can learn from each other. In T.-W. Hu & C.-R. Hsieh (Eds.), The economics of health care in Asia-Pacific countries (pp. 15–32). Glos: Elgar.

World Health Organization, & Regional Office for South-East Asia. (2018). The Philippines health system review. Health Systems In Transition (HIT), 8(2).

UPecon-HPDP (2016). The challenge of reaching the poor with a continuum of care: A 25 year assessment of Philippine health sector performance. Quezon City: Health Policy Development Program of the UPecon Foundation.

Jowett, M., & Hsiao, W. C. (2007). The Philippines: Extending coverage beyond the formal sector. In W. C. Hsiao & R. P. Shaw (Eds.), Social health insurance for developing nations (pp. 81–104). Washington: The International Bank for Reconstruction and Development/The World Bank.

Picazo, O. F., Ulep, V. T., Pantig, I. T., & Ho, B. C. (2014). A critical analysis of purchasing of health services in the Philippines: A case study of PhilHealth. Philippine Institute for Development Studies Discussion Paper 2015-54.

Quimbo, S., Florentino, J., Peabody, J. W., Shimkhada, R., Panelo, C., & Solon, O. (2008). Underutilization of social insurance among the poor: Evidence from the Philippines. PLoS ONE,3(10), e3379.

World Health Organization. (N. D.). Health financing for universal coverage. https://www.who.int/health_financing/strategy/dimensions/en/.

United Nations Development Program. (2016). The social contract in situations of conflict and fragility. Norwegian Peacebuilding Resource Centre.

Jos, P. (2006). Social contract theory implications for professional ethics. American Journal of Public Administration,36(2), 139–155.

Welie, J. (2012). Social contract theory as a foundation of the social responsibilities of health professionals. Med Health Care and Philos,15(3), 347–355.

Meslin, E. M., Carroll, A. E., Schwartz, P. H., & Kennedy, S. (2014). Is the social contract incompatible with the social safety net? Journal of Civic Literacy, 1(1), 1–15.

Izuhara, M. (2003). Social inequality under a new social contract: Long-term care in Japan. Social Policy and Administration,37(4), 395–410.

Berdufi, M., & Dushi, D. (2015). Social contract and governments legitimacy. Mediterranean Journal of Social Sciences,6(6), 392–398.

Cervellati, M., Fortunato, P., & Sunde, U. (2005). Hobbes to Rousseau: Inequality, institutions and development. Bonn: Institute of Labor Economics (IZA).

Maksoud, A., Jahningen, D., & Skibinski, C. (1993). Do not resuscitate orders and the cost of death. JAMA Internal Medicine, 153(10), 1249–1253.

Gailmard, S. (2012). Accountability and principal agent theory. Prepared for Oxford Handbook for public accountability. https://www.ocf.berkeley.edu/~gailmard/acct-pa.pdf. Accessed 23 Apr 2019.

Coase, R. (1952). The nature of the firm. Economica, 4, 386–405 (Reprinted in: Stigler, G., & Boulding, K. E. (Eds.) (1960). Readings in price theory. Homewood: Richard D. Irwin).

Le Grand, J., & Bartlett, W. (1993). The theory of quasi-markets. In J. Le Grand & W. Bartlett (Eds.), Quasi-markets and social policy (pp. 13–34). London: The Macmillan Press Ltd.

Roberts, J. A. (2006). Introduction to the economics of infectious disease. In J. A. Roberts (Ed.), The economics of infectious disease (pp. 1–21). Oxford: Oxford University Press.

Propper, C. (1993). Quasi-markets and regulation. In J. Le Grand & W. Bartlett (Eds.), Quasi-markets and social policy (pp. 183–201). London: The Macmillan Press Ltd.

Duran, A., Sheiman, I., et al. (2005). Purchasers, providers and contracts. In J. Figueras, R. Robinson, & E. Jakubowski (Eds.), Purchasing to improve health systems performance (pp. 187–214). Berkshire: Open University Press for World Health Organization.

Duran, N. D., Hall, C., Mccarthy, P. M., & Mcnamara, D. S. (2010). The linguistic correlates of conversational deception: Comparing natural language processing technologies. Cambridge: Cambridge University Press.

Gaynor, M., & Mark, T. (2002). Physician contracting with health plans: A survey of the literature. In T.-W. Hu & C.-R. Hsieh (Eds.), The economics of health care in Asia-Pacific countries. Massachusetts: Elgar.

Slyke, D. V. (2006). Agents or Stewards: Using theory to understand government-nonprofit social service contracting relationship. Journal of Public Administration Research and Theory,17, 157–187.
Copyright information

© 2020 Springer-Verlag GmbH Germany, part of Springer Nature
About this chapter
Cite this chapter
Bautista, M.C.G. (2020). The PhilHealth Case—Health Care Contracts and Social Contract in Social Health Insurance. In: Schuhmann, R., Eichhorn, B. (eds) Contractual Management. Springer Vieweg, Berlin, Heidelberg. https://doi.org/10.1007/978-3-662-58482-8_11