Abstract

We present a basic dynamic epistemic logic of "knowing the value". Analogous to public announcement in standard DEL, we study "public inspection", a new dynamic operator which updates the agents' knowledge about the values of constants. We provide a sound and strongly complete axiomatization for the single and multi-agent case, making use of the well-known Armstrong axioms for dependencies in databases.
Keywords
Knowing what

Bisimulation

Public announcement logic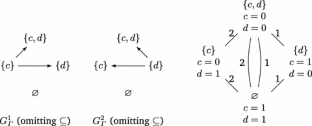 Notes
1.

In this paper, by constant we mean something which has a single value given the actual situation. The range of possible values of a constant may be infinite. This terminology is motivated by first-order modal logic as it will become more clear later.
References
Wang, Y.: Beyond knowing that: a new generation of epistemic logics. In: van Ditmarsch, H., Sandu, G. (eds.) Jaakko Hintikka on Knowledge and Game Theoretical Semantics. Springer (2016, forthcoming)

van Ditmarsch, H., van der Hoek, W., Kooi, B.: Dynamic Epistemic Logic, vol. 1. Springer, Heidelberg (2007)

Plaza, J.: Logics of public communications. Synthese 158(2), 165–179 (2007)

Baltag, A., Moss, L.S., Solecki, S.: The logic of public announcements, common knowledge, and private suspicions. In: Bilboa, I. (ed.) TARK 1998, pp. 43–56 (1998)

Armstrong, W.W.: Dependency structures of data base relationships. In: IFIP Congress, Geneva, Switzerland, vol. 74, pp. 580–583 (1974)

Sweeney, L.: Only you, your doctor, and many others may know. Technology Science (2015). http://techscience.org/a/2015092903/

Wang, Y., Fan, J.: Knowing that, knowing what, and public communication: public announcement logic with KV operators. In: IJCAI 2013, pp. 1147–1154 (2013)

Wang, Y., Fan, J.: Conditionally knowing what. In: Advances in Modal Logic, vol. 10, pp. 569–587 (2014)

Gu, T., Wang, Y.: "Knowing value" logic as a normal modal logic. In: Advances in Modal Logic, vol. 11, pp. 362–381 (2016)

Baltag, A.: To know is to know the value of a variable. In: Advances in Modal Logic, vol. 11, pp. 135–155 (2016)

Väänänen, J.: Dependence Logic: A New Approach to Independence Friendly Logic. Cambridge University Press, New York (2007)

Ciardelli, I., Roelofsen, F.: Inquisitive dynamic epistemic logic. Synthese 192(6), 1643–1687 (2015)

Ciardelli, I.: Questions in logic. Ph.D. thesis, University of Amsterdam (2016)

Ding, Y.: Epistemic logic with functional dependency operator. Bachelor's thesis (in Chinese), Peking University (2015)

More, S.M., Naumov, P.: An independence relation for sets of secrets. Stud. Logica 94(1), 73–85 (2010)

Naumov, P.: Independence in information spaces. Stud. Logica 100(5), 953–973 (2012)

Naumov, P., Nicholls, B.: Rationally functional dependence. J. Philos. Logic 43(2–3), 603–616 (2014)

Harjes, K., Naumov, P.: Functional dependence in strategic games. Notre Dame J. Formal Logic 57(3), 341–353 (2016)
Acknowledgements

We thank the following people for useful comments on this work: Alexandru Baltag, Peter van Emde Boas, Hans van Ditmarsch, Jie Fan, Kai Li and our anonymous reviewers.

This research cooperation was made possible by travel grant 040.11.490 from NWO for Yanjing Wang, which is herewith gratefully acknowledged.
Copyright information

© 2017 Springer-Verlag GmbH Germany
About this paper
Cite this paper
van Eijck, J., Gattinger, M., Wang, Y. (2017). Knowing Values and Public Inspection. In: Ghosh, S., Prasad, S. (eds) Logic and Its Applications. ICLA 2017. Lecture Notes in Computer Science(), vol 10119. Springer, Berlin, Heidelberg. https://doi.org/10.1007/978-3-662-54069-5_7
DOI: https://doi.org/10.1007/978-3-662-54069-5_7

Published:

Publisher Name: Springer, Berlin, Heidelberg

Print ISBN: 978-3-662-54068-8

Online ISBN: 978-3-662-54069-5

eBook Packages: Computer ScienceComputer Science (R0)