Abstract

Community platforms and repositories enable educators to share and reuse Learning Design solutions (resources, activities, patterns, courses, etc.) The Integrated Learning Design Environment (ILDE) is a community platform that integrates Learning Design tools allowing not only sharing but also (co-)editing designs of resources and activities and their implementations with technologies. ILDE features open new scenarios for reuse, since Learning Design solutions can be duplicated and modified within the platform. These scenarios include basic reuse, creative modifications and refinements, revisions based on diverse types of feedback (from students, other educators, own reflections), and particularizations derived from contextual needs. The scenarios lead to the creation of multiple versions of an original solution. Tracking versioning of Learning Design solutions is interesting from a practitioner perspective (inspiration by exploring variations of the same design) and educational research perspective (understanding how educators design and reuse). This chapter describes the model implemented in ILDE to support scenarios that originate several versions of Learning Design solutions as well as the visualization offered to dig into the versioning. Their use is illustrated with three examples extracted from real practice in different contexts.
Keywords
Learning Design

Co-design

Reuse

Versioning

Family-tree visualization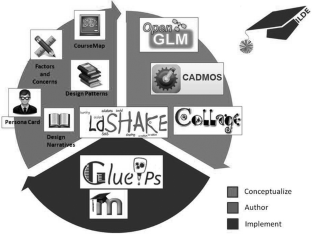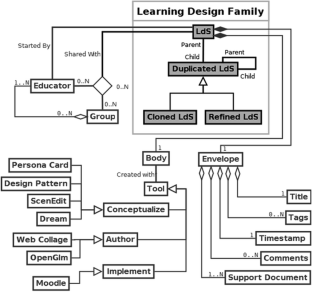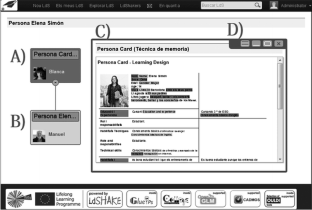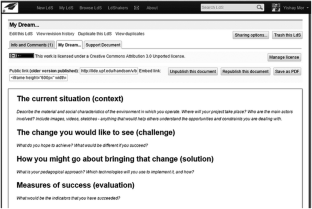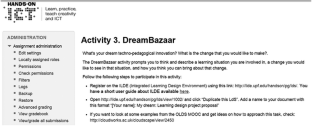 References
Chacón-Pérez, J., Hernández-Leo, D., & Blat, J. (2014). Learning Design Family Tree to Back Reuse and Cooperation. In: 9th International Conference on Networked Learning, NLC(2014), April 2014, pp. 510–517.

Conole, G. (2012). Designing for learning in an open world. Heidelberg: Springer.

Cross, S., Galley, R., Brasher, A., & Weller, M. (2012). OULDI-JISC Project Evaluation Report: the impact of new curriulum design tools and approaches on institutional process and design cultures. Retrieved from http://oro.open.ac.uk/34140.

Derntl, M., Neuman, S., & Oberhuemer, P. (2011). Propelling standards-based sharing and reuse in instructional modeling communities: The open graphical learning modeler (OpenGLM). Advanced Learning Technologies (ICALT), 11th IEEE International Conference on IEEE, 2(4), 208–218. Retrieved from http://ieeexplore.ieee.org/xpls/abs_all.jsp?arnumber=5992363.

Griffiths, D., & Blat, J. (2005). The role of teachers in editing and authoring units of learning using IMS Learning Design. International Journal on Advanced Technology for Learning, Special Session on "Designing Learning Activities: From Content-Based to Context-Based Learning Services,"2(4), 1–9. Retrieved from http://dspace.ou.nl/handle/1820/586.

Harrer, A. (2006). An Approach to Organize Re-usability of Learning Designs and Collaboration Scripts of Various Granularities. In Sixth IEEE International Conference on Advanced Learning Technologies (ICALT'06) (pp. 164–168). Kerkrade, The Netherlands. doi:10.1109/ICALT.2006.1652396.

Hernández-Leo, D., Asensio-Pérez, J. I., Derntl, M., Prieto, L. P., & Chacón-Pérez, J. (2014). ILDE: community environment for conceptualizing, authoring and deploying learning activities. In C. Rensing, S. de Freitas, T. Ley, & P. J. Muñoz-Merino (Eds.), 9th European Conference on Technology Enhanced Learning (ECTEL'14) (pp. 490–493). Graz: Springer.

Hernández-Leo, D., Harrer, A., Dodero, J. M., & Burgos, D. (2007). A framework for the conceptualization of approaches to "Create-by-Reuse" of learning design solutions. Journal of Universal Computer Science, 13(7), 991–1001. Retrieved from http://jucs.org/jucs_13_7/a_framework_for_the/jucs_13_7_0991_1001_hernandez.pdf.

Hernández-Leo, D., Romeo, L., Carralero, M. A., Chacón, J., Carrió, M., Moreno, P., & Blat, J. (2011). LdShake: Learning design solutions sharing and co-edition. Computers & Education, 57(4), 2249–2260. Retrieved from http://www.sciencedirect.com/science/article/pii/S036013151100145X.

Könings, K., Brand-Gruwel, S., & Merriënboer, J. van. (2011). Participatory instructional redesign by students and teachers in secondary education: effects on perceptions of instruction. Instructional Science. Retrieved from http://link.springer.com/article/10.1007/s11251–010-9152-3.

McAndrew, P. (2013). Learning from open design: running a learning design MOOC, eLearning Papers (33)

Mor, Y. (2013). SNaP! Re-using, sharing and communicating designs and design knowledge using scenarios, narratives and patterns. In R. Luckin, S. Puntambekar, P. Goodyear, B. L. Grabowski, J. Underwood, & N. Winters (Eds.), Handbook of Design in Educational Technology. London, UK: Routledge. Retrieved from.

Mor, Y., Craft, B., & Hernández-Leo, D. (2013). The art and science of learning design: Editoral. Research in Learning Technology, 21. doi:http://dx.doi.org/10.3402/rlt.v21i0.22513.

Mor, Y., & Mogilevsky, O. (2013). Learning Design Studio: Educational Practice as Design Inquiry of Learning "Scaling up Learning for Sustained Impact." In Proceedings of EC-TEL (pp. 233–245). Berlin, Heidelberg: Springer. Retrieved from.

Mor, Y., & Winters, N. (2007). Design approaches in technology-enhanced learning. Interactive Learning Environments, 15(1), 61–75. Retrieved from http://www.tandfonline.com/doi/abs/10.1080/10494820601044236.

Nielsen, L. (2013). Personas. In M. Soegaard & R. F. Dam (Eds.), The Encyclopedia of Human-Computer Interaction, 2nd Ed. (2nd ed.). Aarhus, Denmark: The Interaction Design Foundation. Retrieved from https://www.interaction-design.org/encyclopedia/personas.html.

Prieto, L. P., Muñoz-Cristóbal, J., Asensio-Pérez, J. I., & Dimitriadis, Y. (2012). Making learning designs happen in distributed learning environments with GLUE!-PS. In C. D. K. & D. H. L. eds A. Ravenscroft, S. N. Lindstaedt (Ed.), 21st Century Learning for 21st Century Skills (pp. 489–494). Berlin, Heidelberg: Springer.

Sánchez-Aroca, M. (1999). La Vermeda-Sant Martí: A school where people dare to dream. Harvard Educational Review, 69(3), 320–335.

Villasclaras-Fernández, E., Hernández-Leo, D., Asensio-Pérez, J. I., & Dimitriadis, Y. (2013). Web Collage: An implementation of support for assessment design in CSCL macro-scripts. Computers & Education, 67(September 2013), 79–97. Retrieved from http://www.sciencedirect.com/science/article/pii/S0360131513000730.
Acknowledgements

This work has been partially funded by EACEA, METIS Project (531262-LLP-2012-ES-KA3-KA3MP), and the Spanish EEE project (TIN2011-28308-C03-03). The authors acknowledge the contributions from other project members, especially from the software developer Pablo Abenia.
Copyright information

© 2016 Springer-Verlag Berlin Heidelberg
About this chapter
Cite this chapter
Chacón-Pérez, J., Hernández-Leo, D., Mor, Y., Asensio-Pérez, J.I. (2016). User-Centered Design: Supporting Learning Designs' Versioning in a Community Platform. In: Gros, B., Kinshuk, ., Maina, M. (eds) The Future of Ubiquitous Learning. Lecture Notes in Educational Technology. Springer, Berlin, Heidelberg. https://doi.org/10.1007/978-3-662-47724-3_9
DOI: https://doi.org/10.1007/978-3-662-47724-3_9

Published:

Publisher Name: Springer, Berlin, Heidelberg

Print ISBN: 978-3-662-47723-6

Online ISBN: 978-3-662-47724-3

eBook Packages: EducationEducation (R0)