Abstract

A resource workflow net (RWF-net) is a workflow net, supplied with an additional set of initially marked resource places. Resources can be consumed and/or produced by transitions. Neither the intermediate nor final resource markings are constrained, hence a net can have an infinite number of different reachable states.

An RWF-net with \(k\) tokens in the initial place and a certain number of resource tokens in resource places is called \(k\)-sound if it properly terminates with \(k\) tokens in the final place and, moreover, adding any extra initial resource does not violate its proper termination. An unmarked RWF-net is \(k\)-sound if it is \(k\)-sound for some initial resource. In this paper we prove the decidability of both marked and unmarked \(k\)-soundness for a restricted class of RWF-nets with a single unbounded resource place (1-dim RWF-nets). We present an algorithm for computing the minimal \(k\)-sound resource for a given sound 1-dim RWF-net.
Keywords
Petri nets

Workflow

Soundness

Modeling

Verification
This work is supported by the Basic Research Program of the National Research University Higher School of Economics.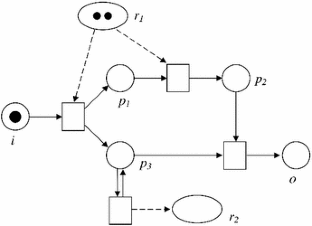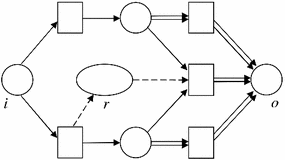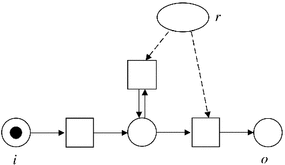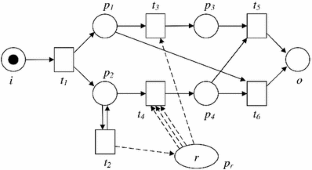 References
van der Aalst, W.M.P.: The application of Petri Nets to workflow management. J. Circuits Syst. Comput. 8(1), 21–66 (1998)

van der Aalst, W.M.P., van Hee, K.M.: Workflow Management: Models. MIT Press, Methods and Systems (2002)

van der Aalst, W.M.P., van Hee, K.M., ter Hofstede, A.H.M., Sidorova, N., Verbeek, H.M.W., Voorhoeve, M., Wynn, M.T.: Soundness of workflow nets: Classification, decidability, and analysis. Formal Aspects Comput. 23(3), 333–363 (2011)

Abdulla, P.A., Čerans, K.: Simulation is decidable for one-counter nets. In: Sangiorgi, D., de Simone, R. (eds.) CONCUR 1998. LNCS, vol. 1466, pp. 253–268. Springer, Heidelberg (1998)

Barkaoui, K., Petrucci, L.: Structural analysis of workflow nets with shared resources. In: van der Aalst, W.M.P., Michelis, G., Ellis, C.A. (eds.) Proceedings of Workflow Management: Net-based Concepts, Models, Techniques and Tools (WFM'98). Computing Science Reports, vol. 98/7, pp. 82–95. Eindhoven University of Technology, Eindhoven (1998)

Barkaoui, K., Ben Ayed, R., Sbaï, Z.: Workflow soundness verification based on structure theory of Petri Nets. Int. J. Comput. Inf. Sci. 5(1), 51–61 (2007)

Bashkin, V.A.: Formalization of semantics of systems with unreliable agents by means of nets of active resources. Programm. Comput. Softw. 36(4), 187–196 (2010)

Bashkin, V.A.: Modular nets of active resources. Automatic Control Comput. Sci. 46(1), 1–11 (2012)

Bashkin, V.A., Lomazova, I.A.: Petri Nets and resource bisimulation. Fundamenta Informaticae 55(2), 101–114 (2003)

Bashkin, V.A., Lomazova, I.A.: Resource similarities in Petri Net models of distributed systems. In: Malyshkin, V.E. (ed.) PaCT 2003. LNCS, vol. 2763, pp. 35–48. Springer, Heidelberg (2003)

Bashkin, V.A., Lomazova, I.A.: Similarity of generalized resources in Petri Nets. In: Malyshkin, V.E. (ed.) PaCT 2005. LNCS, vol. 3606, pp. 27–41. Springer, Heidelberg (2005)

Bashkin, V.A., Lomazova, I.A.: Resource Equivalence in Workflow Nets. In: Proceedings of CS&P'2006 on Concurrency, Specification and Programming, vol. 1., pp. 80–91. Humboldt-Universitat zu Berlin, Berlin (2006)

Bashkin, V.A., Lomazova, I.A.: Resource driven automata nets. Fundamenta Informaticae 109(3), 223–236 (2011)

Bashkin, V.A., Lomazova, I.A.: Modelling multiagent systems with the help of generalized nets of active resources. Cybern. Syst. Anal. 47(2), 202–209 (2011)

Bashkin, V.A., Lomazova, I.A.: Cellular resource-driven automata. Fundamenta Informaticae 120(3–4), 243–257 (2012)

Bashkin, V.A., Lomazova, I.A.: Soundness of Workflow Nets with an Unbounded Resource is Decidable. In: Joint Proceedings of PNSE'13 and ModBE'13. CEUR Workshop Proceedings, vol. 989, pp. 61–75. CEUR-WS.org (2013)

Dehnert, J., Rittgen, P.: Relaxed soundness of business processes. In: Dittrich, K.R., Geppert, A., Norrie, M. (eds.) CAiSE 2001. LNCS, vol. 2068, pp. 157–170. Springer, Heidelberg (2001)

van Hee, K.M., Sidorova, N., Voorhoeve, M.: Generalised soundness of workflow nets is decidable. In: Cortadella, J., Reisig, W. (eds.) ICATPN 2004. LNCS, vol. 3099, pp. 197–215. Springer, Heidelberg (2004)

van Hee, K.M., Serebrenik, A., Sidorova, N., Voorhoeve, M.: Soundness of resource-constrained workflow nets. In: Ciardo, G., Darondeau, P. (eds.) ICATPN 2005. LNCS, vol. 3536, pp. 250–267. Springer, Heidelberg (2005)

van Hee, K., Oanea, O., Serebrenik, A., Sidorova, N., Voorhoeve, M., Lomazova, I.A.: Checking properties of adaptive workflow nets. Fundamenta Informaticae 79(3–4), 347–362 (2007)

Hopcroft, J.E., Pansiot, J.J.: On the reachability problem for 5-dimensional vector addition systems. Theor. Comput. Sci. 8, 135–159 (1979)

Lomazova, I.A., Romanov, I.V.: Analyzing compatibility of services via resource conformance. Fundamenta Informaticae 128(1–2), 129–141 (2013)

Puhlmann, F., Weske, M.: Interaction soundness for service orchestrations. In: Dan, A., Lamersdorf, W. (eds.) ICSOC 2006. LNCS, vol. 4294, pp. 302–313. Springer, Heidelberg (2006)

Sidorova, N., Stahl, C.: Soundness for resource-contrained workflow nets is decidable. IEEE Trans. Syst. Man Cybern. Syst. 43(3), 724–729 (2013)

Tiplea, F.L., Marinescu, D.C.: Structural soundness of workflow nets is decidable. Inf. Process. Lett. 96(2), 54–58 (2005)

van der Toorn, R.A.: Component-based software design with Petri Nets: An approach based on inheritance of behavior. Ph.D. Thesis, Eindhoven University of Technology, Eindhoven, The Netherlands (2004)
Copyright information

© 2014 Springer-Verlag Berlin Heidelberg
About this chapter
Cite this chapter
Bashkin, V.A., Lomazova, I.A. (2014). Decidability of \(k\)-Soundness for Workflow Nets with an Unbounded Resource. In: Koutny, M., Haddad, S., Yakovlev, A. (eds) Transactions on Petri Nets and Other Models of Concurrency IX. Lecture Notes in Computer Science(), vol 8910. Springer, Berlin, Heidelberg. https://doi.org/10.1007/978-3-662-45730-6_1
DOI: https://doi.org/10.1007/978-3-662-45730-6_1

Published:

Publisher Name: Springer, Berlin, Heidelberg

Print ISBN: 978-3-662-45729-0

Online ISBN: 978-3-662-45730-6

eBook Packages: Computer ScienceComputer Science (R0)