Abstract

Leptospirosis is a widespread and potentially fatal zoonosis that is endemic in many tropical regions and causes large epidemics after heavy rainfall and flooding. Infection results from direct or indirect exposure to infected reservoir host animals that carry the pathogen in their renal tubules and shed pathogenic leptospires in their urine. Although many wild and domestic animals can serve as reservoir hosts , the brown rat (Rattus norvegicus) is the most important source of human infections. Individuals living in urban slum environments characterized by inadequate sanitation and poor housing are at high risk of rat exposure and leptospirosis. The global burden of leptospirosis is expected to rise with demographic shifts that favor increases in the number of urban poor in tropical regions subject to worsening storms and urban flooding due to climate change. Data emerging from prospective surveillance studies suggest that most human leptospiral infections in endemic areas are mild or asymptomatic. Development of more severe outcomes likely depends on three factors: epidemiological conditions, host susceptibility, and pathogen virulence (Fig. 1). Mortality increases with age, particularly in patients older than 60 years of age. High levels of bacteremia are associated with poor clinical outcomes and, based on animal model and in vitro studies, are related in part to poor recognition of leptospiral LPS by human TLR4. Patients with severe leptospirosis experience a cytokine storm characterized by high levels of IL-6, TNF-alpha, and IL-10. Patients with the HLA DQ6 allele are at higher risk of disease, suggesting a role for lymphocyte stimulation by a leptospiral superantigen. Leptospirosis typically presents as a nonspecific, acute febrile illness characterized by fever, myalgia, and headache and may be confused with other entities such as influenza and dengue fever. Newer diagnostic methods facilitate early diagnosis and antibiotic treatment. Patients progressing to multisystem organ failure have widespread hematogenous dissemination of pathogens. Nonoliguric (high output) renal dysfunction should be supported with fluids and electrolytes. When oliguric renal failure occurs, prompt initiation of dialysis can be life saving. Elevated bilirubin levels are due to hepatocellular damage and disruption of intercellular junctions between hepatocytes, resulting in leaking of bilirubin out of bile caniliculi. Hemorrhagic complications are common and are associated with coagulation abnormalities. Severe pulmonary hemorrhage syndrome due to extensive alveolar hemorrhage has a fatality rate of >50 %. Readers are referred to earlier, excellent summaries related to this subject (Adler and de la Peña-Moctezuma 2010; Bharti et al. 2003; Hartskeerl et al. 2011; Ko et al. 2009; Levett 2001; McBride et al. 2005).
Keywords
Personal Protective Equipment

Reservoir Host

Acalculous Cholecystitis

Microscopic Agglutination Test

Hantavirus Pulmonary Syndrome
These keywords were added by machine and not by the authors. This process is experimental and the keywords may be updated as the learning algorithm improves.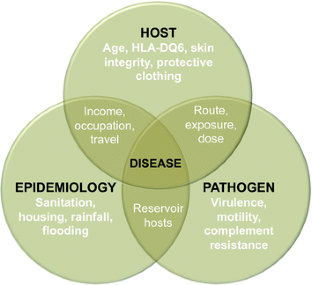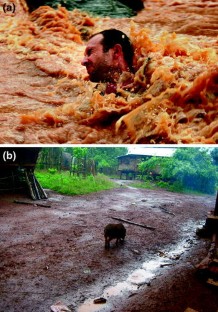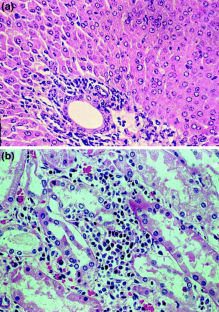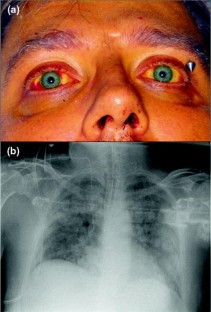 References
Abdulkader RC, Seguro AC, Malheiro PS, Burdmann EA, Marcondes M (1996) Peculiar electrolytic and hormonal abnormalities in acute renal failure due to leptospirosis. Am J Trop Med Hyg 54:1–6

Abela-Ridder B, Sikkema R, Hartskeerl RA (2010) Estimating the burden of human leptospirosis. Int J Antimicrob Agents 36(Suppl 1):S5–S7

Adler B, Faine S (1978) The antibodies involved in the human immune response to leptospiral infection. J Med Microbiol 11:387–400

Adler B, de la Peña-Moctezuma A (2010) Leptospira and leptospirosis. Vet Microbiol 140:287–296

Agampodi SB, Matthias MA, Moreno AC, Vinetz JM (2012) Utility of quantitative polymerase chain reaction in leptospirosis diagnosis: association of level of leptospiremia and clinical manifestations in Sri Lanka. Clin Infect Dis 54:1249–1255

Ahern M, Kovats RS, Wilkinson P, Few R, Matthies F (2005) Global health impacts of floods: epidemiologic evidence. Epidemiol Rev 27:36–46

Ahmed A, Engelberts MF, Boer KR, Ahmed N, Hartskeerl RA (2009) Development and validation of a real-time PCR for detection of pathogenic Leptospira species in clinical materials. PLoS ONE 4:e7093

Ahmed A, Grobusch MP, Klatser PR, Hartskeerl RA (2012) Molecular approaches in the detection and characterization of Leptospira. J Bacteriol Parasitol 3:1000133

Ahmed A, Thaipadungpanit J, Boonsilp S, Wuthiekanun V, Nalam K, Spratt BG, Aanensen DM, Smythe LD, Ahmed N, Feil EJ, Hartskeerl RA, Peacock SJ (2011) Comparison of two multilocus sequence based genotyping schemes for Leptospira species. PLoS Negl Trop Dis 5:e1374

Ahmed N, Devi SM, Valverde Mde L, Vijayachari P, Machang'u RS, Ellis WA, Hartskeerl RA (2006) Multilocus sequence typing method for identification and genotypic classification of pathogenic Leptospira species. Ann Clin Microbiol Antimicrob 5:28

Alexander AD, Rule PL (1986) Penicillins, cephalosporins, and tetracyclines in treatment of hamsters with fatal leptospirosis. Antimicrob Agents Chemother 30:835–839

Alston JM, Broom JC (1958) Leptospirosis in man and animals. E. & S. Livingstone, Edinburgh

Amato MB, Barbas CS, Medeiros DM, Magaldi RB, Schettino GP, Lorenzi-Filho G, Kairalla RA, Deheinzelin D, Munoz C, Oliveira R, Takagaki TY, Carvalho CR (1998) Effect of a protective-ventilation strategy on mortality in the acute respiratory distress syndrome. N Engl J Med 338:347–354

Andrade L, Cleto S, Seguro AC (2007) Door-to-dialysis time and daily hemodialysis in patients with leptospirosis: impact on mortality. Clin J Am Soc Nephrol 2:739–744

Andrade L, de Francesco Daher E, Seguro AC (2008) Leptospiral nephropathy. Semin Nephrol 28:383–394

Appassakij H, Silpapojakul K, Wansit R, Woodtayakorn J (1995) Evaluation of the immunofluorescent antibody test for the diagnosis of human leptospirosis. Am J Trop Med Hyg 52:340–343

Araujo ER, Seguro AC, Spichler A, Magaldi AJ, Volpini RA, De Brito T (2010) Acute kidney injury in human leptospirosis: an immunohistochemical study with pathophysiological correlation. Virchows Arch 456:367–375

Arean VM (1962) The pathologic anatomy and pathogenesis of fatal human leptospirosis (Weil's disease). Am J Pathol 40:393–423

Avdeeva MG, Moisova DL, Gorodin VN, Kostomarov AM, Zotov SV, Cherniavskaia OV (2002) The role glucose-6-phosphate dehydrogenase in pathogenesis of anemia in leptospirosis. Klin Med (Mosk) 80:42–44

Babudieri B, Carlos ER, Carlos ET Jr (1973) Pathogenic Leptospira isolated from toad kidneys. Trop Geogr Med 25:297–299

Bajani MD, Ashford DA, Bragg SL, Woods CW, Aye T, Spiegel RA, Plikaytis BD, Perkins BA, Phelan M, Levett PN, Weyant RS (2003) Evaluation of four commercially available rapid serologic tests for diagnosis of leptospirosis. J Clin Microbiol 41:803–809

Bal AE, Gravekamp C, Hartskeerl RA, de Meza-Brewster J, Korver H, Terpstra WJ (1994) Detection of leptospires in urine by PCR for early diagnosis of leptospirosis. J Clin Microbiol 32:1894–1898

Benbrick E, Pouliquen P, Domont A (2001) Evaluation de la tolerance de la vaccination contre Leptospira icterohaemorrhagiae chez 50 employe´s de canaux. Arch Mal Prof 62:35–40

Berman SJ, Tsai C, Holms K, Fresh JW, Walten RH (1973) Sporadic anicteric leptospirosis in South Vietnam. A study of 150 patients. Ann Intern Med 79:167–173

Bharti AR, Nally JE, Ricaldi JN, Matthias MA, Diaz MM, Lovett MA, Levett PN, Gilman RH, Willig MR, Gotuzzo E, Vinetz JM (2003) Leptospirosis: a zoonotic disease of global importance. Lancet Infect Dis 3:757–771

Blackmore DK, Schollum LM, Moriarty KM (1984) The magnitude and duration of titres of leptospiral agglutinins in human sera. NZ Med J 97:83–86

Bolin CA, Koellner P (1988) Human-to-human transmission of Leptospira interrogans by milk. J Infect Dis 158:246–247

Boonsilp S, Thaipadungpanit J, Amornchai P, Wuthiekanun V, Bailey MS, Holden MT, Zhang C, Jiang X, Koizumi N, Taylor K, Galloway R, Hoffmaster AR, Craig S, Smythe LD, Hartskeerl RA, Day NP, Chantratita N, Feil EJ, Aanensen DM, Spratt BG, Peacock SJ (2013) A single multilocus sequence typing (MLST) scheme for seven pathogenic Leptospira species. PLoS Negl Trop Dis 7:e1954

Brandão AP, Camargo ED, da Silva ED, Silva MV, Abrão RV (1998) Macroscopic agglutination test for rapid diagnosis of human leptospirosis. J Clin Microbiol 36:3138–3142

Brown PD, Gravekamp C, Carrington DG, Van de Kemp H, Hartskeerl RA, Edwards CN, Everard COR, Terpstra WJ, Levett PN (1995) Evaluation of the polymerase chain reaction for early diagnosis of leptospirosis. J Med Microbiol 43:110–114

Burt FJ, Rolph MS, Rulli NE, Mahalingam S, Heise MT (2012) Chikungunya: a re-emerging virus. Lancet 379:662–671

Chapman AJ, Faine S, Adler B (1990) Antigens recognized by the human immune response to vaccination with a bivalent hardjo/pomona leptospiral vaccine. FEMS Microbiol Immunol 2:111–118

Chen T (1985) Development and present status of leptospiral vaccine and technology of production of the vaccine in China. Nihon Saikingaku Zasshi 40:755–762

Chu KM, Rathinam R, Namperumalsamy P, Dean D (1998) Identification of Leptospira species in the pathogenesis of uveitis and determination of clinical ocular characteristics in South India. J Infect Dis 177:1314–1321

Chung HL, Ts'ao WC, Mo PS, Yen C (1963) Transplacental or congenital infection of leptospirosis. Clinical and experimental observations. Chin Med J 82:777–782

Coghlan JD, Bain AD (1969) Leptospirosis in human pregnancy followed by death of the foetus. Brit Med J 1:228–230

Collen MJ, Ansher AF, Chapman AB, Mackow RC, Lewis JH (1990) Serum amylase in patients with renal insufficiency and renal failure. Am J Gastroenterol 85:1377–1380

Corwin A, Ryan A, Bloys W, Thomas R, Deniega B, Watts D (1990) A waterborne outbreak of leptospirosis among United States military personnel in Okinawa, Japan. Int J Epidemiol 19:743–748

Covic A, Goldsmith DJ, Gusbeth-Tatomir P, Seica A, Covic M (2003) A retrospective 5-year study in Moldova of acute renal failure due to leptospirosis: 58 cases and a review of the literature. Nephrol Dial Transplant 18:1128–1134

Cumberland PC, Everard COR, Levett PN (1999) Assessment of the efficacy of the IgM enzyme-linked immunosorbent assay (ELISA) and microscopic agglutination test (MAT) in the diagnosis of acute leptospirosis. Am J Trop Med Hyg 61:731–734

Cumberland PC, Everard COR, Wheeler JG, Levett PN (2001) Persistence of anti-leptospiral IgM, IgG and agglutinating antibodies in patients presenting with acute febrile illness in Barbados 1979–1989. Eur J Epidemiol 17:601–608

Daher E, Zanetta DM, Cavalcante MB, Abdulkader RC (1999) Risk factors for death and changing patterns in leptospirosis acute renal failure. Am J Trop Med Hyg 61:630–634

Dechet AM, Parsons M, Rambaran M, Mohamed-Rambaran P, Florendo-Cumbermack A, Persaud S, Baboolal S, Ari MD, Shadomy SV, Zaki SR, Paddock CD, Clark TA, Harris L, Lyon D, Mintz ED (2012) Leptospirosis outbreak following severe flooding: a rapid assessment and mass prophylaxis campaign; Guyana, January–February 2005. PLoS ONE 7:e39672

Desakorn V, Wuthiekanun V, Thanachartwet V, Sahassananda D, Chierakul W, Apiwattanaporn A, Day NP, Limmathurotsakul D, Peacock SJ (2012) Accuracy of a commercial IgM ELISA for the diagnosis of human leptospirosis in Thailand. Am J Trop Med Hyg 86:524–527

Dikken H, Kmety E (1978) Serological typing methods of leptospires. In: Bergan T, Norris JR (eds) Methods in microbiology. Academic Press, London, pp 259–307

Doeleman FPJ (1932) Ziekte van Weil, rechstreeks overgebracht van mensch op mensch. Ned Tijdschr Geneeskd 76:5057

Dupont H, Dupont-Perdrizet D, Perie JL, Zehner-Hansen S, Jarrige B, Daijardin JB (1997) Leptospirosis: prognostic factors associated with mortality. Clin Infect Dis 25:720–724

Edwards CN, Nicholson GD, Hassell TA, Everard CO, Callender J (1988) Penicillin therapy in icteric leptospirosis. Am J Trop Med Hyg 39:388–390

Everard CO, Carrington D, Korver H, Everard JD (1988) Leptospires in the marine toad (Bufo marinus) on Barbados. J Wildl Dis 24:334–338

Everard COR, Bennett S, Edwards CN, Nicholson GD, Hassell TA, Carrington DG, Everard JD (1992) An investigation of some risk factors for severe leptospirosis on Barbados. J Trop Med Hyg 95:13–32

Everard JD, Everard COR (1993) Leptospirosis in the Caribbean. Rev Med Microbiol 4:114–122

Faine S (1982) Guidelines for the control of leptospirosis. World Health Organization, Geneva

Faine S, Adler B, Christopher W, Valentine R (1984) Fatal congenital human leptospirosis. Zentralbl Bakteriol Mikrobiol Hyg [A] 257:548

Faine S, Adler B, Bolin C, Perolat P (1999) Leptospira and leptospirosis, 2nd edn. MediSci, Melbourne

Felzemburgh RD, Ribeiro GS, Costa F, Reis RB, Hagan JE, Melendez AX, Fraga D, Santana FS, Mohr S, Dos Santos BL, Silva AQ, Santos AC, Ravines RR, Tassinari WS, Carvalho MS, Reis MG, Ko AI (2014) Prospective study of leptospirosis transmission in an urban slum community: role of poor environment in repeated exposures to the Leptospira agent. PLoS Negl Trop Dis 8:e2927

Fukumura K (1984) Epidemiological studies on leptospirosis in Okinawa. Part 1. Prevalence of leptospirosis in Izena Island and the prevention by vaccination. Yamaguchi Med J 33:257–268

Galloway RL, Levett PN (2010) Application and validation of PFGE for serovar identification of Leptospira clinical isolates. PLoS Negl Trop Dis 4:e824

Galton MM (1962) Methods in the laboratory diagnosis of leptospirosis. Ann NY Acad Sci 98:675–684

Ganoza CA, Matthias MA, Saito M, Cespedes M, Gotuzzo E, Vinetz JM (2010) Asymptomatic renal colonization of humans in the peruvian Amazon by Leptospira. PLoS Negl Trop Dis 4:e612

Gochenour WS, Smadel JE, Jackson EB, Evans LB, Yager RH (1952) Leptospiral etiology of Fort Bragg fever. Publ Hlth Rep 67:811–813

Gonsalez CR, Casseb J, Monteiro FG, Paula-Neto JB, Fernandez RB, Silva MV, Camargo ED, Mairinque JM, Tavares LC (1998) Use of doxycycline for leptospirosis after high-risk exposure in Sao Paulo, Brazil. Rev Inst Med Trop Sao Paulo 40:59–61

Goris MG, Wagenaar JF, Hartskeerl RA, van Gorp EC, Schuller S, Monahan AM, Nally JE, van der Poll T, van't Veer C (2011a) Potent innate immune response to pathogenic Leptospira in human whole blood. PLoS ONE 6:e18279

Goris MGA, Leeflang MMG, Boer KR, Goeijenbier M, van Gorp ECM, Wagenaar JFP, Hartskeerl RA (2011b) Establishment of valid laboratory case definition for human leptospirosis. J Bacteriol Parasitol S5-001:1–8

Goris MG, Kikken V, Straetemans M, Alba S, Goeijenbier M, van Gorp EC, Boer KR, Wagenaar JF, Hartskeerl RA (2013a) Towards the burden of human leptospirosis: duration of acute illness and occurrence of post-leptospirosis symptoms of patients in the Netherlands. PLoS ONE 8:e76549

Goris MGA, Leeflang MMG, Loden M, Wagenaar JFP, Klatser PR, Hartskeerl RA, Boer KR (2013b) Prospective evaluation of three rapid diagnostic tests for diagnosis of human leptospirosis. PLoS Negl Trop Dis 7:e2290

Gouveia EL, Metcalfe J, de Carvalho ALF, Aires TSF, Villalobos-Bisneto JC, Queiroz A, Santos AC, Salgado K, Reis MG, Ko AI (2008) Leptospirosis-associated severe pulmonary hemorrhage syndrome, Salvador, Brazil. Emerg Infect Dis 14:505–508

Gravekamp C, Korver H, Montgomery J, Everard COR, Carrington D, Ellis WA, Terpstra WJ (1991) Leptospires isolated from toads and frogs on the island of Barbados. Zentralbl Bakteriol 275:403–411

Guerra-Silveira F, Abad-Franch F (2013) Sex bias in infectious disease epidemiology: patterns and processes. PLoS ONE 8:e62390

Harrison NA, Fitzgerald WR (1988) Leptospirosis—can it be a sexually transmitted disease? Postgrad Med J 64:163–164

Hartskeerl RA, Collares-Pereira M, Ellis WA (2011) Emergence, control and re-emerging leptospirosis: dynamics of infection in the changing world. Clin Microbiol Infect 17:494–501

Herath NJ, Kularatne SA, Weerakoon KG, Wazil A, Subasinghe N, Ratnatunga NV (2014) Long term outcome of acute kidney injury due to leptospirosis? A longitudinal study in Sri Lanka. BMC Res Notes 7:398

Herrmann JL, Bellenger E, Perolat P, Baranton G, Saint Girons I (1992) Pulsed-field gel electrophoresis of NotI digests of leptospiral DNA: a new rapid method of serovar identification. J Clin Microbiol 30:1696–1702

Hospenthal DR, Murray CK (2003) In vitro susceptibilities of seven Leptospira species to traditional and newer antibiotics. Antimicrob Agents Chemother 47:2646–2648

Hotez PJ, Bottazzi ME, Franco-Paredes C, Ault SK, Periago MR (2008) The neglected tropical diseases of Latin America and the Caribbean: a review of disease burden and distribution and a roadmap for control and elimination. PLoS Negl Trop Dis 2:e300

Hull-Jackson C, Glass MB, Ari MD, Bragg SL, Branch SL, Whittington CU, Edwards CN, Levett PN (2006) Evaluation of a commercial latex agglutination assay for serological diagnosis of leptospirosis. J Clin Microbiol 44:1853–1855

Jevon TR, Knudson MP, Smith PA, Whitecar PS, Blake RL (1986) A point-source epidemic of leptospirosis. Postgrad Med 80:121–129

Karande S, Patil S, Kulkarni M, Joshi A, Bharadwaj R (2005) Acute aseptic meningitis as the only presenting feature of leptospirosis. Pediatr Infect Dis J 24:390–391

Katz AR, Manea SJ, Sasaki DM (1991) Leptospirosis on Kauai: investigation of a common source waterborne outbreak. Am J Public Health 81:1310–1312

Katz AR, Ansdell VE, Effler PV, Middleton CR, Sasaki DM (2001) Assessment of the clinical presentation and treatment of 353 cases of laboratory-confirmed leptospirosis in hawaii, 1974–1998. Clin Infect Dis 33:1834–1841

Katz AR, Buchholz AE, Hinson K, Park SY, Effler PV (2011) Leptospirosis in Hawaii, USA, 1999–2008. Emerg Infect Dis 17:221–226

Ko AI, Galvao Reis M, Ribeiro Dourado CM, Johnson WD Jr, Riley LW, The Salvador Leptospirosis Study Group (1999) Urban epidemic of severe leptospirosis in Braz Lancet 354:820–825

Ko AI, Goarant C, Picardeau M (2009) Leptospira: the dawn of the molecular genetics era for an emerging zoonotic pathogen. Nat Rev Microbiol 7:736–747

Korver H, Kolk AHJ, Vingerhoed J, van Leeuwen J, Terpstra WJ (1988) Classification of serovars of the Icterohaemorrhagiae serogroup by monoclonal antibodies. Israel J Vet Med 44:15–18

Lau C, Smythe L, Weinstein P (2010a) Leptospirosis: an emerging disease in travellers. Travel Med Infect Dis 8:33–39

Lau CL, Smythe LD, Craig SB, Weinstein P (2010b) Climate change, flooding, urbanisation and leptospirosis: fuelling the fire? Trans R Soc Trop Med Hyg 104:631–638

Laurichesse H, Gourdon F, Smits HL, Abdoe TH, Estavoyer JM, Rebika H, Pouliquen P, Catalina P, Dubray C, Beytout J (2007) Safety and immunogenicity of subcutaneous or intramuscular administration of a monovalent inactivated vaccine against Leptospira interrogans serogroup Icterohaemorrhagiae in healthy volunteers. Clin Microbiol Infect 13:395–403

Leon A, Pronost S, Fortier G, Andre-Fontaine G, Leclercq R (2009) Multilocus sequence analysis for typing Leptospira interrogans and Leptospira kirschneri. J Clin Microbiol 48:581–585

Levett PN (1999) Leptospirosis: re-emerging or re-discovered disease? J Med Microbiol 48:417–418

Levett PN (2001) Leptospirosis. Clin Microbiol Rev 14:296–326

Levett PN, Branch SL (2002) Evaluation of two enzyme-linked immunosorbent assay methods for detection of immunoglobulin M antibodies in acute leptospirosis. Am J Trop Med Hyg 66:745–748

Levett PN (2003) Usefulness of serologic analysis as a predictor of the infecting serovar in patients with severe leptospirosis. Clin Infect Dis 36:447–452

Levett PN (2004) Leptospirosis: a forgotten zoonosis? Clin Appl Immunol Rev 4:435–448

Lingappa J, Kuffner T, Tappero J, Whitworth W, Mize A, Kaiser R, McNicholl J (2004) HLA-DQ6 and ingestion of contaminated water: possible gene-environment interaction in an outbreak of leptospirosis. Genes Immun 5:197–202

Lopes AA, Costa E, Costa YA, Sacramento E, De Oliveira Junior AR, Lopes MB, Lopes GB (2004) Comparative study of the in-hospital case-fatality rate of leptospirosis between pediatric and adult patients of different age groups. Rev Inst Med Trop Sao Paulo 46:19–24

Lupidi R, Cinco M, Balanzin D, Delprete E, Varaldo PE (1991) Serological follow-up of patients in a localized outbreak of leptospirosis. J Clin Microbiol 29:805–809

Maciel EA, de Carvalho AL, Nascimento SF, de Matos RB, Gouveia EL, Reis MG, Ko AI (2008) Household transmission of Leptospira infection in urban slum communities. PLoS Negl Trop Dis 2:e154

Mailloux M, Lambert R, Chenu M (1983) Human vaccination against leptospirosis icterohaemorrhagiae. Med Hyg (Geneve) 41:1025–1030

Marotto PC, Ko AI, Murta-Nascimento C, Seguro AC, Prado RR, Barbosa MC, Cleto SA, Eluf-Neto J (2010) Early identification of leptospirosis-associated pulmonary hemorrhage syndrome by use of a validated prediction model. J Infect 60:218–223

Martinez R, Perez A, Quinones Mdel C, Cruz R, Alvarez A, Armesto M, Fernandez C, Menendez J, Rodriguez I, Baro M, Diaz M, Rodriguez J, Sierra G, Obregon AM, Toledo ME, Fernandez N (2004) Efficacy and safety of a vaccine against human leptospirosis in Cuba. Rev Panam Salud Publica 15:249–255

McBride AJ, Athanazio DA, Reis MG, Ko AI (2005) Leptospirosis. Curr Opin Infect Dis 18:376–386

McClain JBL, Ballou WR, Harrison SM, Steinweg DL (1984) Doxycycline therapy for leptospirosis. Ann Intern Med 100:696–698

Merien F, Truccolo J, Rougier Y, Baranton G, Perolat P (1998) In vivo apoptosis of hepatocytes in guinea pigs infected with Leptospira interrogans serovar icterohaemorrhagiae. FEMS Microbiol Lett 169:95–102

Merien F, Portnoi D, Bourhy P, Charavay F, Berlioz-Arthaud A, Baranton G (2005) A rapid and quantitative method for the detection of Leptospira species in human leptospirosis. FEMS Microbiol Lett 249:139–147

Miyahara S, Saito M, Kanemaru T, Villanueva SY, Gloriani NG, Yoshida SI (2014) Destruction of the hepatocyte junction by intercellular invasion of Leptospira causes jaundice in a hamster model of Weil's disease. Int J Exp Pathol 95:271–281

Moeschlin S (1943) Lungeninfiltrate beim Ikterus infeciosus Weil. Schweitz Med Wochenschr 73:1227–1230

Morgan J, Bornstein SL, Karpati AM, Bruce M, Bolin CA, Austin CC, Woods CW, Lingappa J, Langkop C, Davis B, Graham DR, Proctor M, Ashford DA, Bajani M, Bragg SL, Shutt K, Perkins BA, Tappero JW (2002) Outbreak of leptospirosis among triathlon participants and community residents in Springfield, Illinois, 1998. Clin Infect Dis 34:1593–1599

Murray CK, Ellis MW, Hospenthal DR (2004) Susceptibility of Leptospira serovars to antimalarial agents. Am J Trop Med Hyg 71:685–686

Murray CK, Gray MR, Mende K, Parker TM, Samir A, Rahman BA, Habashy EE, Hospenthal DR, Pimentel G (2011) Use of patient-specific Leptospira isolates in the diagnosis of leptospirosis employing microscopic agglutination testing (MAT). Trans R Soc Trop Med Hyg 105:209–213

Nabity SA, Ribeiro GS, Lessa Aquino C, Takahashi D, Damião AO, Gonçalves AH, Miranda-Filho DB, Greenwald R, Esfandiari J, Lyashchenko KP, Reis MG, Medeiros MA, Ko AI (2012) Accuracy of a dual path platform (DPP) assay for the rapid point-of-care diagnosis of human leptospirosis. PLoS Negl Trop Dis 6:e1878

Nahori MA, Fournie-Amazouz E, Que-Gewirth NS, Balloy V, Chignard M, Raetz CR, Saint Girons I, Werts C (2005) Differential TLR recognition of leptospiral lipid A and lipopolysaccharide in murine and human cells. J Immunol 175:6022–6031

Nally JE, Chantranuwat C, Wu XY, Fishbein MC, Pereira MM, Da Silva JJ, Blanco DR, Lovett MA (2004) Alveolar septal deposition of immunoglobulin and complement parallels pulmonary hemorrhage in a guinea pig model of severe pulmonary leptospirosis. Am J Pathol 164:1115–1127

O'Brien MM, Vincent JM, Person DA, Cook BA (1998) Leptospirosis and pancreatitis: a report of ten cases. Pediatr Infect Dis J 17:436–438

Palaniappan RU, Chang YF, Chang CF, Pan MJ, Yang CW, Harpending P, McDonough SP, Dubovi E, Divers T, Qu J, Roe B (2005) Evaluation of lig-based conventional and real time PCR for the detection of pathogenic leptospires. Mol Cell Probes 19:111–117

Palmer MF, Zochowski WJ (2000) Survival of leptospires in commercial blood culture systems revisited. J Clin Pathol 53:713–714

Panaphut T, Domrongkitchaiporn S, Thinkamrop B (2002) Prognostic factors of death in leptospirosis: a prospective cohort study in Khon Kaen, Thailand. Int J Infect Dis 6:52–59

Panaphut T, Domrongkitchaiporn S, Vibhagool A, Thinkamrop B, Susaengrat W (2003) Ceftriaxone compared with sodium penicillin G for treatment of severe leptospirosis. Clin Infect Dis 36:1507–1513

Pappachan MJ, Mathew S, Aravindan KP, Khader A, Bharghavan PV, Kareem MM, Tuteja U, Shukla J, Batra HV (2004) Risk factors for mortality in patients with leptospirosis during an epidemic in northern Kerala. Natl Med J India 17:240–242

Park SK, Lee SH, Rhee YK, Kang SK, Kim KJ, Kim MC, Kim KW, Chang WH (1989) Leptospirosis in Chonbuk Province of Korea in 1987: a study of 93 patients. Am J Trop Med Hyg 41:345–351

Pavan ME, Cairó F, Brihuega B, Samartino L (2008) Multiple-locus variable-number tandem repeat analysis (MLVA) of Leptospira interrogans serovar Pomona from Argentina reveals four new genotypes. Comp Immunol Microbiol Infect Dis 31:37–45

Perez J, Goarant C (2010) Rapid Leptospira identification by direct sequencing of the diagnostic PCR products in New Caledonia. BMC Microbiol 10:325

Pouliquen P, Catilina P (2000) Enquete de pharmacosurveillance aupres des medecins vaccinateurs. Rev Med Trav 27:83–88

Que-Gewirth NS, Riberio AA, Kalb SR, Cotter RJ, Bulach DM, Adler B, Saint Girons I, Werts C, Raetz CRH (2004) A methylated phosphate group and four amide-linked acyl chains in Leptospira interrogans lipid A. J Biol Chem 279:25420–25429

Rathinam SR (2005) Ocular manifestations of leptospirosis. J Postgrad Med 51:189–194

Reis EA, Hagan JE, Ribeiro GS, Teixeira-Carvalho A, Martins-Filho OA, Montgomery RR, Shaw AC, Ko AI, Reis MG (2013) Cytokine response signatures in disease progression and development of severe clinical outcomes for leptospirosis. PLoS Negl Trop Dis 7:e2457

Reis RB, Ribeiro GS, Felzemburgh RD, Santana FS, Mohr S, Melendez AX, Queiroz A, Santos AC, Ravines RR, Tassinari WS, Carvalho MS, Reis MG, Ko AI (2008) Impact of environment and social gradient on Leptospira infection in urban slums. PLoS Negl Trop Dis 2:e228

Ressner RA, Griffith ME, Beckius ML, Pimentel G, Miller RS, Mende K, Fraser SL, Galloway RL, Hospenthal DR, Murray CK (2008) Antimicrobial susceptibilities of geographically diverse clinical human isolates of Leptospira. Antimicrob Agents Chemother 52:2750–2754

Ribeiro MA, Assis CSN, Romero EC (1994) Serodiagnosis of human leptospirosis employing immunodominant antigen. Serodiagn Immunother Infect Dis 6:140–144

Romero EC, Caly CR, Yasuda PH (1998) The persistence of leptospiral agglutinins titers in human sera diagnosed by the microscopic agglutination test. Rev Inst Med Trop São Paulo 40:183–184

Salaun L, Merien F, Gurianova S, Baranton G, Picardeau M (2006) Application of multilocus variable-number tandem-repeat analysis for molecular typing of the agent of leptospirosis. J Clin Microbiol 44:3954–3962

Schreier S, Doungchawee G, Chadsuthi S, Triampo D, Triampo W (2013) Leptospirosis: current situation and trends of specific laboratory tests. Expert Rev Clin Immunol 9:263–280

Segura ER, Ganoza CA, Campos K, Ricaldi JN, Torres S, Silva H, Cespedes MJ, Matthias MA, Swancutt MA, Lopez Linan R, Gotuzzo E, Guerra H, Gilman RH, Vinetz JM (2005) Clinical spectrum of pulmonary involvement in leptospirosis in a region of endemicity, with quantification of leptospiral burden. Clin Infect Dis 40:343–351

Seguro AC, Lomar AV, Rocha AS (1990) Acute renal failure of leptospirosis: nonoliguric and hypokalemic forms. Nephron 55:146–151

Sehgal SC, Murhekar MV, Sugunan AP (1995) Outbreak of leptospirosis with pulmonary involvement in North Andaman. Indian J Med Res 102:9–12

Sehgal SC, Sugunan AP, Murhekar MV, Sharma S, Vijayachari P (2000) Randomized controlled trial of doxycycline prophylaxis against leptospirosis in an endemic area. Int J Antimicrob Agents 13:249–255

Sejvar J, Bancroft E, Winthrop K, Bettinger J, Bajani M, Bragg S, Shutt K, Kaiser R, Marano N, Popovic T, Tappero J, Ashford D, Mascola L, Vugia D, Perkins B, Rosenstein N (2003) Leptospirosis in "eco-challenge" athletes, Malaysian Borneo, 2000. Emerg Infect Dis 9:702–707

Self CA, Iskrzynska WI, Waitkins SA, Whicher JW, Whicher JT (1987) Leptospirosis among British cavers. Cave Sci 14:131–134

Shaw RD (1992) Kayaking as a risk factor for leptospirosis. Mo Med 89:354–357

Shenberg E, Torten M (1973) A new leptospiral vaccine for use in man. I. Development of a vaccine from Leptospira grown on a chemically defined medium. J Infect Dis 128:642–646

Signorini ML, Lottersberger J, Tarabla HD, Vanasco NB (2013) Enzyme-linked immunosorbent assay to diagnose human leptospirosis: a meta-analysis of the published literature. Epidemiol Infect 141:22–32

Silva HR, Tanajura GM, Tavares-Neto J, Gomes Md Mde L, Linhares Ad Ada C, Vasconcelos PF, Ko AI (2002a) Aseptic meningitis syndrome due to enterovirus and Leptospira sp in children of Salvador, Bahia. Rev Soc Bras Med Trop 35:159–165

Silva JJ, Dalston MO, Carvalho JE, Setubal S, Oliveira JM, Pereira MM (2002b) Clinicopathological and immunohistochemical features of the severe pulmonary form of leptospirosis. Rev Soc Bras Med Trop 35:395–399

Sitprija V, Evans H (1970) The kidney in human leptospirosis. Am J Med 49:780–788

Slack AT, Dohnt MF, Symonds ML, Smythe LD (2005) Development of a multiple-locus variable number of tandem repeat analysis (MLVA) for Leptospira interrogans and its application to Leptospira interrogans serovar Australis isolates from far North Queensland. Australia. Ann Clin Microbiol Antimicrob 4:10

Smits HL, Hartskeerl RA, Terpstra WJ (2000a) International multi-centre evaluation of a dipstick assay for human leptospirosis. Trop Med Int Health 5:124–128

Smits HL, van Der Hoorn MA, Goris MG, Gussenhoven GC, Yersin C, Sasaki DM, Terpstra WJ, Hartskeerl RA (2000b) Simple latex agglutination assay for rapid serodiagnosis of human leptospirosis. J Clin Microbiol 38:1272–1275

Smits HL, Chee HD, Eapen CK, Kuriakose M, Sugathan S, Gasem MH, Yersin C, Sakasi D, Lai AFRF, Hartskeerl RA, Liesdek B, Abdoel TH, Goris MG, Gussenhoven GC (2001a) Latex based, rapid and easy assay for human leptospirosis in a single test format. Trop Med Int Health 6:114–118

Smits HL, Eapen CK, Sugathan S, Kuriakose M, Gasem MH, Yersin C, Sasaki D, Pujianto B, Vestering M, Abdoel TH, Gussenhoven GC (2001b) Lateral-flow assay for rapid serodiagnosis of human leptospirosis. Clin Diagn Lab Immunol 8:166–169

Smythe L, Dohnt M, Norris M, Symonds M, Scott J (1997) Review of leptospirosis notifications in Queensland 1985 to 1996. Commun Dis Intell 21:17–20

Smythe LD, Smith IL, Smith GA, Dohnt MF, Symonds ML, Barnett LJ, McKay DB (2002) A quantitative PCR (TaqMan) assay for pathogenic Leptospira spp. BMC Infect Dis 2:13

Smythe LD, Wuthiekanun V, Chierakul W, Suputtamongkol Y, Tiengrim S, Dohnt MF, Symonds ML, Slack AT, Apiwattanaporn A, Chueasuwanchai S, Day NP, Peacock SJ (2009) The microscopic agglutination test (MAT) is an unreliable predictor of infecting Leptospira serovar in Thailand. Am J Trop Med Hyg 81:695–697

Spichler A, Spichler E, Moock M, Vinetz JM, Leake JA (2007) Acute pancreatitis in fatal anicteric leptospirosis. Am J Trop Med Hyg 76:886–887

Spichler A, Athanazio D, Seguro AC, Vinetz JM (2011) Outpatient follow-up of patients hospitalized for acute leptospirosis. Int J Infect Dis 15:e486–e490

Steneroden KK, Hill AE, Salman MD (2011) Zoonotic disease awareness in animal shelter workers and volunteers and the effect of training. Zoonoses Public Health 58:449–453

Stern EJ, Galloway R, Shadomy SV, Wannemuehler K, Atrubin D, Blackmore C, Wofford T, Wilkins PP, Ari MD, Harris L, Clark TA (2010) Outbreak of leptospirosis among adventure race participants in Florida, 2005. Clin Infect Dis 50:843–849

Stoddard RA, Gee JE, Wilkins PP, McCaustland K, Hoffmaster AR (2009) Detection of pathogenic Leptospira spp. through TaqMan polymerase chain reaction targeting the LipL32 gene. Diagn Microbiol Infect Dis 64:247–255

Stoenner HG, Dodd T, Larsen C (1982) Antigenic variation of Borrelia hermsii. J Exp Med 156:1297–1311

Sulzer CR, Jones WL (1978) Leptospirosis: methods in laboratory diagnosis. U.S. Department of Health, Education and Welfare, Atlanta

Takafuji ET, Kirkpatrick JW, Miller RN, Karwacki JJ, Kelley PW, Gray MR, McNeill KM, Timboe HL, Kane RE, Sanchez JL (1984) An efficacy trial of doxycycline chemoprophylaxis against leptospirosis. N Engl J Med 310:497–500

Thaipadungpanit J, Wuthiekanun V, Chierakul W, Smythe LD, Petkanchanapong W, Limpaiboon R, Apiwatanaporn A, Slack AT, Suputtamongkol Y, White NJ, Feil EJ, Day NP, Peacock SJ (2007) A dominant clone of Leptospira interrogans associated with an outbreak of human leptospirosis in Thailand. PLoS Negl Trop Dis 1:e56

Thaipadunpanit J, Chierakul W, Wuthiekanun V, Limmathurotsakul D, Amornchai P, Boonslip S, Smythe LD, Limpaiboon R, Hoffmaster AR, Day NP, Peacock SJ (2011) Diagnostic accuracy of real-time PCR assays targeting 16S rRNA and LipL32 genes for human leptospirosis in Thailand: a case-control study. PLoS ONE 6:e16236

Torten M (1979) Leptospirosis. In: Stoenner HE, Torten M, Kaplan W (eds) CRC handbook series in zoonoses section a: bacterial, rickettsial and mycotic diseases, pp 363–420. CRC press, Boca Raton

Trevejo RT, Rigau-Perez JG, Ashford DA, McClure EM, Jarquin-Gonzalez C, Amador JJ, de los Reyes JO, Gonzalez A, Zaki SR, Shieh WJ, McLean RG, Nasci RS, Weyant RS, Bolin CA, Bragg SL, Perkins BA, Spiegel RA (1998) Epidemic leptospirosis associated with pulmonary hemorrhage-Nicaragua, 1995. J Infect Dis 178:1457–1463

Truccolo J, Serais O, Merien F, Perolat P (2001) Following the course of human leptospirosis: evidence of a critical threshold for the vital prognosis using a quantitative PCR assay. FEMS Microbiol Lett 204:317–321

Truccolo J, Charavay F, Merien F, Perolat P (2002) Quantitative PCR assay to evaluate ampicillin, ofloxacin, and doxycycline for treatment of experimental leptospirosis. Antimicrob Agents Chemother 46:848–853

Tubiana S, Mikulski M, Becam J, Lacassin F, Lefevre P, Gourinat AC, Goarant C, D'Ortenzio E (2013) Risk factors and predictors of severe leptospirosis in New Caledonia. PLoS Negl Trop Dis 7:e1991

Turner LH (1968) Leptospirosis II. Serology. Trans R Soc Trop Med Hyg 62:880–889

Turner LH (1970) Leptospirosis III. Maintenance, isolation and demonstration of leptospires. Trans R Soc Trop Med Hyg 64:623–646

Verma A, Kumar P, Babb K, Timoney JF, Stevenson B (2010) Cross-reactivity of antibodies against leptospiral recurrent uveitis-associated proteins A and B (LruA and LruB) with eye proteins. PLoS Negl Trop Dis 4:e778

Vinetz JM, Wilcox BA, Aguirre A, Gollin LX, Katz AR, Fujioka RS, Maly K, Horwitz P, Chang H (2005) Beyond disciplinary boundaries: leptospirosis as a model of incorporating transdisciplinary approaches to understand infectious disease emergence. EcoHealth 2:1–16

Viriyakosol S, Matthias MA, Swancutt MA, Kirkland TN, Vinetz JM (2006) Toll-like receptor 4 protects against lethal Leptospira interrogans serovar Icterohaemorrhagiae infection and contributes to in vivo control of leptospiral burden. Infect Immun 74:887–895

Wagenaar JF, Goris MG, Partiningrum DL, Isbandrio B, Hartskeerl RA, Brandjes DP, Meijers JC, Gasem MH, van Gorp EC (2010) Coagulation disorders in patients with severe leptospirosis are associated with severe bleeding and mortality. Trop Med Int Health 15:152–159

Waitkins S (1986) Leptospirosis in man, British Isles: 1984. Brit Med J 292:1324

Wani H (1933) Über die prophylaxe der pirochaetosis icterohaemorrhagica Inada (Weilschen Krankheit) durch Schutzimpfung. Zeitschr Immunforsch Exp Therap 79:1–26

Watt G, Padre LP, Tuazon ML, Calubaquib C, Santiago E, Ranoa CP, Laughlin LW (1988) Placebo-controlled trial of intravenous penicillin for severe and late leptospirosis. Lancet 1:433–435

Weil A (1886) Ueber eine eigenthümliche, mit Milztumor, Icterus und Nephritis einhergehende, acute Infectionskrankheit. Dtsch Arch Klin Med 39:209

Werts C, Tapping RI, Mathison JC, Chuang T-H, Kravchenko V, Saint Girons I, Haake D, Godowski PJ, Hayashi F, Ozinsky A, Underhill D, Aderem A, Tobias PS, Ulevitch RJ (2001) Leptospiral endotoxin activates cells via a TLR2-dependent mechanism. Nat Immunol 2:346–352

Werts C (2010) Leptospirosis: a Toll road from B lymphocytes. Chang Gung Med J 33:591–601

WHO (1999) Leptospirosis worldwide, 1999. Wkly Epidemiol Rec 74:237–242

WHO (2011) Report of the second meeting of the leptospirosis burden epidemiology reference group

Wilkins E, Cope A, Waitkins S (1988) Rapids, rafts, and rats. Lancet 2:283–284

Wilson MR, Naccache SN, Samayoa E, Biagtan M, Bashir H, Yu G, Salamat SM, Somasekar S, Federman S, Miller S, Sokolic R, Garabedian E, Candotti F, Buckley RH, Reed KD, Meyer TL, Seroogy CM, Galloway R, Henderson SL, Gern JE, DeRisi JL, Chiu CY (2014) Actionable diagnosis of neuroleptospirosis by next-generation sequencing. N Engl J Med 370:2408–2417

Winslow WE, Merry DJ, Pirc ML, Devine PL (1997) Evaluation of a commercial enzyme-linked immunosorbent assay for detection of immunoglobulin M antibody in diagnosis of human leptospiral infection. J Clin Microbiol 35:1938–1942

Wolff JW (1954) The laboratory diagnosis of leptospirosis. C.C.Thomas, Springfield, Illinois

Yagupsky P, Nolte FS (1990) Quantitative aspects of septicemia. Clin Microbiol Rev 3:269–279

Yang CW, Hung CC, Wu MS, Tian YC, Chang CT, Pan MJ, Vandewalle A (2006) Toll-like receptor 2 mediates early inflammation by leptospiral outer membrane proteins in proximal tubule cells. Kidney Int 69:815–822

Yersin C, Bovet P, Merien F, Clement J, Laille M, Van Ranst M, Perolat P (2000) Pulmonary haemorrhage as a predominant cause of death in leptospirosis in Seychelles. Trans R Soc Trop Med Hyg 94:71–76

Zaki SA, Shanbag P (2010) Clinical manifestations of dengue and leptospirosis in children in Mumbai: an observational study. Infection 38:285–291

Zaki SR, Shieh WJ (1996) Leptospirosis associated with outbreak of acute febrile illness and pulmonary haemorrhage, Nicaragua, 1995. Lancet 347:535–536
Acknowledgments

Current work in Prof. Haake's laboratory is supported by NIH Grant R01 AI034431 and a VA Merit Award.
Copyright information

© 2015 Springer-Verlag Berlin Heidelberg
About this chapter
Cite this chapter
Haake, D.A., Levett, P.N. (2015). Leptospirosis in Humans. In: Adler, B. (eds) Leptospira and Leptospirosis. Current Topics in Microbiology and Immunology, vol 387. Springer, Berlin, Heidelberg. https://doi.org/10.1007/978-3-662-45059-8_5