Abstract
Cecil in 1946 described an operation in which penile skin is used for urethroplasty and the newly formed urethra is buried in the scrotum, to be released 6 months later. This procedure is used when the penile skin is insufficient to cover the defect on the ventral part of the shaft and skin coverage can be obtained by burying the penis in the scrotum. The first stage of Cecil urethroplasty is to make an incision to allow tubularisation of the ventral penile skin; the neo-urethra is constructed over a catheter with interrupted sutures of fine Vicryl. The neourethra is buried in the scrotum. The glans is approximated to the scrotum with interrupted sutures, and the skin is closed with subcuticular sutures (Fig. 28.3.1). In the second stage of Cecil urethroplasty, incisions in the scrotum are joined at the neomeatus, the urethra is freed from the glans and scrotal dissection is carried out with a catheter in the urethra to allow orientation.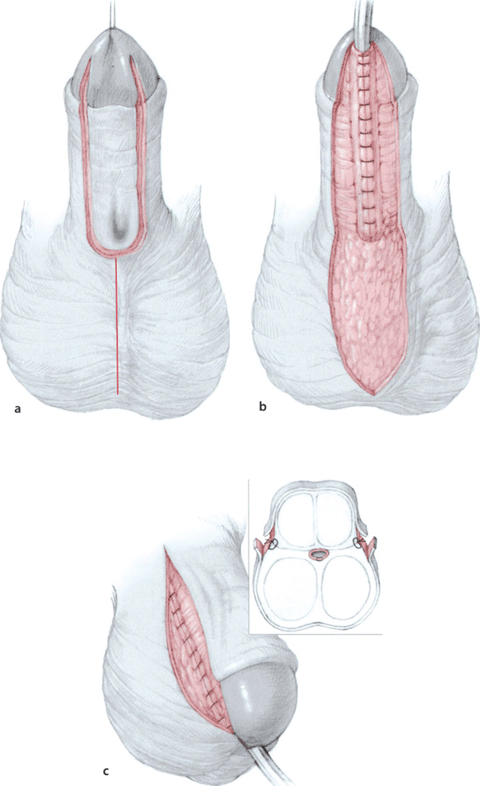 Keywords
Hypospadias Repair 
Penile Skin 
Reconstructed Urethra 
Meatal Stenosis 
Subcuticular Suture 
These keywords were added by machine and not by the authors. This process is experimental and the keywords may be updated as the learning algorithm improves.
Copyright information
© Springer-Verlag Berlin Heidelberg 2004