Abstract
The public interest in traded securities has continuously grown over the past few years, with an especially strong growth in Germany and other European countries at the end of the 1990s. Consequently, events influencing stock prices, opinions and speculations on such events and their consequences, and even the daily stock quotes, receive much attention and media coverage. A few reasons for this interest are clearly visible in Fig. 1.1 which shows the evolution of the German stock index DAX [1] over the two years from October 1996 to October 1998. Other major stock indices, such as the US Dow Jones Industrial Average, the S&P500, or the French CAC40, etc., behaved in a similar manner in that interval of time. We notice three important features: (i) the continuous rise of the index over the first almost one and a half years which was interrupted only for very short periods; (ii) the crash on the "second black Monday", October 27, 1997 (the "Asian crisis", the reaction of stock markets to the collapse of a bank in Japan, preceded by rumors about huge amounts of foul credits and derivative exposures of Japanese banks, and a period of devaluation of Asian currencies). (iii) the very strong drawdown of quotes between July and October 1998 (the "Russian crisis", following the announcement by Russia of a moratorium on its debt reimbursements, and a devaluation of the Russian rouble), and the collapse of the Long Term Capital Management hedge fund.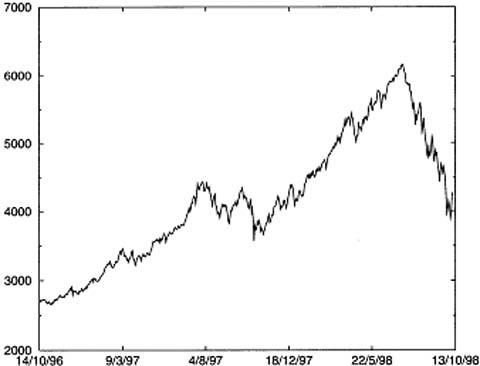 Keywords
Stock Market 
Financial Market 
Stock Index 
Geometric Brownian Motion 
Financial Time Series 
These keywords were added by machine and not by the authors. This process is experimental and the keywords may be updated as the learning algorithm improves.
Copyright information
© Springer-Verlag Berlin Heidelberg 2003