Line Segment Intersection
Thematic Map Overlay
Abstract
When you are visiting a country, maps are an invaluable source of information. They tell you where tourist attractions are located, they indicate the roads and railway lines to get there, they show small lakes, and so on. Unfortunately, they can also be a source of frustration, as it is often difficult to find the right information: even when you know the approximate position of a small town, it can still be difficult to spot it on the map. To make maps more readable, geographic information systems split them into several layers. Each layer is a thematic map, that is, it stores only one type of information. Thus there will be a layer storing the roads, a layer storing the cities, a layer storing the rivers, and so on. The theme of a layer can also be more abstract. For instance, there could be a layer for the population density, for average precipitation, habitat of the grizzly bear, or for vegetation. The type of geometric information stored in a layer can be very different: the layer for a road map could store the roads as collections of line segments (or curves, perhaps), the layer for cities could contain points labeled with city names, and the layer for vegetation could store a subdivision of the map into regions labeled with the type of vegetation.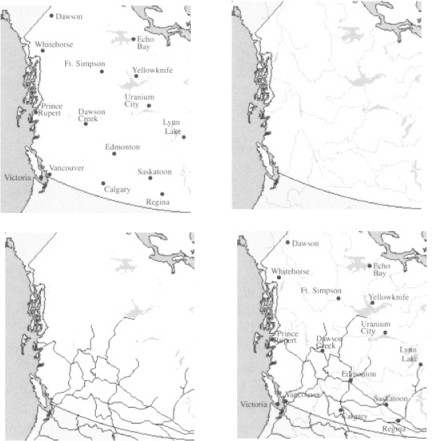 Keywords
Intersection Point 
Horizontal Segment 
Event Point 
Boundary Cycle 
Segment Intersection 
These keywords were added by machine and not by the authors. This process is experimental and the keywords may be updated as the learning algorithm improves.
Copyright information
© Springer-Verlag Berlin Heidelberg 2000