Abstract
Sertoli cells are the irregular-shaped columnar cells in the testis which occupy about 17–19% of the total volume of the seminiferous epithelium in the rat. They extend from the basal to the adluminal compartment of the seminiferous epithelium covering an enormous surface area (for reviews, see Bardin et al., 1988; de Kretser and Kerr, 1988; Jégou, 1993). Due to this unique morphological feature, a single Sertoli cell in the adult rat testis has direct contact with approximately 30–50 germ cells in different stages of development (Russell et al., 1983; Weber et al.,1983; Wong and Russell, 1983) via either anchoring junctions (AJ), communicating gap junctions (GJ) or other cellular modifications such as ectoplasmic specializations, an anchoring-like junction, present between elongate spermatids and Sertoli cells. They are also the only somatic cell type in the testis having direct physical contacts and interactions with developing germ cells behind the blood-testis barrier formed by adjacent inter-Sertoli tight junctions (TJ) (except spermatogonia residing outside of the blood-testis barrier in the rat) (for reviews, see de Kretser and Kerr, 1988; Jégou, 1993; Bardin et al., 1988) (Fig. 1). In addition, this barrier also creates a unique microenvironment in which spermatogenesis takes place since virtually all stages of germ cell development, except the mitotic division of spermatogonia and differentiation of type B spermatogonia into preleptotene spermatocytes, are segregated from the systemic circulation. At the basal compartment of the seminiferous epithelium, Sertoli cells also have physical contacts with peritubular myoid cells and have indirect access to cells in the interstitium such as Leydig cells with which interactions occur via paracrine factors. As such, Sertoli cells interact with germ, Leydig, and peritubular myoid cells biochemically via paracrine factors produced by Sertoli cells in addition to the physical contacts between these cells. Moreover, recent studies have demonstrated that paracrine factors released by germ or peritubular myoid cells can also regulate Sertoli cell and testicular functions illustrating the existence of a two-way trafficking between these cells. Since several reviews can be found in the literature dealing with this subject area (see Skinner, 1991; Skinner, 1993; Griswold, 1993; Jégou and Sharpe, 1993), we will limit our discussion in this mini-review on the recent advancements in studying the paracrine regulation of testicular functions via factors produced by Sertoli cells in particular their roles in regulating the turnover of TJ, AJ, and GJ during the process of germ cell movement throughout spermatogenesis.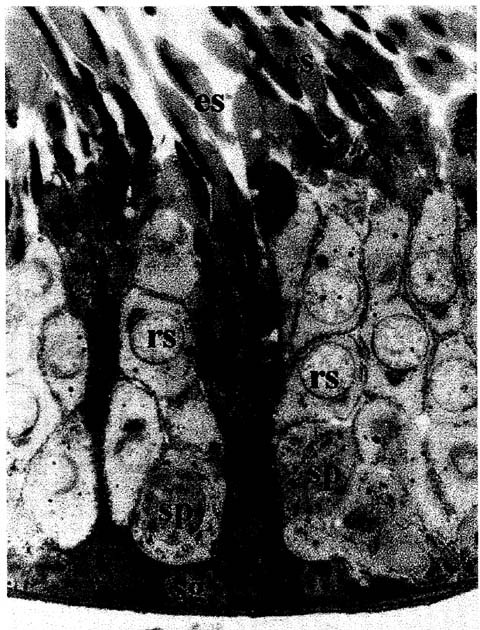 Keywords
Germ Cell 
Sertoli Cell 
Leydig Cell 
Seminiferous Epithelium 
Inducible cAMP Early Repressor 
These keywords were added by machine and not by the authors. This process is experimental and the keywords may be updated as the learning algorithm improves.
Copyright information
© Springer-Verlag Berlin Heidelberg 2000