Abstract
The last three years have witnessed a massive production of wholegenome expression data in the yeast field using two different types of gene arrays: commercially available high-density oligonucleotide arrays (GeneChips) and PCR-based gene arrays. In the case of GeneChips every yeast gene is represented by 20 oligonucleotides (each being a 25-mer) synthesized
in situ
onto a glass plate (which is then inserted into a cartridge for experimental manipulation; Fig. 1, panel b, top left image).
Poly
A
+
RNA (e.g. prepared from cells at various stages of spore development; Fig. 1, panel a) is reverse transcribed into cDNA, labeled with a fluorophor and hybridized to the GeneChip. The fluorescence signal intensities of each set of 20 oligonucleotides are directly proportional to the mRNA concentration in the sample (Fig. 1, panel b, image of a GeneChip hybridization pattern). To eliminate the problem of cross hybridization a set of wild-type oligonucleotides (perfect match) are compared to a set of oligonucleotides containing a point mutation (mismatch) that destabilizes the DNA-DNA interaction. Two examples of a correct hybridization pattern (panel b, middle left) and a clear case of cross-hybridization (panel b, bottom left) are shown in Fig. 1.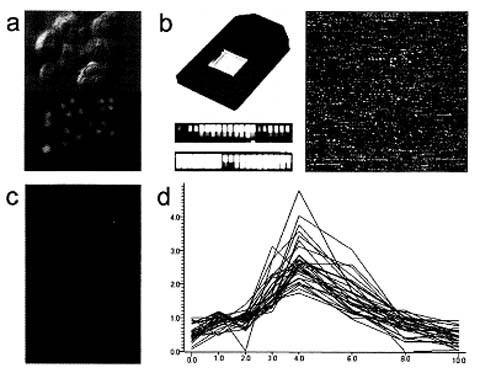 Keywords
Gene Array 
Fluorescence Signal Intensity 
Meiotic Gene 
Spore Development 
Sporulation Gene 
These keywords were added by machine and not by the authors. This process is experimental and the keywords may be updated as the learning algorithm improves.
Copyright information
© Springer-Verlag Berlin Heidelberg 2000