Abstract
PhotoElectron Spectroscopy (PES) is an old experimental technique still in extensive use. Frequently, this method is also called PhotoEmission Spectroscopy (PES) if instead of the emitted particle, the process that leads to the emission is utilized for its characterization. The phenomenon of photo-emission was detected by Hertz [1.1] in 1887 with the experimental arrangement shown in Fig.1.1. It consists of two arcs d and f, which are driven by the induction coils a and c, respectively. A battery b provided the necessary power and the coils could be activated by the switch e. Hertz studied the behaviour of arc f under the radiation produced in arc d if different materials p were placed between the two arcs d and f. By varying the materials in a systematic way he found out that the ultraviolet radiation emitted by arc d, triggered arc f. We now know that the electrons photo emitted from the electrodes of arc f by the ultraviolet radiation of arc d were actually responsible for triggering arc f. In the following years these experiments were refined [1.2,3] and Einstein in 1905 was able to explain their systematics by invoking the quantum nature of light [1.4].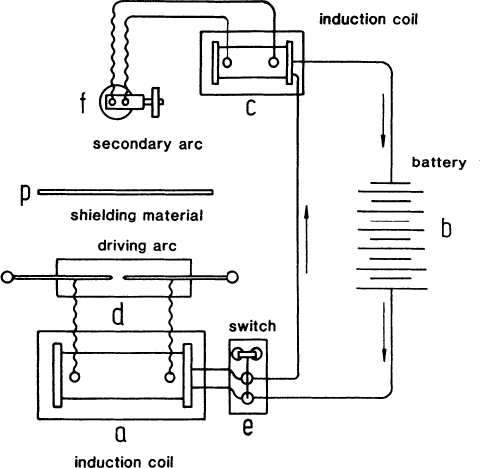 Keywords
Fermi Energy 
Transition Matrix Element 
Synchrotron Radiation Source 
Fermi Function 
Sticking Coefficient 
These keywords were added by machine and not by the authors. This process is experimental and the keywords may be updated as the learning algorithm improves.
Copyright information
© Springer-Verlag Berlin Heidelberg 1996