The Structure-Activity Relationships of the Luteinizing Hormone Receptor
Part of the Schering Foundation Workshop book series (SCHERING FOUND, volume 4)
Abstract
LH (luteinizing hormone, lutropin) and its homologue chorionic gonadotropin (CG) play a central role in the control of ovulation, pregnancy and testicular function. They belong to a family of polypeptide trophic hormones which also includes follicle stimulating hormone (FSH) and thyroid stimulating hormone (TSH). An important aspect of the control of their target organs is the dynamic trafficking of their receptors, which, after hormone-induced activation of their transducing systems, may be followed by uncoupling, internalization and recycling and/or downregulation and new synthesis. This trafficking is especially im-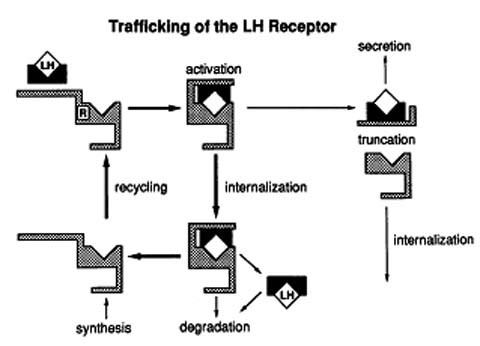 portant for the LH receptor (LHR), which in the Leydig cell of the testis is a continuous process (Fig. 1), whereas in the ovary it is dependent on the stage of the cycle. Very little is known about the mechanisms involved. However, with the recent elucidation of the sequences and structures of these receptors (Loosfelt et al. 1989; McFarland et al. 1989; Minegishi et al.1990; Misrahi et al.1990; Jia et al.1991; Sprengel et al.1990) the mechanisms can now be elucidated. It is the purpose of this short review to highlight the mechanisms and species differences of desensitization and downregulation of the testis Leydig cell LHR. We will describe an adaptation of the antisense oligodeoxynucleotide strategy which we have used to investigate the roles of the C-terminal sequences of the LHR in these processes.
Keywords
Luteinizing Hormone 
Thyroid Stimulate Honnone 
Leydig Cell 
Luteinizing Hormone Receptor 
Thyroid Stimulate Honnone Receptor 
These keywords were added by machine and not by the authors. This process is experimental and the keywords may be updated as the learning algorithm improves.
Copyright information
© Springer-Verlag Berlin Heidelberg 1992