Zusammenfassung

Das wachsende Bewusstsein für Umweltschutz und Ressourceneffizienz führt dazu, dass Umwelttechnologien zunehmend an Bedeutung gewinnen. Baden-Württemberg ist eine der aktivsten Regionen in der Umwelttechnik, insbesondere durch sein Netzwerk von kleinen und mittleren Unternehmen (KMU). Eine zentrale Rolle spielt hierbei die Umwelttechnik BW GmbH, die Landesagentur für Umwelttechnik und Ressourceneffizienz Baden-Württemberg. Ihre Hauptaufgabe ist es ist, Unternehmen der Branche zu unterstützen, insbesondere dadurch, dass sie Forschungseinrichtungen und Industrie zusammenführt und den Informationsfluss zwischen ihnen verbessert.
Die Autoren danken der Umwelttechnik BW GmbH für die Förderung des Roadmap-Projekts und Dr.-Ing. Hannes Spieth, Dr.-Ing. Anette Zimmermann, Florian Sorg und Anja Schröder für die angenehme und erfolgreiche Zusammenarbeit.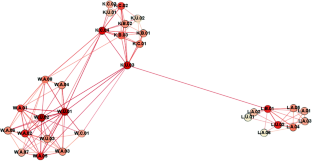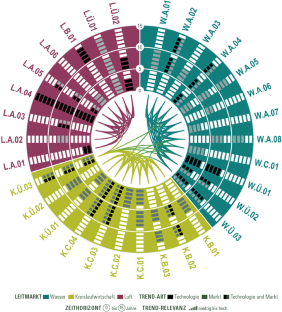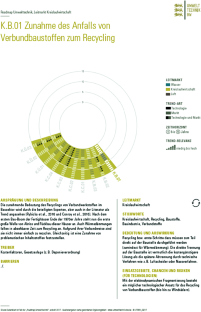 Literatur
Abele, T., & Schimpf, S. (2016). Praxisstudie Roadmapping. Einblicke in den praktischen Einsatz, zukünftige Herausforderungen und Erfolgsfaktoren von Roadmaps im unternehmerischen Alltag. Stuttgart: Fraunhofer IAO. http://publica.fraunhofer.de/dokumente/N-389530.html. Zugegriffen: 9. Nov. 2018.

Bamberg, G., & Baur, F. (1980). Statistik. München: Oldenbourg.

Barker, D., & Smith, D. J. H. (1995). Technology foresight using roadmaps. Long Range Planning, 28(2), 21–28.

Carvalho, M. M., Fleury, A., & Lopes, A. P. (2013). An overview of the literature on technology roadmapping (TRM). Contributions and trends. Technological Forecasting and Social Change, 80(7), 1418–1437.

Farrukh, C., Phaal, R., & Probert, D. (2003). Technology roadmapping. Linking technology resources into business planning. International Journal of Technology Management: IJTM, 26(1), 2–19.

Fraunhofer-Verbund Innovationsforschung. (Hrsg.). (2018). Wandel verstehen, Zukunft gestalten. Impulse für die Zukunft der Innovation. Unter Mitarbeit von Wilhelm Bauer, Michael Lauster, Thomas H. Morszeck, Thorsten Posselt, Marion A. Weissenberger-Eibl, Sven Schimpf et al. Stuttgart: Fraunhofer-Verbund Innovationsforschung. http://publica.fraunhofer.de/documents/N-491577.html. Zugegriffen: 9. Nov. 2018.

Groenveld, P. (1997). Roadmapping integrates business and technology. Research-Technology Management, 40(5), 49–58.

Khokhar, D. (2015). Gephi cookbook. Over 90 hands-on recipes to master the art of network analysis and visualization with Gephi. Birmingham: Packt Publishing.

Phaal, R. (2004). Technology Roadmapping. In United Nations Industrial Development Organization (UNIDO) Technology Foresight Initiative (Hrsg.), Foresight methodologies. Text book (S. 129–151). O. O: Technology ForeSight Initiative.

Schimpf, S., Lang-Koetz, C., Masior, J., & Rötzer, N. (2017). Guidance for environmental technology development of the future. A concise methodology to develop an integrated technology roadmap in the German State of Baden-Württemberg. In Science, markets & society. Crossing boundaries, creating momentum. Institute for manufacturing (S. 7). Leuven: University of Cambridge. http://publica.fraunhofer.de/documents/N-469983.html. Zugegriffen: 9. Nov. 2018.

Schippl, J., Grunwald, A., Hartlieb, N., Jörissen, J., Mielicke, U., Parodi, O., et al. (2009). Roadmap Umwelttechnologien 2020. Karlsruhe: Forschungszentrum Karlsruhe in der Helmholtz-Gemeinschaft.

Umwelttechnik, B. W. (2017). Roadmap Umwelttechnik bis 2030: Leitmärkte Wasser, Luft und Kreislaufwirtschaft. Stuttgart: Umwelttechnik BW.

Warschat, J., Schimpf, S., & Korell, M. (Hrsg.). (2015). Technologien frühzeitig erkennen, Nutzenpotenziale systematisch bewerten. Methoden, Organisation, semantische Werkzeuge zur Informationsgewinnung und -speicherung. Ergebnisse des Verbundforschungsprojektes syncTech – Synchronisierte Technologieadaption als Treiber der strategischen Produktinnovation. Stuttgart: Fraunhofer. http://publica.fraunhofer.de/documents/N-337249.html. Zugegriffen: 9. Nov. 2018.
Copyright information

© 2019 Springer Fachmedien Wiesbaden GmbH, ein Teil von Springer Nature
About this chapter
Cite this chapter
Schimpf, S., Lang-Koetz, C. (2019). Erfolgreiches Roadmapping: Der Halo-Effekt einer guten Visualisierung. In: Abele, T. (eds) Fallstudien zum Technologie- & Innovationsmanagement. FOM-Edition. Springer Gabler, Wiesbaden. https://doi.org/10.1007/978-3-658-25068-3_4
DOI: https://doi.org/10.1007/978-3-658-25068-3_4

Published:

Publisher Name: Springer Gabler, Wiesbaden

Print ISBN: 978-3-658-25067-6

Online ISBN: 978-3-658-25068-3

eBook Packages: Business and Economics (German Language)