Zusammenfassung

Eisenmann ist ein seit fast 70 Jahren nahezu ausschließlich organisch gewachsener Maschinen- und Anlagenbauer. Über die Zeit haben sich Technologien und Fachwissen immer weiter ausdifferenziert, sodass heute viele Querschnittsthemen existieren, die sich durch mehrere Unternehmensbereiche und Kundensegmente ziehen. Eine wichtige Aufgabe ist es, Synergiepotenziale zwischen den Bereichen zu heben und Austausch zu fördern, um effizient und effektiv innovative Produkte in einer immer komplexeren Welt auf den Markt bringen zu können. Zwei wichtige Aktivitäten von Eisenmann sind dabei das Fachexpertensystem und eine Softwareplattform für Technologieradar und Ideenmanagement. Sie sollen helfen, Informationsverteilung, Austausch und Zusammenarbeit über Bereichs- und Disziplingrenzen zu verbessern.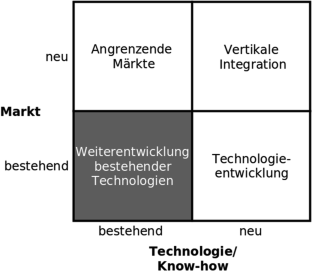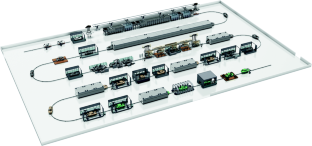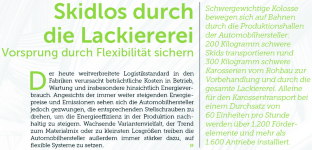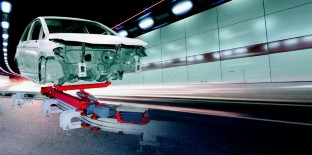 Literatur
Ansoff, H. I. (1966). Management-Strategie. München: Moderne Industrie.

Chesbrough, H. (2006). Open innovation. The new imperative for creating and profiting from technology. Boston: Harvard Business School Press.

Enkel, E., & Gassmann, O. (2010). Creative imitation. Exploring the case of cross-industry innovation. R&D Management, 40(3), 256–270.

Gassmann, O., & Sutter, P. (2008). Praxiswissen Innovationsmanagement. Von der Idee zum Markterfolg. München: Hanser.

Hagenhoff, S. (2008). Innovationsmanagement für Kooperationen. Göttingen: Göttingen University Press.

Hauschildt, J., & Salomo, S. (2007). Innovationsmanagement (4. Aufl.). München: Vahlen.

Häusling, A., Römer, E., & Zeppenfeld, N. (2018). Praxisbuch Agilität. Tools für Personal- und Organisationsentwicklung. Freiburg: Haufe.

Neyer, A.-K., Bullinger, A. C., & Moeslein, K. M. (2009). Integrating inside and outside innovators. A sociotechnical systems perspective. R&D Management, 39(4), 410–419.

Reichwald, R., & Piller, F. T. (2006). Interaktive Wertschöpfung. Open Innovation, Individualisierung und neue Formen der Arbeitsteilung. Wiesbaden: Gabler.

Ries, E. (2011). The Lean Startup. London: Penguin.

Schat, H.-D. (2017). Erfolgreiches Ideenmanagement in der Praxis. Wiesbaden: Springer Gabler.

Thommen, J.-P., Achleitner, A.-K., Gilbert, D. U., Hachmeister, D., & Kaiser, G. (2017). Allgemeine Betriebswirtschaftslehre (8. Aufl.). Wiesbaden: Springer Gabler.

Weiblen, T., & Chesbrough, H. W. (2015). Engaging with Startups to Enhance Corporate Innovation. California Management Review, 57(2), 66–90.
Copyright information

© 2019 Springer Fachmedien Wiesbaden GmbH, ein Teil von Springer Nature
About this chapter
Cite this chapter
Wichert, P. (2019). Interdisziplinäre Zusammenarbeit im Innovationsprozess. In: Abele, T. (eds) Fallstudien zum Technologie- & Innovationsmanagement. FOM-Edition. Springer Gabler, Wiesbaden. https://doi.org/10.1007/978-3-658-25068-3_16
DOI: https://doi.org/10.1007/978-3-658-25068-3_16

Published:

Publisher Name: Springer Gabler, Wiesbaden

Print ISBN: 978-3-658-25067-6

Online ISBN: 978-3-658-25068-3

eBook Packages: Business and Economics (German Language)