Zusammenfassung

Die digitale Transformation drängt Unternehmen dazu, zunehmend Technologien zu implementieren, um den Kundenanforderungen gerecht zu werden. Der Omni-Channel-Ansatz ist ein neuer Trend, der es z. B. von Händlern erfordert, die Kundenperspektive einzunehmen, um ein konsistentes Erlebnis für den Kunden über alle Kanäle und Berührungspunkte hinweg zu bieten. Obwohl diese Weiterentwicklung zwangsläufig IT für die Umsetzung erfordert, liegt der Schwerpunkt der bisherigen Forschung im Bereich Marketing. In diesem Artikel wird ein Entity-Relationship-Modell und ein Verknüpfungskonzept entwickelt, welches aus Sicht der Information Systems-Disziplin die Kommunikation zwischen Marketing und IT unterstützt.
Schlüsselwörter
Omni-Channel Management

Entity-Relationship-Modell

Customer Experience Management
Überarbeiteter Beitrag basierend auf Heuchert et al. (2018) An IS Perspective on Omni-Channel Management along the Customer Journey: Development of an Entity-Relationship-Model and a Linkage Concept, Tagungsband zur Multikonferenz Wirtschaftsinformatik (MKWI) 2018, Paul Drews, Burkhardt Funk, Peter Niemeyer und Lin Xie (Hrsg.), S. 435–446.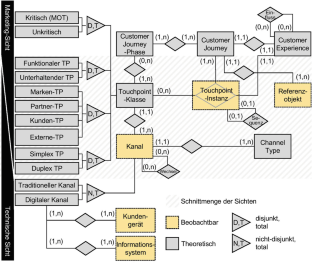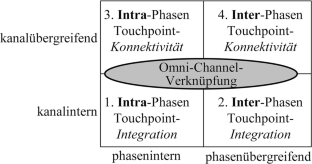 Literatur
Atzori L, Iera A, Morabito G (2010) The Internet of things: a survey. Comput Netw 54:2787–2805

Beck N, Rygl D (2015) Categorization of multiple channel retailing in multi-, cross-, and omni-channel retailing for retailers and retailing. J Retail Consum Serv 27:170–178

Berger PD, Bolton RN, Bowman D, Briggs E, Kumar V, Parasuraman A, Terry C (2002) Marketing actions and the value of customer assets. J Serv Res 5:39–54

Bitner MJ, Ostrom AL, Morgan FN (2008) Service blueprinting: a practical technique for service innovation. Calif Manag Rev 50:66–94

Cao L, Li L (2015) The impact of cross-channel integration on retailers' sales. Growth J Retail 91:198–216

Carbone LP, Haeckel SH (1994) Engineering customer experiences. J Mark Manag 3:18–19

Dhebar A (2013) Toward a compelling customer touchpoint architecture. Bus Horiz 56:199–205

Dhiraj AB (2017) Giants of retail: the world's 25 largest retailers by revenue. http://ceoworld.biz/2017/01/24/giants-retail-worlds-25-largest-retailers-revenue-2017/. Zugegriffen am 30.11.2017

Dholakia UM, Kahn BE, Reeves R, Rindfleisch A, Stewart D, Taylor E (2010) Consumer behavior in a multichannel, multimedia retailing environment. J Interact Mark 24:86–95

Edelmann DC. Branding in the digital age: you're spending your money in all the wrong places. https://hbr.org/2010/12/branding-in-the-digital-age-youre-spending-your-money-in-all-the-wrong-places. Zugegriffen am 30.11.2017

Engel JE, Kollat D, Blackwell RD (1978) Consumer behavior. Dryden Press, New York

Grewal D, Levy M, Kumar V (2009) Customer experience management in retailing: an organizing framework. J Retail 85:1–14

Herhausen D, Binder J, Schoegel M, Herrmann A (2015) Integrating bricks with clicks: retailer-level and channel-level outcomes of online-offline channel integration. J Retail 91:309–325

Hess T, Benlian A, Matt C, Wiesböck F (2016) Options for formulating a digital transformation strategy. MIS Q Exec 15:123–139

Hillebrand R, Finger L (2015) Einkaufen in der Zukunft: Wie die Digitalisierung den Handel verändert. In: Digitales Neuland. Springer Fachmedien Wiesbaden, Wiesbaden, S 89–101

Homburg C, Jozić D, Kuehnl C (2017) Customer experience management: toward implementing an evolving marketing concept. J Acad Mark Sci 45:377–401

Houy C, Fettke P, Loos P (2010) Empirical research in business process management – analysis of an emerging field of research. Bus Process Manag J 16:619–661

Howard J A, Sheth J.N (1969) The theory of buyer behavior. Wiley, New York

Inman JJ, Nikolova H (2017) Shopper-facing retail technology: a retailer adoption decision framework incorporating shopper attitudes and privacy concerns. J Retail 93:7–28

Jiang K, Xu L, Bao X (2015) The impact of channel integration on channel reciprocity in the multi-channel retailing context. In: International conference on industrial engineering and engineering management (IEEM). IEEE, S 1840–1844

Kannan PK, Li H (2017) "Alice": Digital marketing: A framework, review and research agenda. Int J Res Mark 34:22–45

Lemon KN, Verhoef PC (2016) Understanding customer experience throughout the customer journey. J Mark 80:69–96

Magnini VP, Karande K (2011) Understanding consumer services buyers based upon their purchase channel. J Bus Res 64:543–550

Matook S, Brown SA (2016) Characteristics of IT artifacts: a systems thinking-based framework for delineating and theorizing IT artifacts. Inf Syst J 27:309–346

Meyer C, Schwager A (2007) Understanding customer experience. Harv Bus Rev 85:116–126

Neslin SA, Grewal D, Leghorn R, Shankar V, Teerling ML, Thomas JS, Verhoef PC (2006) Challenges and opportunities in multichannel customer management. J Serv Res 9:95–112

Oh L, Teo H, Sambamurthy V (2012) The effects of retail channel integration through the use of information technologies on firm performance. J Oper Manag 30:368–381

Patrício L, Fisk RP, Falcão e Cunha J, Constantine L (2011) Multilevel service design: from customer value constellation to service experience blueprinting. J Serv Res 14:180–200

Pine BJ, Gilmore JH (1999) The experience economy: work is theatre & every business a stage. Harvard Business School Press, Boston

Puccinelli NM, Goodstein RC, Grewal D, Price R, Raghubir P, Stewart D (2009) Customer experience management in retailing: understanding the buying process. J Retail 85:S15–S30

Richardson A. Touchpoints bring the customer experience to life. https://hbr.org/2010/12/touchpoints-bring-the-customer. Zugegriffen am 30.11.2017

Rigby D (2011) The future of shopping. http://cormolenaar.nl/wp-content/uploads/2012/02/The-Future-of-Shopping-Harvard-Business-Review1.pdf. Zugegriffen am 30.11.2017

Roy SK, Balaji MS, Sadeque S, Nguyen B, Melewar TC (2016) Constituents and consequences of smart customer experience in retailing. Technol Forecast Soc Change 124:257–270

Saffer D (2009) Designing for interaction: creating innovative applications and devices. New Riders, San Francisco

Saghiri S, Wilding R, Mena C, Bourlakis M (2017) Toward a three-dimensional framework for omni-channel. J Bus Res 77:53–67

Straker K, Wrigley C, Rosemann M (2015) Typologies and touchpoints: designing multi-channel digital strategies. J Res Interact Mark 9:110–128

Teixeira J, Patrício L, Nunes NJ, Nóbrega L, Fisk RP, Constantine L (2012) Customer experience modeling: from customer experience to service design. J Serv Manag 23:362–376

Vargo SL, Lusch RF (2004) Evolving to a new dominant logic for marketing. J Mark 68:1–17

Verhoef PC, Lemon KN, Parasuraman A, Roggeveen A, Tsiros M, Schlesinger LA (2009) Customer experience creation: determinants, dynamics and management strategies. J Retail 85:31–41

Verhoef PC, Kannan PK, Inman JJ (2015) From multi-channel retailing to omni-channel retailing. J Retail 91:174–181

Vossen G (2008) Datenmodelle, Datenbanksprachen Und Datenbankmanagementsysteme (German Edition). Oldenbourg Wissensch. Verlag, München

Webster J, Watson RT (2002) Analyzing the past to prepare for the future: writing a literature review. MIS Q 26:xiii–xxiii

Willems K, Smolders A, Brengman M, Luyten K, Schöning J (2016) The path-to-purchase is paved with digital opportunities: an inventory of shopper-oriented retail technologies. Technol Forecast Soc Change 124:228–242

Wu I-L, Wu S-M (2015) A strategy-based model for implementing channel integration in e-commerce. Internet Res 25:239–261

Yan R, Wang J, Zhou B (2010) Channel integration and profit sharing in the dynamics of multi-channel firms. J Retail Consum Serv 17:430–440

Zomerdijk LG, Voss CA (2010) Service design for experience-centric services. J Serv Res 13:67–82
Danksagung

Dieser Artikel ist eine Übersetzung von: Heuchert et al. 2018. An IS Perspective on Omni-Channel Management along the Customer Journey: Development of an Entity-Relationship-Model and a Linkage Concept. In Proc. Multikonferenz Wirtschaftsinformatik 2018. Lüneburg, Germany. Er ist Teil des Projektes "RISE_BPM", welches im Rahmen des Marie-Skłodowska-Curie-Finanzhilfeabkommens Nr. 645751 mit Mitteln aus dem Forschungs- und Innovationsprogramm Horizont 2020 der Europäischen Union gefördert wird.
Copyright information

© 2019 Springer Fachmedien Wiesbaden GmbH, ein Teil von Springer Nature
About this chapter
Cite this chapter
Heuchert, M., Barann, B., Cordes, AK., Becker, J. (2019). Entwicklung eines Entity-Relationship-Modells und eines Verknüpfungskonzeptes – eine Betrachtung des Omni-Channel-Managements aus einer Information Systems-Perspektive. In: Robra-Bissantz, S., Lattemann, C. (eds) Digital Customer Experience. Edition HMD. Springer Vieweg, Wiesbaden. https://doi.org/10.1007/978-3-658-22542-1_4