Zusammenfassung

Was bedeutet agiler führen? Um sich der Antwort auf diese Frage anzunähern, ist der Blick auf Führungspsychologie und Führungskonzepte unabdingbar. Neben einem historischen Abriss möchte ich Ihnen weiterhin einen Einblick in die Persönlichkeits- und Entwicklungspsychologie über Managementansätze geben. Diese gehören zur Agilität notwendig dazu. Werte, Motivation und Reife einschätzen zu können, ist ganz besonders für Führungskräfte wichtig. Denn nur wer weiß, was Menschen antreibt (oder auch bremst), kann ihre Fähigkeiten zur Entfaltung bringen.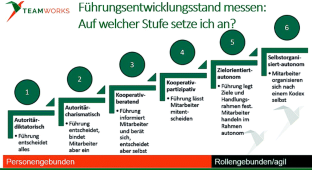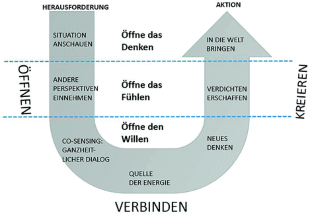 Literatur
Andresen, S. (2002). Kurt Lewin – Leben und Werk. Weinheim: Beltz.

Beck, D. (2007). Spiral Dynamics – Leadership, Werte und Wandel: Eine Landkarte für das Business, Politik und Gesellschaft im 21. Jahrhundert. Bielefeld: Camphausen Mediengruppe.

Binder, T. (2014). Das Ich und seine Facetten. Change Professionals unter einer Entwicklungsperspektive. Organisationsentwicklung. Zeitschrift für Unternehmensentwicklung und Change Management, 1, 9–15.

Binder, T. (2015). Ich-Entwicklung für effektives Beraten. Göttingen: Vandenhoeck & Ruprecht.

Brodbeck, F. C. (2010). Auf internationale Aufgaben vorbereitet sein: 360°-Feedback Instrument zur Führungskräfteentwicklung – weltweit, WOP Working Papers (No. 2010/8). München: LMU.

Graf, M. (2015). Das Reifegradmodell von Hersey & Blanchard und seine praktischen Implikationen für die Personalführung. München: Grin-Verlag.

Hofert, S. (2016). Was sind meine Stärken? Offenbach: Gabal.

House, R. (2004). Culture, leadership, and organizations. The GLOBE study of 62 societies. London: Sage.

Hsieh, T. (26.10.2005). Interview mit im "Wallstreet Journal". http://www.wsj.com/articles/tony-hsieh-tells-how-zappos-runs-without-bosses-1445911325. Zugegriffen: 1. Nov. 2015.

Kahnemann, D. (2014). Schnelles Denken, langsames Denken. München: Pantheon.

Köstler, A. (1975). The ghost in the machine. London: Macmillan.

Laloux, F. (2014). Reinventing organzations. Millis: Nelson/Parker.

Loevinger, J. (1998). Washington university sentence completion test. Abingdon: Lawrence Erlbaum Associates (heute Taylor & Francis).

Luhmann, N. (2001, 1984). Soziale Systeme. Grundriss einer allgemeinen Theorie. University of Michigan: Suhrkamp.

McGregor, D. (1973). Der Mensch im Unternehmen. München: Econ.

Pelz, W. (2012). Kompetent führen: Wirksam kommunizieren, Mitarbeiter motivieren. Heidelberg: Gabler.

Pfläging, N. (2009). 12 Gesetze der neuen Führung. Präsentation bei slideshare.net. Frankfurt: Campus.

Robertson, B. J. (2015). Holacracy: The new management system for a rapidly changing world. New York: Henry Holt.

Rooke, D., & Torbert, W. R. (1998). Organizational transformation as a function of CEO's developmental stage. Organization Development Journal, 16(1), 11–28.

Rooke, D. & Torbert, W. R. (2005). Seven transformations of leadership. Harvard Business Review 4 2005. https://hbr.org/2005/04/seven-transformations-of-leadership.

Scharmer, C. O. (2008). Theory U: Von der Zukunft her führen. Presencing als evolutionäre Grammatik und soziale Technik für die Erschliessung des vierten Feldes sozialen Werdens. Gesprächspsychotherapie und Personzentrierte Beratung, 2007(4).

Scharmer, C. O. (2009). Theory U: Learning from the future as it emerges. San Francisco: Berrett- Koehler.

Simon, F. B. (2015). Einführung in Systemtheorie und Konstruktivismus. Heidelberg: Carl-Auer.

Simon, F. B. (2015). Einführung in die systemische Organisationstheorie. Heidelberg: Carl-Auer.
Copyright information

© 2016 Springer Fachmedien Wiesbaden
About this chapter
Cite this chapter
Hofert, S. (2016). Führung neu denken. In: Agiler führen. Springer Gabler, Wiesbaden. https://doi.org/10.1007/978-3-658-12757-2_3
DOI: https://doi.org/10.1007/978-3-658-12757-2_3

Published:

Publisher Name: Springer Gabler, Wiesbaden

Print ISBN: 978-3-658-12756-5

Online ISBN: 978-3-658-12757-2