Zusammenfassung

Obwohl Unternehmen verschiedenste Maßnahmen zur Förderung von Frauen in Führungspositionen anbieten, zeigen sich bisher kaum Erhöhungen der Frauenanteile in Führungspositionen. Um die potenzielle Erklärung, dass die Maßnahmen bisher noch ungenügend bei Mitarbeitern ankommen, zu untersuchen, werden in diesem Kapitel die Bekanntheit und Akzeptanz dieser Maßnahmen analysiert. Die Ergebnisse der Untersuchung eines repräsentativen Samples zeigen, dass auch wenn die Maßnahmen bisher eher weniger bekannt sind, sie durchaus akzeptiert werden: Die Teilnahmebereitschaft, die erwartete Wirksamkeit und die positive Signalwirkung einer Teilnahme an den Maßnahmen wurden generell als hoch eingeschätzt. Außerdem zeigt die Untersuchung von Geschlechterunterschieden, dass Männer die Bekanntheit zwar höher einschätzen als Frauen, im Vergleich aber weniger bereit zu einer Teilnahme sind, die Teilnahme als weniger wirksam und die Signalwirkung als weniger positiv einschätzen. Je jünger die Menschen sind, desto eher kennen sie die Maßnahmen, aber desto weniger hoch schätzen sie die Teilnahmebereitschaft und teilweise auch die positive Signalwirkung ein. Beim Bildungsabschluss zeigt sich ein positiver Zusammenhang zwischen der Höhe des Bildungsabschlusses und allen vier Einschätzungen in Bezug auf Bekanntheit, Teilnahmebereitschaft, Wirksamkeit und positiver Signalwirkung. Insgesamt geben diese Ergebnisse Unternehmen und Förderern aus Politik und Gesellschaft wichtige Indikationen, für welche Maßnahmen sie für welche Zielgruppen die Bekanntheit und Akzeptanz steigern sollten.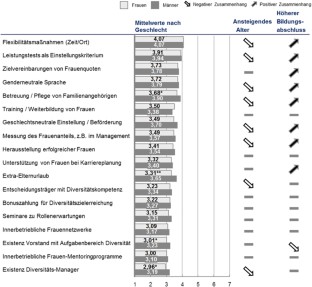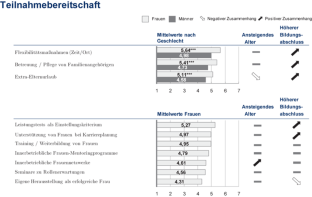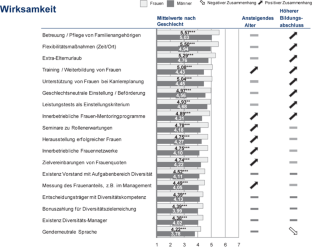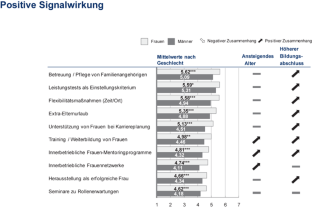 Literatur
Allen, D. G., & Shore, L. M. (2003). The role of perceived organizational support and supportive human resource practices in the turnover process. Journal of Management, 29(1), 99–118.

Armstrong, C., Flood, P. C., Guthrie, J. P., Liu, W., Maccurtain, S., & Mkamwa, T. (2010). The impact of diversity and equality management on firm performance, beyond high performance work systems. Human Resource Management, 49(6), 977–998.

Ashford, S., Rothbard, N., Piderit, S., & Dutton, J. (1998). Out on a limb: The role of context and impression management in selling gender-equity issues. Administrative Science Quarterly, 43(1), 23–57.

Baldwin, T., & Ford, J. K. (1988). Transfer of training: A review and directions of future research. Personnel Psychology, 41(1), 63–105.

Beechler, S., & Woodward, I. C. (2009). The global "war for talent";. Journal of International Management, 15, 273–285.

Brungardt, C. (1996). The making of leaders: A review of the research in leadership development and education. The Journal of Leadership Studies, 3(3) 81–95.

Campbell, D., & Wollbrecht, C. (2006). See jane run: Women politicians as role models for adolescents. Journal of Politics, 68(2), 233–247.

Dasgupta, N., & Asgari, S. (2004). Seeing is believing: Exposure to counterstereotypic women leaders and its effect on the malleability of automatic gender stereotyping. Journal of Experimental Social Psychology, 40, 642–658.

DIW. (2015). Managerinnen-Barometer 2014. DIW Wochenbericht, 3, 17–44.

Eagly, A., & Karau, S. (2002). Role congruity theory of prejudice toward female leaders. Psychological Review, 109(3), 573–598.

Eisenberger, R., Fasolo, P., & Davis-LaMastro, V. (1990). Perceived organizational support and employee diligence, commitment, and innovation. Journal of Applied Psychology, 75(1), 51–59.

Ely, R., & Meyerson, D. (2000). Theories of gender in organizations: A new approach to organizational analysis and change. Research in Organizational Behavior, 22, 103–151.

Ely, R., Ibarra, H., & Kolb, D. M. (2011). Taking gender into account: Theory and design for women's leadership development programs. Academy of Management Learning & Education, 10(3), 474–493.

Ely, R., Stone, P., & Ammermann, C. (2014). Rethink what you "know" about high achieving women. Harvard Business Review, 92(12), 100–109.

European Commission. (2012). Women in economic decision-making in the EU: Progress report: A Europe 2020 initiative.

European Commission. (2013). Assessing diversity: Impact in business. By the European Union Platform of Diversity Charters.

Fehre, K., Lindstädt, H., & Picard, A. (2014). Förderung von Frauen in Führungspositionen: Bezugsrahmen und empirische Analyse der unternehmerischen Maßnahmen. Zeitschrift für betriebswirtschaftliche Forschung, Februar, 37–68.

Ferris, G., Treadway, D., Perrewé, P., Brouer, R., Douglas, C., & Lux, S. (2007). Political skill in organizations. Journal of Management, 33(3), 290–320.

Frone, M., & Yardley, J. (1996). Workplace family-supportive programs: Predictors of employed parents' importance ratings. Journal of Occupational and Organizational Psychology, 69, 351–366.

Groysberg, B., & Connolly, K. (2013). Great leaders who make the mix work. Harvard Business Review, 91(9), 68–76.

Heilman, M. (2012). Gender stereotypes and workplace bias. Research in Organization Behavior, 32, 113–135.

Heilman, M., Block, C., Strathos, P. (1997). The affirmative action stigma of incompetence: Effects of performance information ambiguity. Academy of Management Journal, 40(3), 603–625.

Hill, E. J., Miller, B., Weiner, S., & Colihan, J. (1998). Influences on the virtual office on aspects of work/life balance. Personnel Psychology, 51(3), 667–683.

Horvath, L. K. (2015). Gender-fair language in the context of recruiting and evaluating leaders. In I. M. Welpe et al. (Hrsg.), Auswahl von Männern und Frauen als Führungskräfte: Perspektiven aus Wirtschaft, Wissenschaft, Medien und Politik. Wiesbaden: Springer Gabler.

Jayne, M., & Dipboye, R. (2004). Leveraging diversity to improve business performance: Research findings and recommendations for organizations. Human Resource Management, 43(4), 409–424.

Judiesch, M., & Lyness, K. (1999). Left behind? The impact of leaves of absence on managers' career success. Academy of Management Journal, 42(6), 641–651.

Kalev, A., Dobbin, F., & Kelly, E. (2006). Best practices or best guesses? Assessing the efficacy of corporate affirmative action and diversity policies. American Sociology Review, 71(4), 589–617.

Kidder, D., Lankau, M., Chrobot-Mason, D., Mollica, K., & Friedman, R. (2004). Backlash toward diversity initiatives: Examining the impact of diversity program justification, personal and group outcomes. The International Journal of Conflict Management, 15, 77–102.

Konrad, A. M., & Yang, Y. (2012). Is using work-life interface benefits a career-limiting move? An examination of women, men, lone parents and parents with partners. Journal of Organizational Behavior, 33, 1095–1119.

Leslie, L., Mayer, D., & Kravitz, D. (2014). The stigma of affirmative action: A stereotyping based theory and meta-analytic test of the consequences for performance. Academy of Management Journal, 57(4), 964–989.

Maurer, T., Weiss, E., & Barbeite, F. (2003). A model of involvement in work-related learning and development activity: The effects of individual, situational, motivational, and age Variables. Journal of Applied Psychology, 88(4), 707–724.

McKinsey & Company. (2007). Women Matter: Gender diversity, a corporate performance driver.

Munsch, C., Ridgeway, C., & Williams, J. (2014). Pluralistic ignorance and the flexibility bias: Understanding and mitigating flextime and flexplace bias at work. Work and Occupations, 41(1), 40–62.

Norton, M., Sommers, S., Apfelbaum, E., Pura, N., & Ariely, D. (2006). Color blindness and interracial interaction: Playing the Political Correctness. Psychological Science, 17(11), 949–953.

Perrewé, P., & Nelson, D. (2004). Gender and career success: The facilitative role of political skill. Organizational Dynamics, 33(4), 366–378.

Perry-Smith, J. E., & Blum, T. C. (2000). Work-family human resources bundles and perceived organizational performance. Academy of Management Journal, 43(6), 1107–1117.

Peus, C., & Welpe, I. M. (2011). Frauen in Führungspositionen: Was Unternehmen wissen sollten. OrganisationsEntwicklung, 2, 47–55.

Rudman, L., & Glick, P. (2001). Prescriptive gender stereotypes and backlash toward agentic women. Journal of Social Issues, 57(4), 743–762.

Rudman, L., & Mescher, K. (2013). Penalizing men who request a family leave: Is flexibility stigma a femininity stigma? Journal of Social Issues, 69(2), 322–340.

Schoon, I., Cheng, H., Gale, C., Batty, D., & Deary, I. (2010). Social status, cognitive ability, and educational attainment as predictors of liberal social attitudes and political trust. Intelligence, 38, 144–150.

Statistisches Bundesamt. (2013). Bildungsstand der Bevölkerung. Wiesbaden.

Stout, J., & Dasgupta, N. (2011). When he doesn't mean you: Gender-exclusive language as ostracism. Personality and Social Psychology Bulletin, 36(6), 757–769.

Twenge, J., Campbell, S., Hoffman, B., & Lance, C. (2010). Generational differences in work values: Leisure and extrinsic values increasing, social and intrinsic values decreasing. Journal of Management, 36(5), 1117–1142.

Unzueta, M., Gutierrez, A., & Ghavami, N. (2010). How believing in affirmative action quotas affects white women's self-image. Journal of Experimental Social Psychology, 46(1), 120–126.

Vandello, J., Hettinger, V., Bosson, J., & Siddiqi, J. (2013). When equal isn't really equal: The masculine dilemma of seeking work flexibility. Journal of Social Issues, 69(2), 303–321.
Copyright information

© 2015 Springer Fachmedien Wiesbaden
About this chapter
Cite this chapter
Mölders, S., Brosi, P., Spörrle, M., Welpe, I. (2015). Zu wenig bekannt, aber durchaus akzeptiert: Die öffentliche Wahrnehmung von Maßnahmen zur Erhöhung des Anteils von Frauen in Führungspositionen. In: Welpe, I., Brosi, P., Ritzenhöfer, L., Schwarzmüller, T. (eds) Auswahl von Männern und Frauen als Führungskräfte. Springer Gabler, Wiesbaden. https://doi.org/10.1007/978-3-658-09469-0_47
DOI: https://doi.org/10.1007/978-3-658-09469-0_47

Published:

Publisher Name: Springer Gabler, Wiesbaden

Print ISBN: 978-3-658-09468-3

Online ISBN: 978-3-658-09469-0

eBook Packages: Business and Economics (German Language)