Lipoprotein Metabolism in Tissue Culture
Abstract
In recent years we have used the tissue culture method to study interactions between cellular components of the arterial wall and serum lipoproteins (Bierman et al., 1973, 1974; Stein et al., 1975, 1976; Stein and Stein, 1975a, 1975b, 1975c). Endothelium from human umbilical veins was cultured in vitro and the cells were incubated with
125
I low and high-density lipoproteins isolated from human plasma. The interaction can be divided into three stages, binding, uptake and degradation, which are illustrated in Figure 1 (Stein and Stein, 1976). Human LDL was bound, taken up, and degraded preferentially to human HDL. HDL reduced markedly the uptake and degradation of LDL. These findings have two implications:
1.

That the different levels of high-density lipoprotein encountered in normal plasma of males and females could modulate differently the transendothelial transport of LDL and provide a possible explanation for the lesser incidence of atherosclerotic coronary artery disease in premenopausal females.

 

2.

The second implication deals with the possible role of endothelial cells in the in vivo degradation of LDL. On the basis of certain measurements and calculations, one can estimate that the total mass of endothelial in a normal adult of 70 kg averages about 270 g. Assuming a protein content of endothelium of 15%, this will equal 40 g of endothelial protein. In culture, endothelial cells were shown to degrade 16–24 μg of LDL protein/mg cell protein/day, when presented with 600 μg of LDL protein/ml. Extrapolating these in vitro data to in vivo conditions, one can postulate that in a normal adult of 70 kg the total endothelial cell mass could degrade 0.64–0.96 g of LDL protein/day.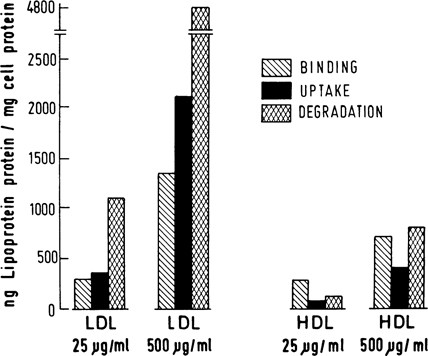 Keywords
Cholesterol Ester 
Human Skin Fibroblast 
Cellular Cholesterol 
Tissue Culture Method 
Cytoplasmic Lipid Droplet 
These keywords were added by machine and not by the authors. This process is experimental and the keywords may be updated as the learning algorithm improves.
Copyright information
© Springer-Verlag Berlin Heidelberg 1977