Atherosclerosis and Risk Factors
Abstract
In 1969 (Fig. 1), a population-related clinical study of cardiovascular diseases was performed in Malmö, Sweden, on men born in even months during 1914. The main purpose was to evaluate the role of smoking, especially in the development of peripheral arterial disease. During the next 5 years, 41 men died and 33 of those were subject to detailed autopsies, including collection of various arteries. Overall mortality was 5.8%, but only 2.3% of the non-smokers and ex-smokers died, whereas 8.0% of the smokers died. Smoking was especially associated with death from neoplasia: only 0.4% of the non-smokers and ex-smokers, but 3.4% of the smokers died of cancer. Corresponding figures for cardiovascular diseases were 1.1% and 2.3%, respectively. Hypertension was associated with increased frequency of cardiovascular death, whereas hyperlipidemia was as common among subjects dying of neoplasia as among those dying of cardiovascular diseases.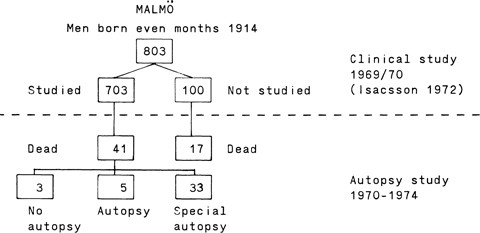 Keywords
Peripheral Arterial Disease 
Water Hardness 
Coronary Risk Factor 
Obese Person 
Aortic Calcification 
These keywords were added by machine and not by the authors. This process is experimental and the keywords may be updated as the learning algorithm improves.
Copyright information
© Springer-Verlag Berlin Heidelberg 1977