Abstract
Seminal vesicles are secretory glands that produce seminal fluid to support and maintain sperm. Seminal fluid constitutes the major volumes of the ejaculate. The seminal vesicles are paired glands located within the perivesical space behind and anterior the rectum. Pathologic processes from the prostate, bladder, or rectum can, therefore involve the seminal vesicles. The rectovesical fascia is placed between the seminal vesicles and the rectum (L
ierse
1984). The seminal vesicles are largely extraperitoneal and only the lateral parts are covered by the peritoneum. Normally there is a 50°–60° angle between the seminal vesicles and the horizontal plane, the angle varying with the degree of distention of the bladder and rectum (S
ecaf
et al. 1991). Because of the angle of orientation of the seminal vesicles, their medial and lateral ends are not included in the same cut (H
iggins
et al. 1992). After an abdominal perineal resection, the position and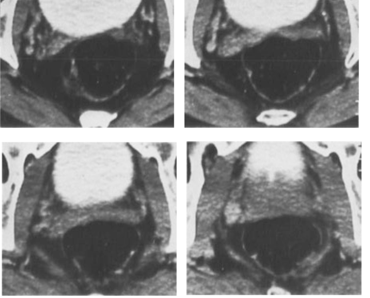 orientation of the seminal vesicles change and they fill the empty space.
Keywords
Seminal Vesicle 
Prostatic Carcinoma 
Male Infertility 
Ejaculatory Duct 
Seminal Vesicle Invasion 
These keywords were added by machine and not by the authors. This process is experimental and the keywords may be updated as the learning algorithm improves.
Copyright information
© Springer-Verlag Berlin Heidelberg 1994