Abstract
We present the results of preliminary band-structure calculations on two insulating forms of polyaniline. These are the so-called form 1A (where A stands for amine and 1 denotes a reduced species): [-phenyl-NH-]
x
, and the so-called form 2A (where 2 denotes an oxidized species):[-phenyl-N=quinoid=N-]
x
Although known for a long time, polyaniline has been recently the focus of renewed interest because of its potential as a conducting polymer [1–3]. The ways of obtaining the different polyaniline forms are sketched below: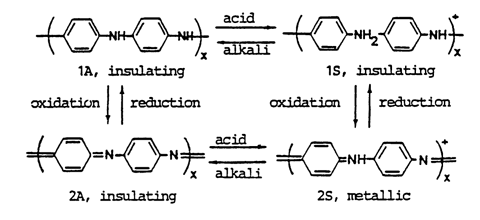 Keywords
Ionization Potential 
Electron Affinity 
Quinoid Ring 
Chain Geometry 
Occupied Band 
These keywords were added by machine and not by the authors. This process is experimental and the keywords may be updated as the learning algorithm improves.
Copyright information
© Springer-Verlag Berlin Heidelberg 1985