Chemical Reaction Controlled Release
Part of the Polymers book series (POLYMERS, volume 13)
Abstract
The polymer utilized in diffusion-controlled release devices or systems plays a relatively passive role. It serves simply as a carrier and retards the rate at which the active agent is delivered to the target. Nevertheless, some polymeric carriers are designed to play a more active role in the release process. These polymers undergo chemical reactions at the target site, thereby enabling the active agent to be delivered. Such chemically activated systems fall into two broad categories (Langer, 1980; Baker, 1987):
i.

Physical immobilization systems, also called erodible or (bio)degradable systems in each of which the active agent, physically immobilized within the polymer network, is released by erosion of this network (Fig. 3.1a)

 

ii.

Chemical immobilization systems, in each of which the active agent is either chemically bonded to the polymer carrier backbone (pendant chain) or is part of the backbone itself (polyagents). Release occurs by hydrolytic or enzymatic degradation of the appropriate bonds (Fig. 3.1b).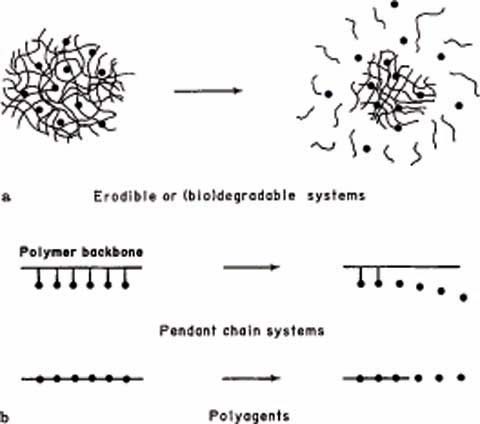 Keywords
Active Agent 
Polymeric Carrier 
Diffusional Release 
Finite Source 
Surface Detachment 
These keywords were added by machine and not by the authors. This process is experimental and the keywords may be updated as the learning algorithm improves.
Copyright information
© Springer-Verlag, Berlin Heidelberg 1989