The Regulation and Effects of Myometrial Activity on the Fetus
Abstract
In a review at the CIBA Foundation symposium meeting on The Fetus at Birth, in 1976, we described our early observations on the temporal relationships between myometrial contractures and fetal electrocorticogram (ECOG; Fig.1). We observed long-term epochs of myometrial contractility as reflected by an increased intrauterine pressure (IUP) lasting 5–15 min which we designated contractures to distinguish them from labor and delivery contractions. We stated that in several instances there was a suggestion that high amplitude fetal ECOG activity may in some way be temporally related to these contractures. Our early hypothesis was that contractures in some way affected the fetus either by decreasing oxygenation or by a sensory stimulus (Nathanielsz et al. 1976).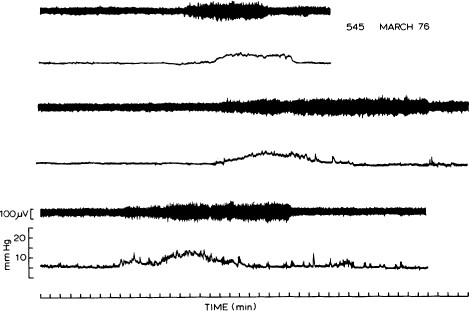 Keywords
Maternal Plasma 
Fetal Sheep 
Prostaglandin Synthetase 
Estrone Sulfate 
Fetal Breathing 
These keywords were added by machine and not by the authors. This process is experimental and the keywords may be updated as the learning algorithm improves.
Copyright information
© Springer-Verlag Berlin Heidelberg 1988