Experience with Revision Arthroplasties for Failed Cemented Total Hip Replacements Using Uncemented Lord and PM Prostheses
Abstract
Since December, 1979, we have not used cement in our revisions of failed total hip arthroplasties. To date, 67 revision arthroplasties have been performed in 63 patients (Table 1). Fifty-nine of these were first revisions, and 8 were re-revisions. The patients averaged 68.2 years of age. Fig. 1 shows the increase in the number of revisions performed by us in recent years as well as the types of prostheses used. Initially we used Lord prostheses. For various reasons we abandoned their use, however, first in primary arthroplasties and later in revisions as well. Lately we have been using PM prostheses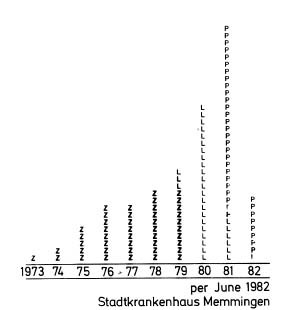 Table 1
Revision Arihroplasties Performed at our Hospilal
| Numbcrof revisions performed | First revision | Sccond revision | Average age of patienis |
| --- | --- | --- | --- |
| ♂21 | 18 | 3 | 70.7 |
| ♀46 | 41 | 5 | 67.0 |
| ♂+♀67 | 59 | 8 | 68.2 |
exclusively. Most of the revisions had become necessary after a period of 6–10 years. In all but 3 cases we replaced both the femoral and acetabular components of the failed THA.
Keywords
Revision Arthroplasties 
Screw Thread 
Primary Arthroplasties 
Cementless Fixation 
Granulation Cyst 
These keywords were added by machine and not by the authors. This process is experimental and the keywords may be updated as the learning algorithm improves.
Copyright information
© Springer-Verlag Berlin Heidelberg 1984