Abstract
The production of pro-inflammatory cytokines is a prerequisite for initiating the anti-infectious process, whereas their exacerbated production during severe inflammation may contribute to deleterious consequences. The capacity of interleukin (IL)-l and tumor necrosis factor-alpha (TNF-a) to induce inflammatory mediators contributes to their pro-inflammatory properties. Phospholipase, cyclooxygenase and lipoxygenase are activated by IL-1 and TNF-a leading to the release of prostaglandins, thromboxane, leukotrienes, and platelet activating factor (PAF). Free radicals (superoxide [O
−
2
], nitric oxide [NO]), and proteolytic enzymes are other mediators produced by target cells in response to IL-1 and TNF-a. Other cytokines, including chemokines such as IL-8 or some T-cell derived cytokines, such as lymphotoxin-α are also involved in the cytokine cascade (
Fig. 1
). Different experimental approaches have demonstrated the contribution of the pro-inflammatory cytokines to the harmful effects observed in sepsis, trauma, burns, hemorrhage, severe surgery and other pathophysiological situations leading to systemic inflammatory response syndrome (SIRS). The injection of recombinant pro-inflammatory cytokines mimics some of the clinical parameters observed in SIRS patients and the use of anti-cytokine antibodies prevents most of the deleterious effects observed in animal models of SIRS.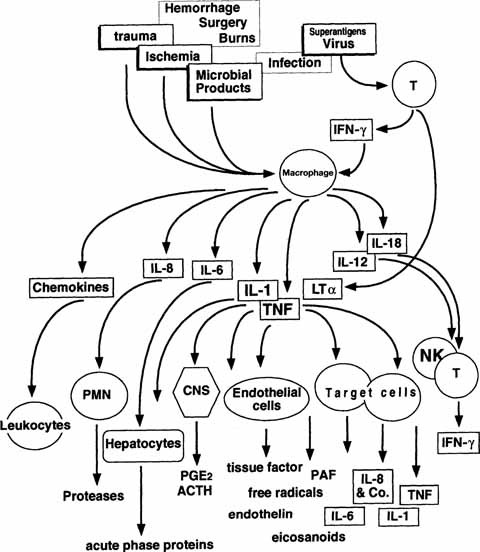 Keywords
Proinflammatory Cytokine 
Systemic Inflammatory Response Syndrome 
Acute Phase Protein 
Multiple Organ Dysfunction Syndrome 
Endotoxic Shock 
These keywords were added by machine and not by the authors. This process is experimental and the keywords may be updated as the learning algorithm improves.
Copyright information
© Springer-Verlag Berlin Heidelberg 2002