Abstract
An excessive inflammatory response accompanies the initial stages of severe infection and appears to contribute to organ system failure and death in this setting [
1
,
2
,
3
]. A number of immunomodulatory therapies aimed at decreasing the dysregulated inflammatory response have been examined in patients with sepsis (
Table 1
). Despite initially encouraging results with many of these approaches in Phase II clinical trials, larger Phase III studies have not demonstrated benefit. In contrast to the lack of effect of immunomodulatory agents in sepsis, therapies directed against specific pro-inflammatory cytokines, such as tumor necrosis factor (TNF)-α or interleukin (IL)-1,have produced remarkable clinical response in diseases such as rheumatoid arthritis and Crohn's disease [
4
,
5
,
6
].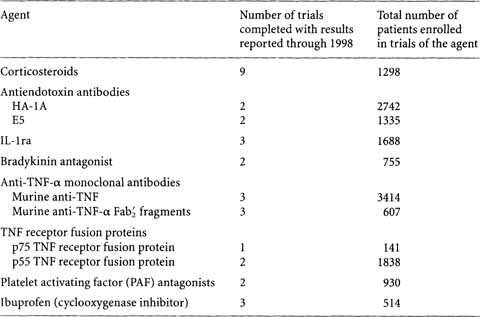 Keywords
Septic Shock 
Severe Sepsis 
Septic Shock Patient 
Immunomodulatory Agent 
Organ System Failure 
These keywords were added by machine and not by the authors. This process is experimental and the keywords may be updated as the learning algorithm improves.
Copyright information
© Springer-Verlag Berlin Heidelberg 2002