Abstract

Health-related quality of life (HRQoL) is critically important for people with chronic kidney disease (CKD). Each stage of CKD from diagnosis, progressive decline of kidney function, renal replacement therapy with dialysis or transplantation, or both to end-of-life care can negatively impact HRQoL. However, there is some evidence to support interventions that improve HRQoL. To assess and understand HRQoL reliably requires a validated method. Many methods exist, including questionnaires, which are usually referred to as instruments or tools. The most commonly used instruments to assess HRQoL include the Short Form 36 (SF-36), the Kidney Disease Quality of Life-36 (KDQOL-36) and the EuroQol (EQ-5D). Choice of instrument should be based on validated tools sensitive to changes in the CKD population of interest. The move towards building healthcare around patient-centred outcomes, and an increasing consideration of individual patient preferences, means a good understanding of HRQoL measurement and interpretation is of critical importance in modern nephrology practice.
Keywords
Chronic Kidney Disease

Chronic Kidney Disease Patient

HRQoL Measurement

HRQoL Instrument

Sickness Impact Profile
These keywords were added by machine and not by the authors. This process is experimental and the keywords may be updated as the learning algorithm improves.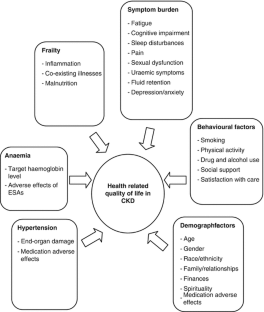 References
Guyatt GH, Feeny DH, Patrick DL. Measuring health-related quality of life. Ann Intern Med. 1993;118(8):622–8.

Soni RK, Weisbord SD, Unruh ML. Health-related quality of life outcomes in chronic kidney disease. Curr Opin Nephrol Hypertens. 2010;19(2):153–9.

Morton RL, Tong A, Howard K, Snelling P, Webster AC. The views of patients and carers in treatment decision making for chronic kidney disease: systematic review and thematic synthesis of qualitative studies. BMJ. 2010;340:c112.

Wyld M, Morton RL, Hayen A, Howard K, Webster AC. A systematic review and meta-analysis of utility-based quality of life in chronic kidney disease treatments. PLoS Med. 2012;9(9):e1001307.

Tufts Medical Centre. Cost-effectiveness analysis registry [internet]. c2013 [Cited 2013 July 25]. Available at: https://research.tufts-nemc.org/cear4/.

Sutton E CJ. ICECAP Supportive care measure EconEndLife project [internet]. Birmingham: University of Birmingham; c2013 [Cited 2013 July 25]. Available at: http://www.birmingham.ac.uk/research/activity/mds/projects/HaPS/HE/ICECAP/ICECAP-SCM/index.aspx.

Sulch D, Kalra L. Quality of life of caregivers. In: Carr AJ, Higginson IJ, Robinson PG, editors. Quality of life. London: BMJ Books; 2003. p. 31–9.

Ware Jr JE, Sherbourne CD. The MOS 36-item short-form health survey (SF-36). Conceptual framework and item selection. Med Care. 1992;30(6):473–83.

Liem YS, Bosch JL, Arends LR, Heijenbrok-Kal MH, Hunink MGM. Quality of life assessed with the Medical Outcomes Study Short Form 36-Item Health Survey of patients on renal replacement therapy: a systematic review and meta-analysis. Value Health. 2007;10(5):390–7.

Brazier J, Roberts J, Deverill M. The estimation of a preference-based measure of health from the SF-36. J Health Econ. 2002;21(2):271–92.

Cagney KA, Wu AW, Fink NE, Jenckes MW, Meyer KB, Bass EB, et al. Formal literature review of quality-of-life instruments used in end-stage renal disease. Am J Kidney Dis. 2000;36(2):327–36.

Rabin R, de Charro F. EQ-5D: a measure of health status from the EuroQol Group. Ann Med. 2001;33(5):337–43.
Copyright information

© 2014 Springer-Verlag Berlin Heidelberg
About this chapter
Cite this chapter
Morton, R.L., Webster, A.C. (2014). Quality of Life in Chronic Kidney Disease. In: Arici, M. (eds) Management of Chronic Kidney Disease. Springer, Berlin, Heidelberg. https://doi.org/10.1007/978-3-642-54637-2_37
DOI: https://doi.org/10.1007/978-3-642-54637-2_37

Published:

Publisher Name: Springer, Berlin, Heidelberg

Print ISBN: 978-3-642-54636-5

Online ISBN: 978-3-642-54637-2

eBook Packages: MedicineMedicine (R0)