Abstract
Consider the simple Reference Energy System depicted on Figure 9.1. The end use demands shown on the right, D1, D2, and D3, are assumed given (from a demand forecasting model); as in our previous discussion of Reference Energy Systems (RES) in Chapter 3, the system is demand driven. Recall that in the RES, intermediate fuel and supply variables are defined by the series of matrix transitions discussed in Section 3.2. However, the coefficients of those transition matrices, which represent the market shares of each fuel meeting end use demand categories, or the electric generation mix, require exogenous specification by the analyst — which translates, in practice, to a great deal of judgement on the part of the analyst in an attempt to bring supply and demand into balance. Indeed, in many early developing country energy assessments, such supply-demand balances were derived manually even for future years.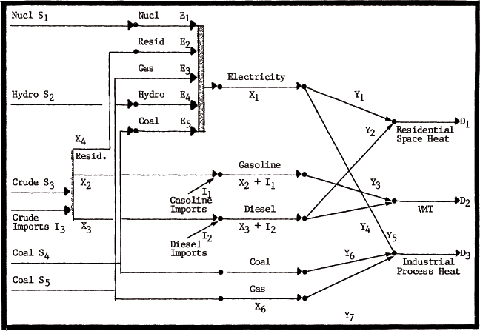 Keywords
Shadow Price 
Shadow Prex 
Supply Constraint 
Space Heat 
Capital Recovery Factor 
These keywords were added by machine and not by the authors. This process is experimental and the keywords may be updated as the learning algorithm improves.
Copyright information
© Springer-Verlag Berlin Heidelberg 1984