Abstract
The cartilage, which is mesodermal in origin, provides excellent lubrication and wear characteristics required for continuous gliding motion. It serves to absorb mechanical shock and spread the applied load onto the bony supporting structures below. But its limited capacity for repair can cause severe and progressive disability of the joint, such as osteoarthritis. Osteoarthritis is the leading cause of chronic disability in large developed countries like the United States [3], and Singapore is no exception. According to the Singapore Ministry of Health National Health Surveillance [16], 10.1 % of residents between the ages of 18 and 69 have arthritis and chronic joint symptoms. The prevalence increased with age and was highest among older residents aged 60–69 years (19.8 %). At present, current treatments reduce pain and inflammation, but do not retard the destruction of cartilage [15]. One of the most well-known and utilized treatments is the total knee replacement (TKR). While it has been successful for the older, less-active patient [20], the degradation of these replacements over time makes it less suitable for younger active patients [14]. As TKRs usually last for no more than 20 years, they are only recommended for patients greater than 60 years of age. Among older adults in the United States, nearly 1.5 million of those with a primary total knee replacement are 50–69 years old, indicating a large population is at risk for cost revision surgery and long-term complications of total knee replacement [19]. This has called for a look into the viability of stem cell engineering as a solution.
Keywords
Hyaluronic Acid

Total Knee Replacement

Cartilage Repair

International Knee Documentation Committee

Osteochondritis Dissecans
These keywords were added by machine and not by the authors. This process is experimental and the keywords may be updated as the learning algorithm improves.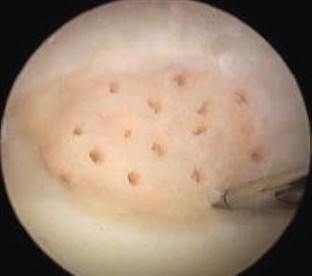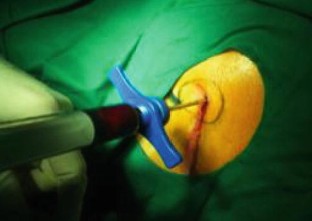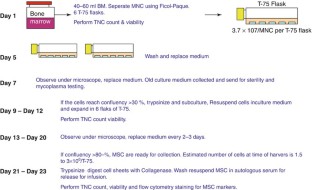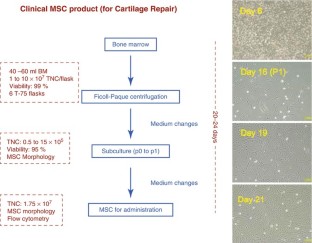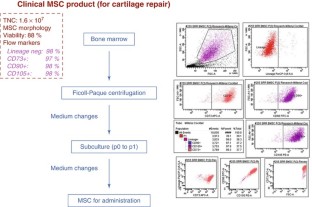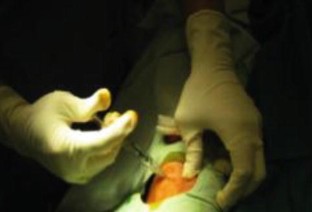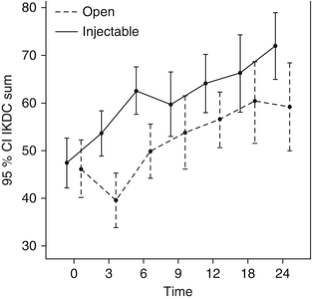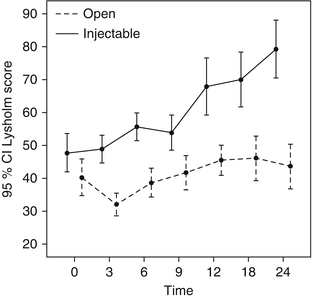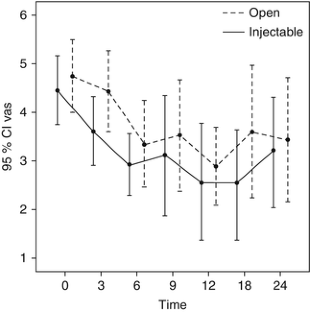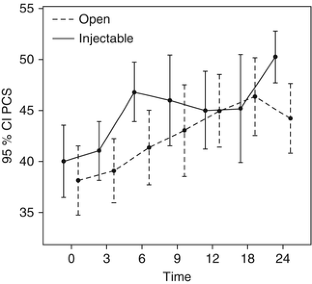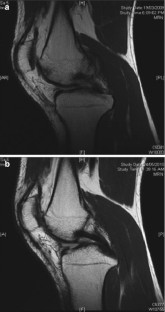 References
Afizah H, Yang Z, Hui JH, Ouyang HW, Lee EH (2007) A comparison between the chondrogenic potential of human bone marrow stem cells (BMSCs) and adipose-derived stem cells (ADSCs) taken from the same donors. Tissue Eng 13(4):659–666

Brittberg M, Winalski CS (2003) Evaluation of cartilage injuries and repair. J Bone Joint Surg Am 85-A(Suppl 2):58–69

Centers for Disease Control and Prevention (2009) Prevalence and most common causes of disability among adults -United States, 2005. MMWR Morb Mortal Wkly Rep 58:421–426

Fortier LA, Potter HG, Rickey EJ, Schnabel LV, Foo LF, Chong LR, Stokol T, Cheetham J, Nixon AJ (2010) Concentrated bone marrow aspirate improves full-thickness cartilage repair compared with microfracture in the equine model. J Bone Joint Surg Am 92(10):1927–1937

Horie M, Sekiya I, Muneta T, Ichinose S, Matsumoto K, Saito H, Murakami T, Kobayashi E (2009) Intra-articular injected synovial stem cells differentiate into meniscal cells directly and promote meniscal regeneration without mobilization to distant organs in rat massive meniscal defect. Stem Cells 27(4):878–887

Koga H, Muneta T, Ju YJ, Nagase T, Nimura A, Mochizuki T, Ichinose S, von der Mark K, Sekiya I (2007) Synovial stem cells are regionally specified according to local microenvironments after implantation for cartilage regeneration. Stem Cells 25(3):689–696

LaPrade RF, Bursch LS, Olson EJ, Havlas V, Carlson CS (2008) Histologic and immunohistochemical characteristics of failed articular cartilage resurfacing procedures for osteochondritis of the knee: a case series. Am J Sports Med 36:360–368

Lee KB, Hui JH, Song IC, Ardany L, Lee EH (2007) Injectable mesenchymal stem cell therapy for large cartilage defects – a porcine model. Stem Cells 25(11):2964–2971, Epub 2007 Jul 26

Lee KB, Wang VT, Chan YH, Hui JH (2012) A novel, minimally-invasive technique of cartilage repair in the human knee using arthroscopic microfracture and injections of mesenchymal stem cells and hyaluronic acid – a prospective comparative study on safety and short-term efficacy. Ann Acad Med Singapore 41(11):511–517

Marlovits S, Striessnig G, Resinger CT et al (2004) Definition of pertinent parameters for the evaluation of articular cartilage repair tissue with high-resolution magnetic resonance imaging. Eur J Radiol 52:310–319

Mithoefer K, Williams RJ III, Warren RF et al (2005) The microfracture technique for the treatment of articular cartilage lesions in the knee. A prospective cohort study. J Bone Joint Surg Am 87:1911–1920

Motoyama M, Deie M, Kanaya A, Nishimori M, Miyamoto A, Yanada S, Adachi N, Ochi M (2010) In vitro cartilage formation using TGF-beta-immobilized magnetic beads and mesenchymal stem cell-magnetic bead complexes under magnetic field conditions. J Biomed Mater Res A 92(1):196–204

Nejadnik H, Hui JH, FengChoong EP, Tai BC, Lee EH (2010) Autologous bone marrow–derived mesenchymal stem cells versus autologous chondrocyte implantation. Am J Sports Med 38:1110–1116

Parsons IM, Sonnabend DH (2004) What is the role of joint replacement surgery? Best Pract Res Clin Rheumatol 18:557–572

Simon L (1999) Osteoarthritis: a review. Clin Cornerstone 2:26–37

Singapore Ministry of Health National Health Surveillance (2007) http://www.moh.gov.sg/content/dam/moh_web/Publications/Reports/2009/nhss2007.pdf

Soon MY, Hassan A, Hui JH, Goh JC, Lee EH (2007) An analysis of soft tissue allograft anterior cruciate ligament reconstruction in a rabbit model: a short-term study of the use of mesenchymal stem cells to enhance tendon osteointegration. Am J Sports Med 35(6):962–971

Steadman JR, Rodkey WG, Rodrigo JJ (2000) Microfracture: Surgical technique and rehabilitation to treat chondral defects. Clin Orthop Relat Res 391(suppl):S362–S369

Teo BJ, Buhary K, Tai BC, Hui JH (2013) Cell-based therapy improves function in adolescents and young adults with patellar osteochondritis dissecans. Clin Orthop Relat Res 471(4):1152–8. doi:10.1007/s11999-012-2338-z

Weinstein AM, Rome BN, Reichmann WM, Collins JE, Burbine SA, Thornhill TS, Wright J, Katz JN, Losina E (2013) Estimating the burden of total knee replacement in the United States. J Bone Joint Surg Am 95(5):385–392. doi:10.2106/JBJS.L.00206

Yarashi T, Rutherford-Davies J, Anand S, Johnson DS (2008) Knee outcome scores — do we get people back to normal?", British Orthopaedic Association Annual Meeting, Liverpool
About this chapter
Cite this chapter
Lam, D., Wong, K.L., Law, P., Hui, J.H.P. (2014). Injectable Autologous Bone-Marrow-Derived Mesenchymal Stem Cells for Cartilage Repair: The Singapore Technique. In: Shetty, A.A., Kim, SJ., Nakamura, N., Brittberg, M. (eds) Techniques in Cartilage Repair Surgery. Springer, Berlin, Heidelberg. https://doi.org/10.1007/978-3-642-41921-8_17
DOI: https://doi.org/10.1007/978-3-642-41921-8_17

Published:

Publisher Name: Springer, Berlin, Heidelberg

Print ISBN: 978-3-642-41920-1

Online ISBN: 978-3-642-41921-8

eBook Packages: MedicineMedicine (R0)