Abstract

This chapter discusses the paradox of the world-flattening effects of globalization and the perpetual influences of geography. It is postulated in this chapter that flight-time can act as a proxy for geographical distance, and that flight-time is a causal factor for other facets of distance, namely cultural distance, administrative distance, geographical distance, gravitational distance, topological distance, economical distance, technological distance, socio-demographical distance, relational or affinity distance, and organizational distance. Organizational distance is further explained by changes, spillages, psychic distance, networks, communications, net cost-benefits, control and friction.
Keywords
Foreign Direct Investment

Geographical Distance

Organizational Distance

Cultural Distance

Entry Mode
These keywords were added by machine and not by the authors. This process is experimental and the keywords may be updated as the learning algorithm improves.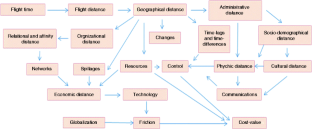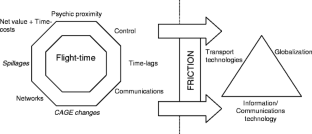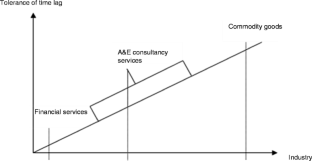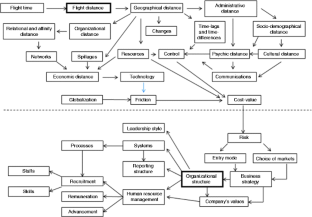 References
Akamatsu K (1962) A historical pattern of economic growth in developing countries. The Developing Economies, Tokyo, Preliminary Issue no. 1, pp 3–25

Allen TJ (1977) Managing the flow of technology. MIT Press, Cambridge, MA

Asheim BT, Gertler MS (2005) The geography of innovation: regional innovation systems. In: Fagerberg J, Mowery D, Nelson R (eds) The Oxford handbook of innovation. Oxford University Press, Oxford, pp 291–317

Barkema HG, Baum JA, Mannix EA (2002) Management challenges in a new time. Acad Manage J 45(5):916–930

Barlett CA, Ghoshal S (1998) Managing across borders: the transnational solution, 2nd edn. Harvard Business School Press, Boston

Barr MD (2000) Lee Kuan Yew and the "Asian values" debate. Asian Stud Rev 24(3):309–334

Beckmann MJ (1999) Lectures on location theory. Springer, Berlin

Bogardus ES (1926) Social distance in the city. Proc Pub Am Sociol Soc 20:40–46

Bremmer I (2006) The J curve – a new way to understand why nations rise and fall. Simon & Schuster, New York

Brown JS, Duguid P (2000) Social life of information. Harvard Business Press, Boston

Cairncross F (1997) The death of distance. Harvard Business School Press, Boston

Chen C (2005) Entry strategies for international construction markets. Doctorate thesis, Department of Architectural Engineering, The Pennsylvania State University, University Park

Conley TG, Ligon E (2002) Economic distance and cross-country spillovers. J Econ Growth, Springer 7(2):157–187

Davidson WH (1983) Market similarity and market selection: implications for international marketing strategy. J Bus Res 11:439–456

Diamond J (1997) Guns, germs and steel: the fate of human societies. Norton, New York

Drucker P (1973) Management: tasks, responsibilities, practices. Harper Business, New York

Earley PC, Ang S (2003) Cultural intelligence: individual interactions across cultures. Stanford University Press, Stanford

Economist Intelligence Unit (2008) E-readiness Ranking 2008. The Economist, London

Ellis PD (2008) Does psychic distance moderate the market size–entry sequence relationship? J Int Bus Stud 39(3):351–369

Evans CLL, Harrigan J (2003) Distance, time and specialization. FRB International Finance discussion paper, no. 766, Washington, D.C.

Friedman T (2001) Longitudes and attitudes. Farrar, Straus and Giroux, New York

Friedman T (2005) The world is flat. Straus and Giroux, New York

Ghemawat P (2001) Distance still matters: the hard reality of global expansion. Harv Bus Rev 79(8):137–147

Global Times (2009) Airlines face EU airspace ban. Global Times. 24 Aug 2009

Henrikson AK (2002) Distance and foreign policy: a political geography approach. Int Polit Sci Rev 23(4):437–466

Hofstede G (1980) Culture's consequences: international differences in work-related values. Sage, Beverly Hills

Hu MY, Chen H (1993) Foreign ownership in Chinese joint ventures: a transaction cost analysis. J Bus Res 28(2):149–160

Huntington SP (1996) The clash of civilization. Free Press, New York

Johanson J, Vahlne JE (1977) The internationalization process of the firm: a model of knowledge development and increasing foreign market commitments. J Int Bus Stud 8(1):23–32

Kitchin R, Dodge M (2002) Virtual reality, space and geographic visualisation. In: Fisher P, Unwin D (eds) Virtual reality in geography. Taylor & Francis, London, pp 341–361

Lewis M (1989) Liar's Poker. Hodder & Stoughton, London

Linder SB (1961) An essay on trade and transformation. Almqvist & Wicksell, Stockholm

Lojeski KS, Reilly RR (2007) Multitasking and innovation in virtual teams. In Proceedings from the 40th annual Hawaii international conference, Waikoloa, 2007

Low SP (1990) The organization of construction export marketing. Avebury Press, Singapore

Luostarinen R (1979) Internationalization of the firm. Published dissertation. International Business, Helsinki School of Economics, Helsinki

Mackinnon D, Cumbers A (2007) An introduction to economic geography – globalization, uneven development and place. Pearson Education, Harlow

Maskell P, Malmberg A (1999) Localised learning and industrial competitiveness. Cambridge J Econ 23(2):167–185

Masters WA, McMillan MS (2001) Climate and scale in economic growth. J Econ Growth 6(3):167–186

Milgram S (1967) The small world problem. Psychology Today 2:60–67

Neubauer DW, Meinhold SS (2007) Judicial process: law, courts and politics in the United States. Cengage

Olson GM, Olson JS (2000) Distance matters. Hum Comput Interact 15:139–179

Public papers of the president Dwight Eisenhower, 1954, pp 381–390

Ravenstein E (1885) The laws of migration. J Stat Soc 46:167–235

Reid NO, OhUllaChain B (1997) Acquisition versus greenfield investment: the location and the growth of Japanese manufacturers in the United States. J Reg Stud Assoc 31:403–416

Ro T, Gu C (1995) The effect of social and physical distance on the global communication networks. Int Commun Gaz 54(2):163–192, Sage Publications

Rosenberg MT (2004) Gravity model: predict the movement of people and ideas between two places. http://geography.about.com/library/weekly/aa031601a.htm. Aug 2004

Seeley IH (1995) Building technology, 5th edn. Palgrave, New York

Stouffer SA (1940) Intervening opportunities: a theory relating to mobility and distance. Am Sociol Rev 5(6):845–867

Tihanyi L, Griffith D, Russell C (2005) The effect of cultural distance on entry mode choice, international diversification, and MNE performance: a meta-analysis. J Int Bus Stud 36:270–283

Tobler W (1970) A computer movie simulating urban growth in the Detroit region. Econ Geogr 46(2):234–240

Trompenaars, F. and Hampden-Turner, C. (1998). Riding the Waves of Culture - 2nd Edition. McGraw-Hill

Von Clausewitz K (1832) On war (trans: Howard M, Paret P, 1984). Princeton University Press, Princeton

Zipf GK (1946) The P1P2/D hypothesis: on the intercity movement of Persons. Am Sociol Rev 2:677–686
Copyright information

© 2013 Springer-Verlag Berlin Heidelberg
About this chapter
Cite this chapter
Peh, L.C., Low, S.P. (2013). Flight-Time, Geographical Distance and Related Issues. In: Organization Design for International Construction Business. Springer, Berlin, Heidelberg. https://doi.org/10.1007/978-3-642-35164-8_2